Battle of Slots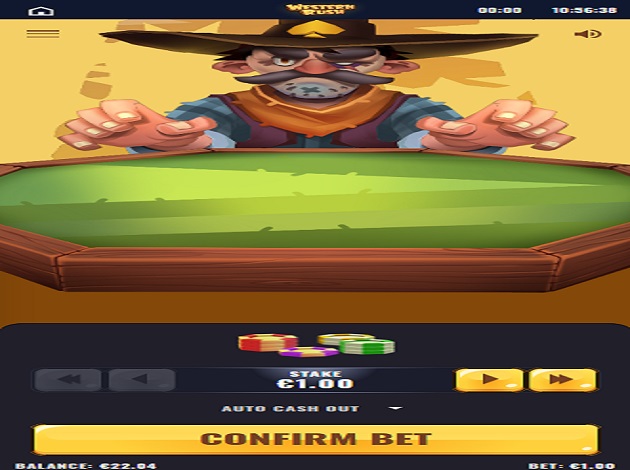 Play Western Rush online: Check out our review below
Western Rush Introduction
The Old American West, a time of historical lawlessness where anyone with a gun was expected to produce their weapons and participate in shootouts at any moment's notice. Referred to as gunslingers, these men - and sometimes women - had to be quick on the draw if they were to live to shoot for another day! Green Jade Games' Western Rush also demands you be quick on the draw, but this time around there are no guns involved. Instead, Western Rush has you wait to maximise your potential earnings while making sure you, and not your rival, win the prize! Get ready to beat your rival in this simple yet exciting casino arcade game!
Western Rush Game Features
Western Rush is a casino arcade game with a simple aim - beat your gunslinger rival while trying to maximise your winnings through the growing multiplier. Playing the first first has you set your bet before the multiplier starts growing in value. The multiplier always starts at 1x and grows higher and higher, gaining in speed as the game continues, until it randomly stops, which is when the round is over. Thus, your goal is to cash out before the multiplier busts. Time it right, and you win your bet times the current multiplier. Let the multiplier bust and the rival gunman takes the prize, leaving you with nothing! You can also set an auto cash out, where the game will automatically cash out should the multiplier reach the preset value.
Western Rush Free Spins and Bonuses
Being a straightforward arcade game, Western Rush lacks free spins or any bonus features.
Western Rush Payouts
The payouts in Western Rush depend on the bet amount and the multiplier, which can reach a maximum of 1,000x.
Western Rush Graphics and Sound
The Western Rush duel takes place in front of a stark yellow backdrop. The arena is a simple casino-style table complete with green velvet covering, while your rival is clearly a rough and tumble fellow hailing from the worst parts of the American frontier. Pressing the yellow "Confirm Bet" button starts the game proper, which features a pile of casino chips that grows as the multiplier does. Cash out at the right time and your rival is left dismayed, but lose and he will grin in celebration. All the while an exciting Western-style theme acts as your soundtrack as you play!
Western Rush Conclusion
Western Rush is a simple arcade title, but this kind of game can really bring the thrills! Will you be able to cash out at the right moment? Play Western Rush here at Videoslots Casino today!
Gambling is a form of adult entertainment only. You must be over 18 to play. Play responsibly.