Battle of Slots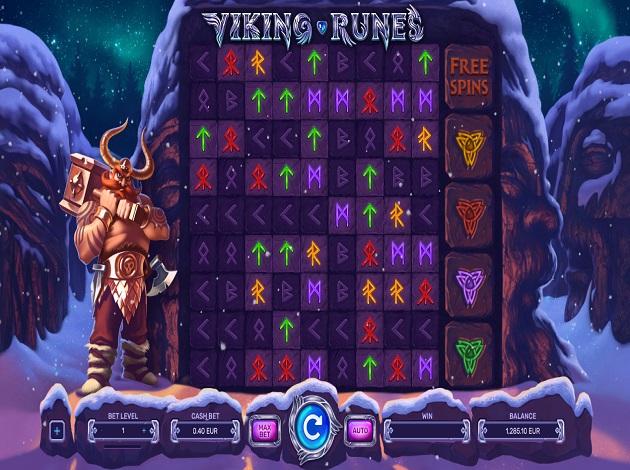 Play Viking Runes online: Check out our review below
Viking Runes Introduction
As you might know, the Norse people known as the Vikings employed runes as their alphabet. These were used to write various Germanic languages before the adoption of the Latin alphabet. There were various runic alphabets, including the Elder Futhark, Anglo-Saxon Futhorc and the Younger Futhark, all famous for their distinctive angular letter shapes. This made them suitable for epigraphy, or inscription on hard surfaces such as stone. No one knows the exact origins of these runic alphabets, although some scholars suggest transmission via Elbe Germanic groups, while others claim they came about from East Germany.
Now these humble symbols take centre stage in TrueLab's Viking Runes. This is a big cluster slot set on a 9x9 grid. For the unfamiliar, cluster slots require you to land 6 or more matching symbols in adjacent positions in order to form a winning combination. The symbols making part of a win disappear from the grid, leading to a cascade as new symbols fall in their place to potentially form new wins. Each cascade adds aa Lightning Wild to the grid, while 5 or more successive cascades activate the free spins! Then there are randomly triggered features to contend with, such as the Runic Shuffle and Viking Sorcery. So let us make our way into this snowy wasteland as we find out what the deal with Viking Runes is!
Viking Runes Game Features
Viking Runes is a cluster slot set on a 9x9 grid. This means wins are formed by landing clusters of 6 or more matching symbols that are touching either vertically or horizontally. The symbols making a winning cluster disappear from the grid, triggering a cascade with new symbols falling in their place. Cascades can potentially bring new winning combinations, and the process repeats until there are no more clusters on the grid. In addition, each cascade adds a Lightning Wild to the grid, up to a maximum of 4. Each Lightning Wild changes its position with each cascade, and is removed once the spin is over. As for the symbols making these clusters, the game has a selection of 9. There are two elaborate high pays in blue and red, while the yellow, red, purple and green runes are the mid pays. The 3 grey runs, on the other hand, are the low pays.
Any random spin might also trigger one of 3 special features. These are as follows:
Runic Shuffle: Randomly changes the positions of all symbols on the grid to guarantee a win.
Viking Sorcery: 3-9 wilds are dropped in random positions on the grid.
Spell of Ancestors: All low pays turn into the highest paying symbol.
Viking Runes Free Spins and Bonuses
Get 5 or more consecutive cascades on a single spin to earn a round of 6 free spins. During these all 4 Lightning Wilds come into play for the duration, and even include a progressive multiplier. This increases by +1 whenever the wild in question makes part of a winning cluster. The cascade feature remains in effect, but the free spins cannot be retriggered.
Viking Runes Payouts
The biggest possible cluster in Viking Runes is one of 41+ symbols. In this case, the blue high pay brings the biggest payout with up to 1,600x the bet, followed by the red high pay at 1,000x. The red and yellow runes are worth up to 600x the bet, and the purple and green 400x. All the low pays, on the other hand, can bring a payout of up to 200x the stake for a cluster of 41+ symbols.
Viking Runes Graphics and Sound
TrueLab brings a suitably muscular aesthetic to Viking Runes. This big game is set in a massive stone whose sides are feature the carved visages of what are probably Viking gods. Speaking of these Norse warriors, you will find one of them on the left-hand side of the screen, warhammer in hand and ready to face whatever this icy wasteland will throw at him! Going back to the game itself, this is densely packed with runes although the grid is designed in such a way that you can easily work out what is going on at a glance. On the right is a meter holding the 4 Lightning Wilds and a top position with the free spins, while in the bottom you will find all the controls necessary to play a cluster slot.
Viking Runes Conclusion
With it snowy night-time setting and bold visual style Viking Runs is a game that immediately catches the eye! And just as well, as it turns out this is also an excellent cluster slot, one that holds big potential in its big grid. So make sure to check out Viking Runes right here at Videoslots Casino today!
Gambling is a form of adult entertainment only. You must be over 18 to play. Play responsibly.