Battle of Slots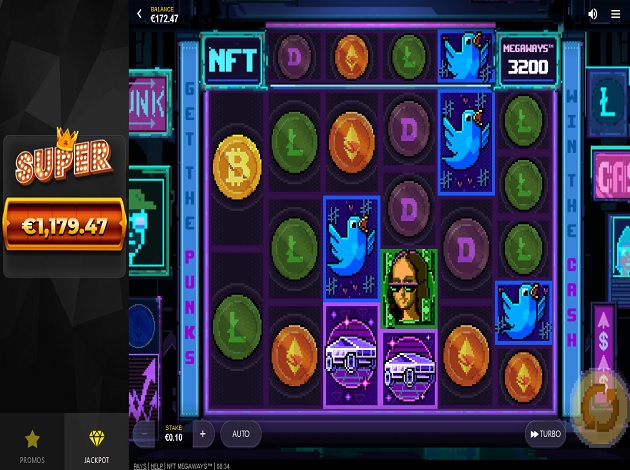 Play NFT Megaways Jackpots online: Check out our review below
NFT Megaways Jackpots Introduction
Are you familiar with non-fungible tokens? In case you aren't, an NFT is a unit of data stored on a digital ledger known as a blockchain. The fact it is stored on a blockchain certifies the digital asset as unique, and as such not interchangeable. NFTs can be any kind of digital file, be it a photo, digital art, video or audio, and while access to copies of the original file are not restricted to the buyer of the NFT, the owners get proof of ownership. NFTs have been around since 2017 but have risen to prominence in early 2021 following the $208,000 sale of an NBA Top Shot video clip of LeBron James and, more famously, a piece by digital artist Beeple being worth $69.3 million. As such it should come to no surprise that NFTs are big business, with sales reaching over $250 million in 2020 and in excess of $2 billion in the first quarter of 2021.
Now Red Tiger Gaming takes on this market with NFT Megaways. This Big Time Gaming-powered slot adopts the retro pixel aesthetic present in a lot of pieces of digital art sold as NFTs, such as the famous Crypto Punks. In fact the Crypto Punks make an appearance in this slot, specifically in the horizontal 4-symbol reel set on top of the slot which is appropriately dubbed the Crypto Punks Bar. Here you will find a selection of 4 colourful characters that act as this game's wilds. If one of these wilds makes part of a win that consists of low-paying symbols it will collect them, with its multiplier growing by +1 for each symbol collected. And that is not all one can find in this zany slot, so let us take a closer look at NFT Megaways and find out what it is all about!
NFT Megaways Jackpots Game Features
NFT Megawyas is a slot featuring 6 slots, each holding a variable number of rows ranging from 2 to 7. The number of rows changes with each spin, and combined with the horizontal 4-symbol reel set on top of the main slot it allows for up to 200,704 paylines. Paylines are formed by landing 3 or more matching symbols on adjacent reels, starting from reel 1 and moving from left to right. Forming a payline triggers a cascade, as the symbols making it disappear from the reels and new ones fall in their place, potentially forming more paylines. This way the cascade process can repeat until there are no more paylines on the reels. As for the symbols making these paylines, these are all based on popular pieces of digital art sold as NFTs, as well as crypto and meme culture. On the high-paying side you will find a pair of hands holding a diamond (in reference to "diamond hands" of investors holding on to their cryptocurrency or stocks), a Shiba dog, a Mona Lisa in sunglasses, the Twitter blue bird (known as "Larry") and a Tesla Cybertruck. The low pays, on the other hand, are symbols representing 4 different cryptocurrencies - Doge, Litecoin, Ethereum and, of course, Bitcoin.
The horizontal reel set on top of the main slot is known as the Crypto Punks Bar, and this is where the game's wilds are found. There are 4 of these, all Crypto Punks characters. When a wild makes part of a win consisting of low-paying symbols it will accumulate a win multiplier that increases by +1 for each low pay. Thus, if a wild participates in a 6-symbol low pay win its multiplier will increase by +6. Wilds remain on the reel during the cascade process, potentially accumulating an even bigger multiplier (which can reach up to 30x) as they do. However this resets between spins. The final symbol on the reels is the Crypto Spins scatter. Land 3 or more of these on the reels to trigger the Crypto Spins round!
NFT Megaways Jackpots Free Spins and Bonuses
Landing 3 scatters earns you 10 free spins, with any additional scatters adding +5 free spins each to the total. During the free spins the multipliers accumulated by the Crypto Punk wilds does not reset between spins. Instead, this can be seen on screen in the 4 meters surrounding the slot. The wilds' multipliers can still reach a maximum of 30x. Scatters can also appear during this round, and landing 3, 4, 5 or 6 will add 5, 10, 15 or 20 free spins to the total.
The Jackpots version of NFT Megaways also includes the Red Tiger Gaming progressive jackpot feature. This can be triggered by landing 3 or more jackpot symbols on the reels. The provider says the chance of triggering the jackpot increases in correlation with the size of the stake played. As for the current value of the jackpot you can check this in the panel on the left-hand side of the screen.
NFT Megaways Jackpots Payouts
The diamond hands are the highest paying symbol on the reels, with a full payline being worth up to 3x the bet. The dog follows at up to 1.4x, while the Mona Lisa can bring up to 1.2x. The bird can earn you up to 1x the bet and the truck 0.8x. Moving on to the low pays, the Bitcoin symbol is worth up to 0.7x the stake, Ethereum 0.6x, Litecoin 0.5x and Doge 0.4x.
NFT Megaways Jackpots Graphics and Sound
NFT Megaways features a chunky pixelated aesthetic that sets the game in what appears to be a futuristic city. Holographic displays fill the skyline, which comes complete with flying vehicles. Here you will find the slot itself, whose symbols are rendered in the same pixel style found in the rest of the game. These are big and colourful, and should prove pleasantly familiar to anyone in tune with the cryptocurrency field, if not online and meme culture in general. On the top horizontal reels you will find the Crypto Punks, which are actual pieces of digital art sold in NFT form. Add a catchy synthwave tune and you have one game that is laser-focused to appeal to a very specific audience!
NFT Megaways Jackpots Conclusion
Not all players might "get" what NFT Megaways is all about, as this is a slot that is all about the memes revolving around a particular industry, but one cannot deny it is still a whole lot of fun! Red Tiger Gaming has put all sort of features here, from multiplier wilds to cascades and, of course, the Megaways system, and it all leads to plenty of thrills and spills. As such, make sure to check out NFT Megaways here at Videoslots Casino today!
Gambling is a form of adult entertainment only. You must be over 18 to play. Play responsibly.