Battle of Slots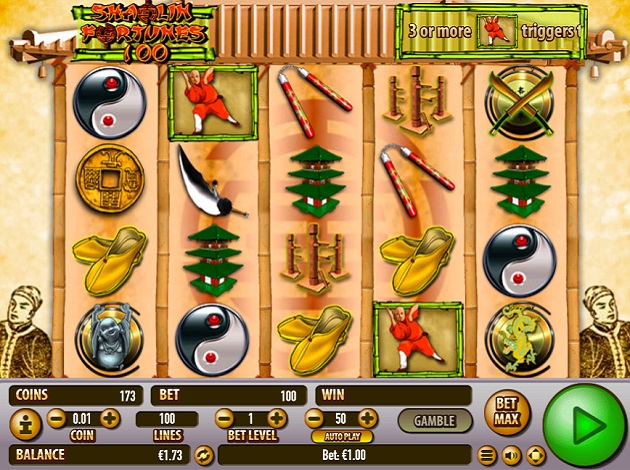 Shaolin Fortunes 100
Shaolin Fortunes 100 Introduction
Bring out your inner warrior and showcase your skills in Shaolin kung fu, an Eastern warfare originating in the Chinese Shaolin Temple. This style of kung fu is one of the most enchanted tactics and has a close connection to Buddhism, Zen, Karma and the teaching of human understanding of our existence.
Even nowadays Shaolin Kung Fu is practiced throughout the world and are usually divided into northern style with long sweeping movements and southern style where the opponents fight closer to each other. The animal-like positions are also identified by the animal imitated. So, go for the crane, the monkey, the worm, the tiger or maybe even the dragon - we're sure your skill and talent will attract big winnings on the reels in Shaolin Fortunes 100 Video Slot! Let's discover more by reading on.
Shaolin Fortunes 100 Game Features
Habanero is good at creating engaging atmospheres and nice designs, and as soon as you enter this game you are greeted by a bright yellow background and reels filled with tranquil temples, sharp swords and fighters. There are 100 easily adjustable paylines (hence the game name) which presents you with some great prizes. The setup is 5x3 and in the paytable you will find symbols of different values as well as Wilds and Scatters. The Wild symbol (a golden bell) appears grouped on the reels and can substitute for all other symbols except Scatters. Let's have a look at what bonus features this game has to offer!
Shaolin Fortunes 100 Free Spins and bonuses
Landing three Scatter symbols (the shaolin fighters) on the reels will trigger the Free Games mode where you get 15 Free Spins that are played at the lines and bet of the triggering game. The Scatters only appears on the second, third and forth reels. More Wilds (the golden bells we mentioned before) are added to the reels to further help you to some sweet profit! The Free Spins feature can also be retriggered if at least three more disciplined shaolin fighters appears on the reels.
Shaolin Fortunes 100 Video Slot includes a set if Progressive Jackpots, which can be won at the end of each spin. The Jackpots being progressive means that they are growing whilst you are playing. They are also triggered at random and can therefore be won any time. Even if you end up winning one of the three Progressive Jackpots, this is not all you win as the Jackpot wins are added on top of the other wins. You can always see the status on each of the three Jackpots right above the reels.
Shaolin Fortunes 100 Payouts
There are quite a few symbols landing on the reels of Shaolin Fortunes 100 Video Slot, apart from the two special symbols (golden bell Wilds and shaolin fighter Scatters). The lower valued symbols are represented by traditional shoes, a couple of different weapons, temples, training gear and yin/yang symbols. Copper coins and Buddhas provides you with medium-range prizes. The higher valued symbols are then represented by crossed swords and dragon images. All symbols pay from left to right, excepts for Scatters which pays any. These wins are added to line wins and multiplied by total bet.
Shaolin Fortunes 100 Graphics and Sound
Shaolin Fortunes 100 Video Slot has been inspired by Eastern martial arts, rich Chinese traditions and philosophical mysticism. Many of the symbols on the reels have a special meaning in oriental culture, which is really interesting. The dragon for example represents peace and knowledge, and the yin/yang sign stands for balance between darkness and earth, positivity and light. The reels come in a creamy yellow and are surrounded by a bamboo frame, also dividing each reel. The background is made up by different yellow and orange shades.
Shaolin Fortunes 100 Conclusion
Focus and use your most gracious shaolin moves to master the Wilds, Scatters and Freespins found on the reels of Shaolin Spin Video Slot! With 100 paylines the chances of landing some nice profits are great, and while the reels are spinning you can also enjoy a relaxing eastern atmosphere.
About Habanero
Habanero is a supplier of both Slots and Table games for the iGaming industry. These are made optimized for the various operators in cooperation, meaning that the games are offered in various languages and currencies, as well as always being offered in HTML5 to reach more player standards.
Habanero is a hard-working supplier, always making sure to strive to supply the most vast and high-quality mix of games possible. Today, Habanero offers a total of over 80 Slot games, 10 table games, and 10 Video Poker games which all comes with exclusive HTML5 and various RTP percentages.
The team behind the games works hard and tirelessly to release more and new games every month, which they always live up to. All games are made to suit all devices, weather you are using tablet, mobile or playing via desktop – all games are made to be optimized for all mentioned. The specials include gameplay in portrait and landscape via mobile, you can play multiple games simultaneously as well as being able to view real-time game history in the games.
Some of the games we offer right now at Videoslots.com are Barnstormers Bucks, Bikini Island and more.
We hope you will enjoy the game as much as we did – best of luck!