Battle of Slots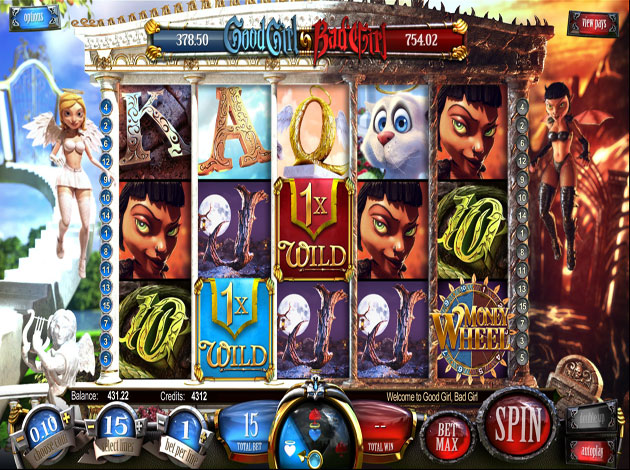 Good Girl, Bad Girl
Good Girl, Bad Girl introduction
Making a decision can be hard sometimes, especially when the heart doesn't truly want what the brain tells you-you should want. The two doesn't always agree, and many have portrayed this with an angel and a devil, usually sitting on your shoulder. The angel represents conscience and is often companies by the devil, who represents temptation. Symbolizing inner struggle and conflict of character, meaning your desires are fighting your common sense.
Have you ever seen the popular Disney movie, Emperor´s New Groove? This is about Emperor Kuzco who is the arrogant emperor transformed into a lama by his power-thriving advisor – Yzma. In the film, you can see a clip of when Kuzso meets the angel and the devil – fighting each other on his shoulders – both telling him what to do. To walk or to not just walk away is the question, to save a life or not. Will the good side of him conquer, or will the bad take the best of him?
This game presents you with the same choice – will you follow the delightful angel with good intentions, or will you follow the fiery path of the bad and delivilicious beauty? In this Video Slot, you will choose for yourself!
We proudly present; Good Girl, Bad Girl by BetSoft!
Good Girl, Bad Girl features
Good Girl, Bad Girl is a Video Slot taking you on a spiritual journey where you have to find the answer to you – good or bad. The symbols and animations are all made in flawless details and designs, offering you a great variety suitable for the theme. The lower valued symbols are the classic card deck symbols ranging from 10 to Ace, designed with everything from heaven to hell in the backgrounds. The higher valued symbols are then the bad girls´ evil cat with yellow eyes, the good girl´s white cat with a halo, the bad girl herself, with black hair, a tan and green eyes – as well as the top player, the good girl with blonde hair and friendly, blue eyes.
But there are a few extra special symbols to keep a lookout for on the reels, which we will reveal all about below!
Good Girl, Bad Girl free spins and bonuses
There are a few intense Bonuses and Features in this game, you can find them all described shortly. But first, we should tell you about the game modes you can choose to play – this is where you make your choice for good or bad – or both.
The game offers 3 modes of play, Good Mood, Both Modes Active, and Bad Mode. They work as followed:
Good Mood offers a low-risk gameplay and payouts are awarded from left to right and are more frequent, with smaller total wins.
Bad Mode offers a high-risk gameplay. The payouts are awarded from left to right reel and are a bit less frequent.
Both Modes can be played at the same time, for x2 more coins per payline. In this mode, the game will pay both ways.
The modes also offer you different Bonuses and Features – and here they are!
Click Me Feature
When the pitchfork and the halo land at the same time next to each other, the Bonuses are triggered. Depending on your game mode, the features will play out differently. If you play both, you get to choose which Bonus yourself.
Good Variant: you will be presented 4 gold-white boxes containing a small win, medium win, big win, and a collect. The 2 glowing boxes contain small/medium wins, the 2 non-glowing gifts contain either the big win or the collect – which will end the Bonus.
Bad Variant: you will present 3 red-black boxes containing a small win, medium win, big win, and a collect. The 2 glowing boxes contain small/medium wins, the 2 non-glowing gifts contain either the big win or the collect – which will end the Bonus.
Wheel Bonus: if 3 Bonus Wheel symbols land on the reels, this feature is triggered. Here you have a chance of landing a Jackpot and various other wins including cash and Free Spins.
Wilds: the pitchfork and the halo symbols are special Wild Symbols and when either of these appears on the reels, and each Wild landed will reveal a hidden multiplier. These can be between 2x and 4x multipliers.
Good Girl, Bad Girl graphics and music
BetSoft is one of the best when it comes to intense graphics experiences, offering 3D graphics and alluring details – which there is plenty of in Good Girl, Bad Girl. The reels are placed on a white/black pillar castle, divided into two worlds. One bad and one good!
The good girl is on one side, the bad girl on the other – and they are both immensely alluring in their own ways. It is completely up to you to make sure that you make the right decision. Will you follow heart or mind?
About BetSoft
Betsoft is a company founded back in 1999 as an online casino developer. Their main focus was providing innovative games as well as reliable software products to their many operators. Betsoft quickly developed and grew into a company well-known for their creative and well-liked games.
Starting in 2012, Betsoft Gaming began a concentrated push into the mobile iGaming market with their specialised ToGo™ line of mobile video slots. Optimised for iOS devices, these portable games include an ever-expanding list of some of their most popular Slots3™ titles, such as The Slothfather, Safari Sam, and Three Wishes. Their ToGo™ collection retains all of the quality and detail of the original Slots3™ games. This was a big launch for Betsoft, and a great time for them. They had established a name for themselves as a respected and successful provider, and the success was inevitable.
Betsoft games are today renowned throughout the industry for their state-of-the-art, true 3D graphics, provocative audio and intuitive gameplay.
Presented in stunning, true 3D cinematic animation produced to the exacting standards found in today's animated feature films and console video games, Betsoft Gaming boasts an extensive collection of over 150 games.
Some of these 150 games are; Kawaii Kitty, 4 Seasons, Charms and Clovers, At the Copa, SugarPop, and A Night in Paris.