Battle of Slots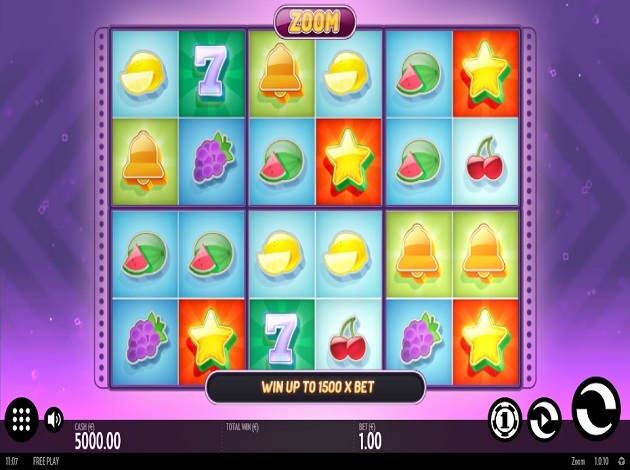 Play Zoom online: Check out our slot review below
It is time to zoom with the Zoom video slot from Thunderkick. This slot game gives you all that you have been missing about classic video slots but also a lot more with its familiar symbols and amazing 6 reels and 64 paylines. It guarantees you massive amount of fun and opportunities to win big time so you definitely don't want to miss out on this one!
Thunderkick is fairly new game provider that was founded in 2012 by experienced people who used to work at NetEnt. Innovation and high quality are two attributes best describing Thunderkick's games, this is obvious to anyone who have ever tried any of those out. Visuals are clean and graphics are sharp but Thunderkick haven't forgotten players' ears either. All of their games include intriguing soundtracks that will grow the excitement up to the roof. Zoom video slot is a perfect example including all these qualities and of course some fun and profitable features to spice up the gameplay.
Zoom Main game
Zoom video slot has 6 reels and 4 rows. Reels and rows have been divided into 6 zoom areas which zoom symbol combines into massive or super massive symbols when it appears on the reels. When this happens there will be some free spins triggered too, but we will get deeper into this feature later on this review.
Layout and visuals of the Zoom video slot are clean and quite simple, there is no specific backdrop but only purple colour with some random bubbles floating around behind the reels. This simplicity is a nice and refreshing and gives the actual gameplay lots of room to shine. And it really shines, all the symbols are colourful and very well executed.
There are alltogether 9 different symbols spinning around the 6 reels of Zoom video slot. Two of them have special job in this game; the symbol with the text "wild" on it is obviously the wild symbol and purple symbol with yellow z on it is the zoom symbol, the symbol where the whole game gets its name.
But what about the basic symbols in the Zoom video slot then? They are heavily inspired by good old fruit machines you might be familiar with. The most profitable symbols are star, number 7 and bell. As low value symbols you will find different kinds of fruits. From the highest paying to the lowest paying symbol they are the following; grapes, watermelon, lemon and cherries. These symbols are presented on colourful backgrounds that gives you nice colour therapy throughout the gameplay.
There is no game like Zoom our there but Second Strike from Quickspin comes quite close. It is not totally similar game but in both games you will have the same feeling.
Zoom theme, graphics, and music
Zoom video slot has classic fruit machine theme – at least in most part. You are probably already familiar with all the symbols because they have been used in many games throughout the history. But Zoom video slot is also something more, it gives you some zoom to your slot playing.
Graphics in Zoom video slot are very well done, as in all Thunderkick's games, and all the symbols match the theme seamlessly. There is nice and mellow soundtrack playing all the way while you are spinning the reels but there are some other sound effects too. If you land some massive symbols on the reels it can't be unnoticed if you have sounds on. And supermassive symbols - they give you earthquake-like sound effect.
Zoom Payout
Zoom video slot is a medium volatility slot, so it has something to offer both high and low volatility slot fans. What you should remember with zoom video slot – like with all the other slot games out there – is that always bet only the amount you can afford to lose.
The smallest bet you can make in the Zoom video slot is €0,10 and maximum bet is €100. You will always have all the 64 paylines active, so you can adjust the bet only by choosing the desired betting amount from the settings. The betting in Zoom video slot is as simple as it gets, just click the amount you want to bet and start spinning the reels!
And when it comes to winnings the Zoom video slot can be highly profitable. It can reward the player with staggering 1500x times the stake – on every spin!
Zoom Bonus game
Even the Zoom video slot is exciting and filled with action, there is no specific bonus game in it. But for Thunderkick game fans there is for example Fruit Warp video slot that offers some nice bonus feature. In this game you can jump into fruit mode by collecting 5 or more similar symbols.
Zoom Free spins
There are no free spins round on the Zoom video slot but you can get re-spins by collecting z symbols on the reels and combining symbol areas to massive or super massive symbols.
Zoom Game features
Zoom video slot has a unique feature which is triggered by landing z symbol on the reels. When this symbol appears the 2x2 symbol area is combined into one huge symbol and re-spin is triggered. And if there will be more of these zoom symbols after the re-spin, you will be rewarded with the new one again. And if you get really lucky there might be even super massive symbols that can cover two thirds of the reels.
Battle of Slots
Videoslots offers its players a possibility to play slot games in social environment – Battle of Slots. These battles are held between two or more players and the aim is to win the most. With limited amount of spins and time you are competing against others to become the master of the slots. The games for Battle of slots comes from NetEnt, Play'n Go and also from Thunderkick, so if you enjoy Zoom video slot, you can try to win the battle on its reels!
Zoom video slot offers you something old and something new with its unique zoom symbol and classic fruit machine symbols. This is a mix you want to try out!