Battle of Slots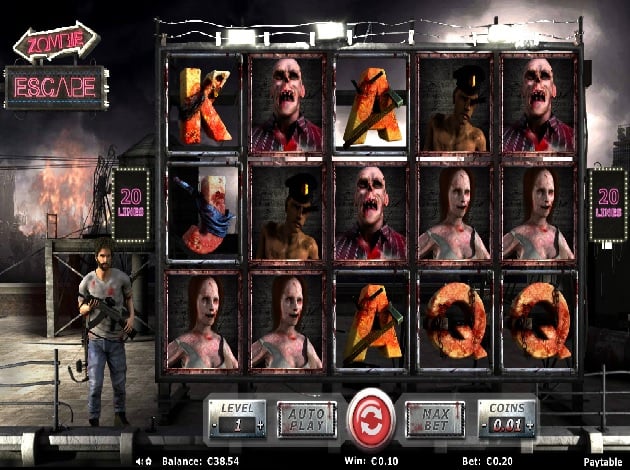 Play Zombie Escape online: Check out our slot review below
This action-filled, bloody, and thrilling video slot will leave everyone entering it in absolute awe. With a theme that has turned into a great hype in the entertainment industry, has taken its way to the video slot scenery. This as a gruesome and entertaining video slot, one inspired by the zombie apocalypse. This is the grand Zombie Escape; a video slot brought to you by Join Games!
As we mentioned, Join Games is the provider behind this video slot. They are relatively new in the business; they were founded in 2014 by two professional business managers that decided to get together and work as one. They are based in Malta, which is an island that has a lot of businesses within iGaming. The founders have a wide experience within gaming, and their vision is to create innovative slot concepts which their players will love.
Their name – Join – symbolizes the union of the teams' different ideas, and that they together work to reach their goals – to become a well-known game provider that creates creative and rewarding games.
Join Games Malta Ltd develop all their casino games on their own, in-house, and work with business to business towards all operators that have a legit license from any of the gaming authorities like MGA (Malta Gaming Authority), Gibraltar, Isle of Man and AAMS.
Join Games has previously granted us games such as Kleopatra, Venice Carnival, and Aztec Temple.
Zombie Escape main game
Join Games has truly done a great job with Zombie Escape, a game offering its players everything you can possibly imagine. With a graphically moving backdrop of fire, blood, and destruction, mixed the vivid animations that goes with it – a zombie apocalypse has never looked or felt more real. Join Games has put all their grand expertise into the video slot, and the effort shows everywhere you look. Are you ready to start the real fight?
The symbols of the game are all made to suit the theme flawlessly, with everything from blood-spattered symbols, to creepy characters. The lower valued symbols are represented by the standard card deck symbols, ranging from 10 to Ace. These are all drenched in blood, chains, axes, and gunshots. The values of them range between 75 and 90 for a 5x symbol combination. The higher valued symbols are then represented by the creepy, moving zombies. You can see the white faced zombie in a colourful shirt, the woman zombie, the guard zombie, and the chubby zombie. He is the top player of the game, and might be the hardest one to catch, with a worth of 750 for a 5x symbol combination.
If you look beyond the basic symbols, you have a few extra special and higher rewarding symbols as well. These are the weapon box, which is the Scatter symbol, the runway car, which is the Wild symbol. Then you have the bow and arrow symbol, which is the bonus symbol of the game, and this can grant you a real fun feature. We will reveal more about these shortly!
Zombie Escape theme, graphics, and music
Zombies are right now a big fascination in the entertainment industry, with numerous movies and tv-series inspired by these gross creatures. Zombies are basically walking dead creatures, living on eating the living. These are incorporated in the blockbuster tv-series The Walking Dead, which has seen a great success. World War Z with Brad Pitt and Zombieland with Wody Harrelson and Jesse Eisenberg are only two examples.
The genre is becoming a greater and greater fascination and viewer-favourite, and hopefully, now even in video slots.
If you are one of the people incredibly fascinated by these creatures, then Zombie Escape is the game for you. It offers a great deal of attributes that you surely will appreciate.
One thing is the moving animations. When landing on a winning combination, featuring the zombies, you will see them be taken out. A lot of bloodshed, and one step closer to extinction. You can see the ruined skyline of the non-existing city in the backdrop, with the flames climbing high in the air. The sky is dark, and the feeling of doomsday is closing in.
Zombie Escape payout
Zombie Escape is played with 5 reels on 3 rows, with additional 20 paylines.
Zombie Escape bonus game
The bonus game of Zombie Escape is certainly a fun one. When landing on three or more of the bow and arrow, the bonus game is triggered. The zombie hunter (who stands next to the reels) then jumps down, to go on a zombie hunt.
You are transported to a new screen, where there are five zombies standing in windows and doors, just waiting for their chance to eat you. Your goal here is to pick which ones to shoot – and when you do – it might look gruesome. Every zombie shot reveals a prize, and after finishing shooting, the total bonus prize is accumulated and added to your balance.
The bonus continues for three picks.
Zombie Escape free spins
Apart from the grand bonus game, Zombie Escape video slot also offers a rewarding free spins feature. Three or more of the weapon bow, will trigger them. How many spins you win, depends on the number of symbols you land.
Zombie Escape special features
Wild symbol
The Wild symbol is the raging car with the "Wild" fender bender. This symbol is worth a great deal when landing on a 5x symbol combination, it grants you a win of 3000. The Wild also steps in to replace other symbols to then create winning combinations.
Does it sound alluring? If you are an enthusiast of the zombie, apocalypse styled theme, then you are certainly in the right place. With the splendidly made graphics with moving animations, the powerful backdrop, the cool animations, along with the many rewarding features offered, it simply can´t go wrong. It is time to get your gear out and prepare to take down these slow-walking monsters. We wish you the best of luck in your gameplay!