Battle of Slots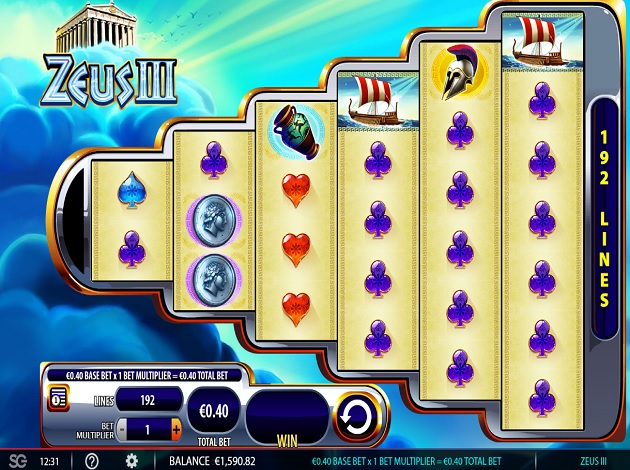 Play Zeus III online: Check out our slot review below
Ladies and Gentlemen, we here at Videoslots.com finally presents you one of the popular video slot that most of the players are playing today. Zeus 3 is a successful slot game that the game provider WMS and this video slot is probably one of the best games that they have ever made. As you already probably know, they also created the games Zeus and Zeus 2 and these games gave an incredibly results to our players. This is one of the reason why Williams Interactive is one of the best game providers in the world when it comes to online casino games since they always are trying to improve their games. This time, they really have made a tremendous improvement on this fantastic slot game Zeus 3. We assure you that you will get the best game experience and the highest payouts in this amazing video slot. Are you ready to hear more about Zeus 3?

Zeus 3 is an upgraded video slot from the games Zeus and Zeus 2 and this generous slot game have 6 reels and remarkably 192 paylines. You seriously cannot compare this slot game with another game. We are sure that you will have a hard time to find a game that have 6 reels and have over 30 paylines. Believe or not, you have actually 192 different ways to land on a winning combination and there is no hesitation at all why this game is so generous with its payouts. This game is also created to all players who wants to make low and high bets since there is a huge range between the lowest and the highest bet.

The symbols that you will see on the reels are well related to the game's theme. So if you really are interested about the Greek mythology, you will be so amazed how the well-made symbols look like. You will also see different kind of animations and hear different sound effects and this varies on what winning combination you manage to land on. The Wild¬-symbol in Zeus 3 is Zeus himself and he have the ability to replace all the other symbols if there is any winning combination that can be made. The Scatter-symbol is Zeus' hand clutching a lightning bold and if you are lucky enough to trigger this bonus feature, you will be rewarded with free spins. The other symbols that you that you find on the reels are following Greek objects like a coin, a vase, a helmet, a ship, the Pegasus and much more.

So are you excited to get the huge winnings by playing this game? We seriously recommend to play Zeus 3 with a decent game volume so that you can get the best game experience that this game has to offer you. Make sure that you take the advantage of those 192 paylines that Zeus 3 has and the more you bet, the bigger payouts you will get. We here at Videoslots.com wish you the best and may the Gods be with you!