Battle of Slots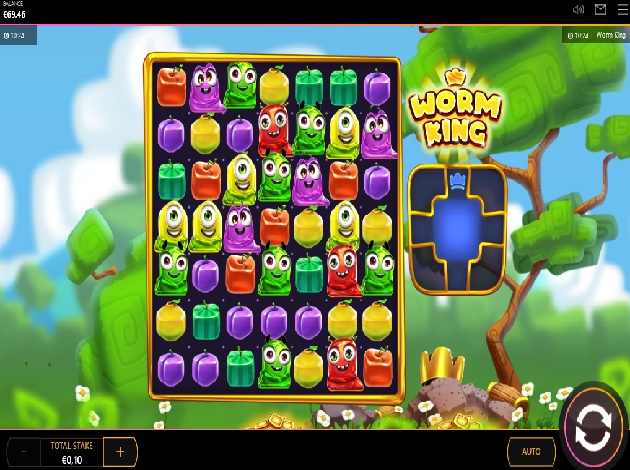 Play Worm King online: Check out our slot review below
Worm King Introduction
Who is the Worm King? We are not sure, but we do know he rules over this cluster slot coming from Bulgarian game developer Cayetano Gaming. Inhabiting Worm King'd oddball land are fruits and a selection of gooey characters that, when 5 or more are connected to each other on the 7x7 grid, will bring about a win. Wins burst and disappear from the grid, leading to a cascade as new symbols fall in their place. In addition, winning symbols fill the meter on the right-hand side of the grid which, in turn, can trigger any of the 3 special features starring the Worm King himself! Collect 100 winning symbols in a single spin to have the Worm King leap into the centre of the grid and turn into a 3x3 Super Wild! Get set for a world of colourful fun in Worm King!
The term "worm" relates to a lot of different animals, some of which only distantly related, that have a long cylindrical body, no limbs and no eyes. Worms vary wildly in size, from microscopic to many metres in length. The biggest land worm is probably the African giant earthworm, which can reach over 6m in length and weigh around 1.5km. Worms get even longer in the sea, as the marine nemertean worm can reportedly reach lengths of up to 55m! This makes it one of the longest animals in the world, even if they are just 5-10mm wide. That said, scientists suggest this extreme size might be deceptive, as these strange animals have very flexible bodies that can stretch to much more than their usual length.
Worm King Game Features
Worm King is a cluster slot set on a 7x7 grid. Being a cluster slot means wins are formed whenever you get 5 or more matching symbols that are adjacent to each other either vertically or horizontally. Forming these clusters is a selection of 8 symbols, divided equally between worms and fruits. Worms come in red, yellow, green and purple, while the fruits consist of apples, lemons, melons and plums. Matching fruits landing in a 2x2 square will form a single Super Fruit, which brings a multiplier of either 2x, 3x, 4x or 5x if it is formed by a plum, melon, lemon or apple. You will also find a golden apple wild, which is able to substitute for all paying symbols. On random spins the Worm King will replace 3-9 symbols with wilds in order to trigger a win. Forming a cluster brings about a cascade, as the winning symbols disappear from the grid and new symbols fall in to fill in the empty space. This can lead to more wins as matching symbols end up adjacent to each other, and the process only stops once there are no more winning clusters on the grid.
Worm King Free Spins and Bonuses
The bonus features in Worm King are triggered by filling sections of the progress meter on the right-hand side of the slot. This meter is divided in 4 sections, each of which filled by clearing 25 winning symbols from the grid. The first 3 sections trigger one of 3 random features, which are detailed below:
Berserker: The Worm King randomly picks 2-4 worms of the same type. Each worm starts cloning itself by replacing fruits in its way, and can replace 2-7 fruits in a rando direction.
Call to Arms: The Worm King randomly picks 1 worm and all fruits of a similar colour are turned into worms.
Fruit Bomb: The Worm King picks a fruit type at random and blows up all fruits of the same type on the grid. All other adjacent fruits also explode.
All bonus features are triggered once all cascades from the original spin are over. The progress meter fills up with 100 winning symbols, which enables the Worm King feature. This has the Worm King jump in the centre of the grid and turn into a 3x3 Super Wild, triggering a win. Once the reactions are over the Worm King splits into two 2x2 wilds set in random positions. Following any further reactions the two wilds split once again into 8 single wilds.
Worm King Payouts
The biggest cluster possible in Worm King is one with 15 symbols or more. In this case, the wild is the highest paying symbol being worth up to 500x the bet. The worms follow, with the red worm earning you up to 200x the bet, the yellow worm 150x, the green worm 75x and the purple worm 50x. Moving on to the low-paying fruit, the apple, lemon, melon and plum can earn you up to 9x, 6x, 4x and 3x the bet respectively. Keep in mind the multipliers that can come about through the Super Fruit!
Worm King Graphics and Sound
Worm King is set in a cheerful, colourful world of bright blue skies and angular trees. The titular regent can be found hidden behind a pile of loot on the bottom right-hand corner of the screen. He will pop up whenever any of the special features are triggered! The slot itself features a similar colourful design, with the grid inhabited with fun, jiggly symbols. The expressive high-paying worms also come to animated life if you ever leave the slot untouched for a while, giving the game a surprising amount of character.
Worm King Conclusion
Cayetano Gaming brings a fun take on the cluster slot with Worm King! This is a game with a lot of colour and character, and that is before one goes into its win potential and bonus features. Check out Worm King here at Videoslots Casino today!
Gambling is a form of adult entertainment only. You must be over 18 to play. Play responsibly.