Battle of Slots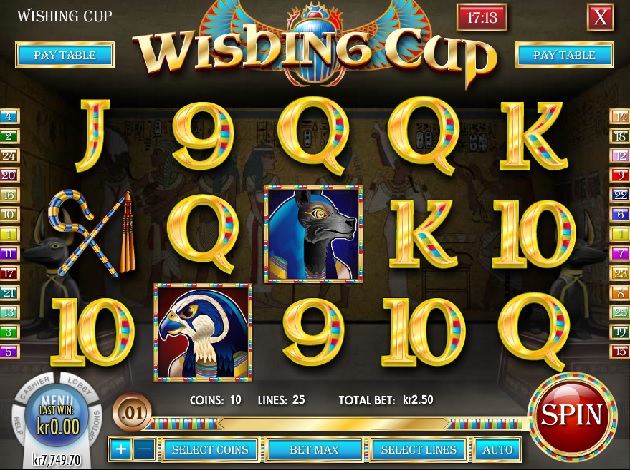 Play Wishing Cup online: Check out our slot review below
If you have even the slightest interest in ancient Egypt, you have heard about Tutankhamen. This ancient ruler was only 19 when he passed away and was forgotten for thousands of years. However, in the year 1922 British agroecology's Howard Carter discovered his tomb in 1922 and made this Boy King the face of ancient Egypt.
Wishing Cup was one of the first artefacts found in Tutankhamen's tomb, but it is also a name of the video slot provided by Rival Gaming. This video slot gives you a sneak peek to Tutankhamen's grave tomb, where there were loads and loads of riches besides the famous Wishing Cup. And now these riches might be just for you!
Rival Gaming was founded in 2006 and quickly took its place in the constantly growing industry. With the team filled with experienced and talented developers, artists and visionary entrepreneurs, Rival implemented all the plans it came up during the years of development and research. Rival wasn't afraid to jump into industry; that was already back then highly competed, and this decision really paid off. Players and operators started to love their unique take on developing games and all the entertainment value in them.
Rival Gaming develops amazing slot games, including innovative i-Slots games, in which players can follow interesting, soap-opera-like plots while playing. Wishing Cup is part of their more traditional video slot selection amongst many other games, like Lost Secret of Atlantis, Arabian Tales, Golden Gorilla, Heroes Realm.
Wishing Cup Main Game
Wishing Cup video slot offers you 5 reels, 3 rows, and 25 paylines filled with ancient Egyptian action. The backdrop of the game is Tutankhamen's tomb – or something that looks like it. Egyptian paintings on a wall, pharaoh dogs and di lightning paint the picture of long-forgotten Egyptian times. Even the first look takes you quickly thousands and thousands of years back in time!
Symbols on the reels of Wishing Cup video slot don't disappoint even the biggest Egypt fan. They offer you nice and shiny selection of golden card deck symbols, Ankhs, Daggers, Crook & Flails and Horus, to name a few. While playing, you might also come across with Tutankhamen's mask – which is scattered of the game – and Wishing Cup itself acting as expanding wild. We will tell you more about the special symbols and features of Wishing Cup in a while.
Wishing Cup Theme, Graphics, and Sound
The theme of the game is – as you might know by now – is Wishing Cup and all the other wonders of ancient Egypt and especially the riches found from Tutankhamen's tomb. Wishing Cup was one of the first artefacts found from this late pharaoh's grave, and archaeologists weren't sure, whether there was more to find. But in proper lightning, they found a lot more. And this wasn't a huge surprise, taken that all the ancient Pharaohs were laid to rest in tombs with many of their secular belongings and riches.
Wishing Cup video slot brings ancient Egypt alive with the sharp graphics and objects related to that time. The quality of the visuals on these reels will amaze you! The theme is shown all the way during the game play, and it will draw you back on the reels again and again. Ancient Egypt has never looked this good!
Wishing Cup Payout
Wishing Cup offers you 25 fixed paylines, so you have all the 25 ways to land the winning combinations. Set the desired coin value and amount of coins, and you have your betting amount set. You can set the bet from the control panel of the game from where you also find bet max button. This button gives you easy access to the maximum bet, and if you are a high roller, you'll come to appreciate this – just one click and you have the maximum bet value set!
Wishing Cup Bonus Game
While playing Wishing Cup video slot, you might trigger features like Free Spins and Expanding Wilds. However, you can't find actual bonus game from these reels. If you are bonus game enthusiast and still want to play in ancient Egypt atmosphere, you might want to try out Microgaming's Throne of Egypt. This slot offers you a bonus game filled with scarabs and other ancient Egyptian creatures. Find the key and level up!
And now, let's get back to Wishing Cup!
Wishing Cup Free Spins
Wishing Cup might bring you even 15 Free Spins when you land enough Tutankhamen's masks on the reels. Get at least 3 of them, and you will get 7 Free Spins, 4 Tutankhamen's mask will grant you 10 Free Spins, and 5 of these symbols will bring you 15 Free Spins!
During the Free Spins, the third reel is wild, and this will, of course, bring you some more action and chances to win! There is also Secret Passageway feature in this game. This feature will bring you some hidden symbols, which are revealed after the reels stop.
Wishing Cup Features
If the game is called Wishing Cup, there should be Wishing Cup symbol on the reels, don't you think? And of course, there is! This symbol is the expanding wild of this ancient Egyptian game, and it might help you to catch lucrative wins. When you land the Wishing Cup on the reels, the ghost of Tutankhamen will appear, and transform all the symbols on the reel to wilds. What a wild feature this is!
Battle of Slots
Have you already tried Videoslots.com's unique social casino concept Battle of Slots? If you haven't, this is the perfect time to do so! Battle of Slots brings you the possibility of battling against fellow players and chat with them. Battle of Slots is a social, fun, and exciting concept and you will have multiple games and Battle types to choose from.
Wishing Cup video slot is the perfect game for you, if you love ancient Egypt or shiny golden prizes – or both – you will love this game! Spin the reels of long lost secrets, and you might find the most precious win of them all.