Battle of Slots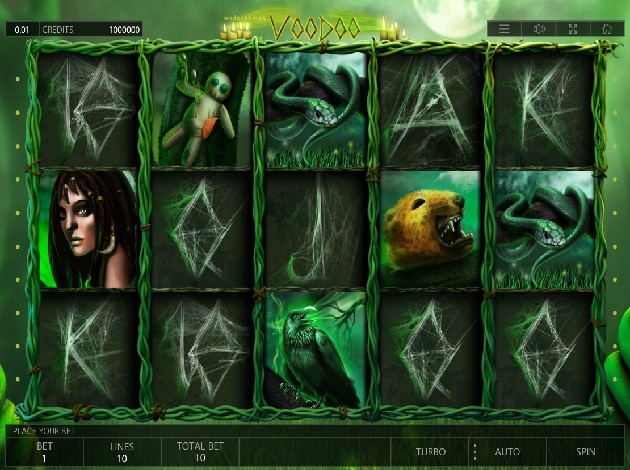 Play Voodoo online: Check out our slot review below
A dazzling and magical adventure is awaiting you who are ready to try something brand new, exciting, and possibly real rewarding! These stunning visuals offered by Endorphina is made in full 3D graphics, and Endorphina is surely one of the best when it comes to these specific attributes. Voodoo Video Slot takes you to a road filled with zombies, voodoos, and dark crafts.
We proudly present, Voodoo Video Slot, a game brought to you by Endorphina!
Endorphina is a B2B software and online gambling provider that offers many diverse and unique slots for online casinos.
Endorphina is a company based in Prague, the capital of Czech Republic, and they were established in 2012. They might be newcomers, but they have quickly grown into one of the most successful companies in their branch of business.
Starting in 2012, Endorphina has already earned themselves a prestigious award at the 2015 Entertainment Arena Expo, held in Romania, where they won the "Product of the year" award.
The same year, Endorphina signed a deal that would make sure that the company could start a cooperation with 120 of the biggest casino operators on the market, to get their games distributed. This is where their success-story got its big break.
Endorphina offers a wide variation of games, and since their launch, they have continuously created and released games for the online markets and to their operator-partners. The range of slot.
Some of the games brought to you by Endorphina are Fairy Tale, Jetsetter, Geisha, Macarons, and Chimney Sweep.
Voodoo main game
Endorphina has made sure to make Voodoo Video Slot inspired and resembled the darker side of everything, with evil magic and witchcraft. The entity of the game simply screams dark magic, and wherever you look, you will see attributes f this. Green and black has been added to the backdrops and reels, creating this feel in a majestic and stunning way.
The symbols on the reels are all made to suit the theme of the game, offering flawless details and cool animations. The lower valued symbols are the standard card deck symbols, made in spiders webs, which all range from 10 to Ace with worth of between 100 and 125 when landing five of a kind. The higher valued symbols are then the crow, the voodoo doll, the dead bear head, the black snake, and the witch with a snake around her and long black hair. These are then worth between 250 and 1000 coins, landing on five of a kind.
Above these basic symbols, there are also a few extra ones to keep a lookout for while spinning the reels. These are the male voodoo man with a high hat and face painting, and this and some other symbols can also award you greatly. We will award you greatly.
Voodoo theme, graphics, and music
Voodoo is a game with the most obvious theme out there, one inspired by all kinds of dark crafts. Voodoo magic is a spiritual sort of magic practised by around 30 million people all over the world. Their rituals and beliefs are all extensive and one of the most known parts is the voodoo dolls. Some use dolls to represent a person, and when you then hurt the doll, the person will feel that pain. The voodoo doll in itself is not an evil or dark thing, but, like many religious and secular symbols, it can be made dark by the person who wields it.
The graphics and designs of the game are very well-made and you can feel the magical and dark crafts atmosphere very clearly.
Voodoo payout
Voodoo is played with 5 reels on 3 rows and additional 10 paylines. these are fixed meaning that you will play on all lines in each bet.
Voodoo bonus game
Apart from the Expanding symbols and the Free Spins of the game, this dark-hearted game does not offer a Bonus Game. But the mentioned features are surely thrilling enough to leave you satisfied in all ways possible. We will tell you about the actual features of this game now!
Voodoo free spins
The creepy voodoo man with a painted face, a black nose, high black hat, and long hair, is the Scatter Symbol of this game. The Scatter is a symbol that can substitute for all symbols of the reels, but it cannot do this during the Free Spins.
When landing on three or more of these Scatters, you trigger 10 Free Spins.
During the Free Spins, the symbol that occurs in a winning combination from left to right will expand to cover all three positions on the respective reels and pay your wins after. The Free Spins can also be won again by landing more of the voodoo man on the reels.
Do you find this thrilling? We hope that you are ready to start this dark journey!
We wish you the best of luck!