Battle of Slots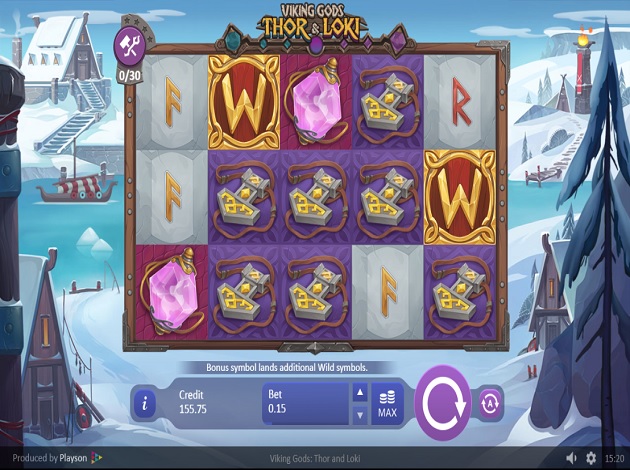 Play Viking Gods Thor and Loki online: Check out our slot review below
Viking Gods Thor & Loki Introduction
Snow-covered hills, mountains, smoking chimneys, and Viking boats take over the scenery of this impressive Video Slot. With a lovely layout like this and a gameplay like offered, it is an experience no other suppliers could grant you.
Vikings were so-called Norse people from the very north of Europe, Scandinavia – Denmark, Sweden, and Norway, to be specific. Vikings used to sail the raging seas to discover new lands, where they became infamous for their vicious attacks on villages and people. The quest was to steal treasure, burn buildings, and kill the natives – wherever they went. It has been said that Vikings were sent by God as a punishment to men, that they were excellent chefs, great at building ships, very aggressive, and still alive in England to this day. When you hear it like this – it sounds horrid.
But Vikings has also been a lifelong inspiration behind many things and is still to this day talking about. But today, the Viking theme has taken a much sweeter and beautiful turn, as you get to simply enjoy the soothing scenery of a frozen island in Scandinavia – no horrid awaiting!
We proudly present Viking Gods Thor & Loki from the brilliant, Playson!
Viking Gods Thor & Loki Features
The symbols of Viking Gods Thor & Loki are all made to suit the theme of the game flawlessly. The lower valued symbols are those of the Viking scripts, the yellow one, the red, and the green. The medium valued symbols are then the Viking necklace, the dragon Anker, and the swirling ring of a dragons head. The very highest valued symbols are then the pink and the blue crystal.
But above these basic symbols, you also have a few extra special symbols that have the ability to grant you some special features on the way. We will reveal all about these below!
Viking Gods Thor & Loki Free Spins and Bonuses
The main feature of Viking Gods Thor & Loki Video Slot is basically two features in one, containing Free Spins. This is the Viking Gods Feature!
You have 2 symbols, one of Loki and one of Thor. These are bigger than the standard symbols and comes with the Gods in full gears. When you land full stacks on the 3rd reel, you trigger either 10 Loki Free Spins or 10 Thor Free Spins.
Thor Free Spins; in this feature, you have a so-called World Serpent which is a symbol of a blue dragon that can guarantee to appear on the reels. The more you land, the more the symbol will expand – making it a colossal Wild at the end.
And for every blue crystal, you land, you add 1 step on the progress bar – and these are the steps that can lead you to Colossal Wilds and additional Free Spins.
Loki Free Spins; with each spin, the Sticky Wild symbol appears on the reels and remains in the same cell until the lock is broken. The lock only breaks when the Sticky Wild is part of a winning combination (the golden framed wolf). Here, you also have a progress bar, which changes the Sticky Wild Symbol:
1st level – regular Sticky Wild
2nd Level – Sticky Wild with 2 locks
3rd level – 2 Sticky Wilds with 2 locks
4th Level – 2 Sticky Wilds with 3 locks
Each new level adds additional Free Spins, 1, 2, and 3 respectively and when the pink crystal appears, 1 step on the progress bar is added.
There are 3 Wild Symbols in this game, the dragon, the wolf, and the W – all made in gold frames. These can step in to substitute for other symbols and thereby grant you winning combinations.
Viking Gods Thor & Loki Payout
Viking Gods Thor & Loki is a Video Slot played with 5 reels over 3 rows and additional 15 paylines. All paylines grant wins if in succession from left to right on the reels, and only the highest win is paid out.
The lines are fixed, which means that you will be playing on all lines in each bet.
Viking Gods Thor & Loki Graphics and Music
Viking Gods Thor & Loki is a clear, impressive, and nice game – not only when it comes to features and gameplay. Both graphics and designs are made in impressive manners, and you can truly feel the vibe of the Scandinavian scenery. Behind the wooden reels, you can see the hills rolling, with houses, smoking chimneys, the Viking boat, and the soft snow covering the ground. In the middle, there is a big lake, with a beautiful environment surrounding it. everything is made in cartoony animations, vibrant colours, sharp graphics, and alluring designs.
About the game supplier, Playson
Playson is a game provider company with headquarters in Malta, with staff all around the world. So far they have a team of 250 people, all working hard and tirelessly to create, develop, and design games for the biggest operators on the market. As a software and game developing company, they have so far been able to put together a portfolio of more than 40 games, all in Flash and HTML5 and available in mobile devices. Playson offers their products for both land-based and online gaming partners, and everything is made in advanced HD graphics and using the best mathematics and technology available.
Some of the games provided by Playson before are among others Wild Hunter, Alice in Wonderslots, Aztec Empire, and Burlesque Queen.