Battle of Slots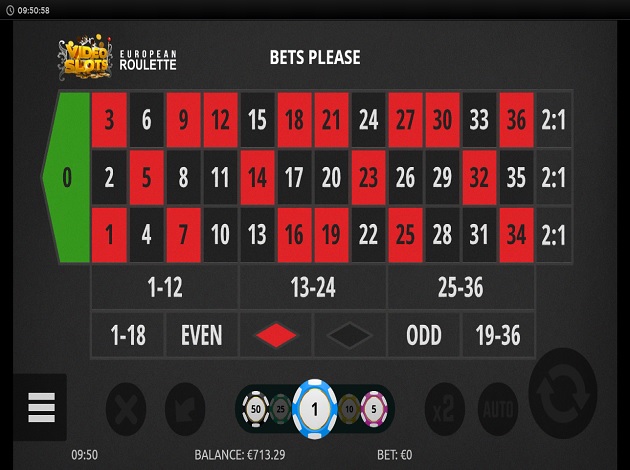 Play Videoslots Roulette online: Check out our review below
Videoslots Roulette Introduction
Videoslots Roulette follows the classic European Roulette rules with 37 numbers on the wheel, ranging from zero to 36. Even if you've never played Roulette before, the user-friendly interface of Videoslots Roulette will show you that it's a very simple game to play! All you need to do is predict where the ball will land after the wheel is spun. When the ball lands in a pocket, any winnings are paid. You'll win a prize if the ball lands in an area where you've placed a bet, according to the paytable. The highest paying bet is always the straight bet but there are several bets to choose from.
How to Play Videoslots Roulette
To place your bet, you simply need to place the relevant chips on the table in the betting area. Once you've placed your bet, simply hit 'Spin' and the Roulette wheel will spin.
Inside Bets
Inside Bets are placed on specific numbers on the table layout. These include all of the following.
Straight - a bet placed on any individual number on the table layout (from 0 to 36).
Split - a bet which is split between two adjacent numbers on the layout (but not adjacent on the wheel).
Three Line/Street - a bet which is placed on three consecutive numbers on any row on the table layout.
Corner – a bet which covers four numbers on the table.
Six Line - this bet allows you to place your chip to cover six adjacent numbers on the table layout.
Outside Bets
The Outside Bets are the bets you can place on the areas that are outside of the table and these are placed on groups of numbers rather than individual numbers. These include all of the following:
Column – a bet on 12 numbers in the same column.
Dozen – a bet placed on 12 numbers made up of four rows with three numbers each.
Colours – a bet places on red or black colours.
Even/Odd – a bet placed on all the even numbers or all of the odd ones.
Low/High numbers – a bet placed on the low numbers (1-18) or high numbers (19—36).
Videoslots Roulette Payouts
The payouts for each possible bet are listed below:
Straight Up bet pays 35:1
Split bet pays 17:1
Three Line/Street bet pays 11:1
Corner bet pays 8:1
Line bet pays 5:1
Column bet pays 2:1
Dozen bet pays 2:1
Even/Odd bet pays 1:1
1-18 numbers bet pays 1:1
19-36 numbers bet pays 1:1
Videoslots Roulette Graphics and Sound
Videoslots Roulette has a minimal design with the usual colours you would expect for Roulette and a good soundtrack playing in the background. When you load the game, you'll first see the betting table where you can place your bets. Once you've placed your bet, you'll be taken to the Roulette wheel.
Videoslots Roulette Conclusion
Videoslots Roulette offers a classic Roulette experience with easy to understand rules, all the usual bets you would expect, and high quality design. Play Videoslots Roulette at Videoslots Casino and check it out for yourself!
Gambling is a form of adult entertainment only. You must be over 18 to play. Play responsibly.