Battle of Slots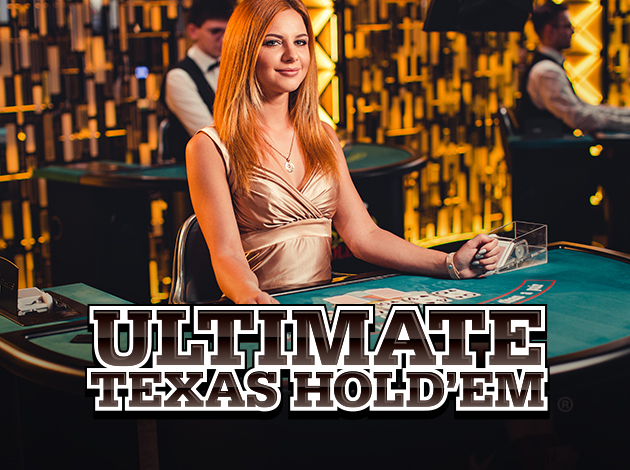 Play Ultimate Texas Hold em online: Check out our review below
Ultimate Texas Hold'em Introduction
Ultimate Texas Hold'em is now live and exclusively available from the one and only Evolution Gaming. This live version of the most popular Hold'em variant was created by Evolution Gaming in partnership with Scientific Games.
Ultimate Texas Hold'Em is a head-to-head game that is played directly against the dealer with the opportunity of a side bet that plays odds if your final hand is a three-of-a-kind or better.
The main objective of the game is to make a better five-card hand than the dealer.
Ultimate Texas Hold'em Game Features
Live Ultimate Texas Hold'em comes with the standard Ante and Blind bets and an optional Trips bonus bet too. You can take your seat at the poker table by placing any bet ranging from at least € 0.5 to € 500.
Ante and Blind Bet
To begin Ultimate Texas Hold'Em, you need to make three equal bets on the ante and on the blind. After you've made a bet, you will receive your two starting cards.
You then have the choice to either check (do nothing) or make a bet. The rest of the five cards will be dealt and the player's best hand will be evaluated against the dealer's best hand. In case you decided to check during this round, then the three cards will be dealt, which will lead you to another decision you have to make!
You now have to decide between checking or making a bet of x2 the ante. After this, the remaining two cards will be dealt, and your best five card hand will be evaluated against the dealer's hand.
Now, if you decide to check, the remaining two cards will be dealt and the player will have a final choice between folding or placing another bet. If you fold, it means that the hand is finished and the dealer's cards will be revealed and then your best hand will be evaluated against the dealer's to determine the winner!
Trips Bonus Bet
With Evolution's live Ultimate Texas Hold'em, you also have the option of making a Trips bonus bet at the start of the game when the Ante and Blind bets are placed. The Trips bonus bet pays out on a range of poker hands from Three of a Kind or better, regardless of what hand the dealer achieves.
How to Play Ultimate Texas Hold'em
The first rule is that players need to make equal bets on the ante and the blind. The ante is a bet that everyone must make in order to stay at the table. Secondly, throughout the game you'll have the choice to either check, bet or fold. Basically, if you don't like the cards you were given, then you can fold which means you no longer need to take part in the hand.
Later in the game, you'll have to make a decision between placing a bet or choosing to check. If you make the decision to check, then you are putting your betting on hold but are still remaining in the game. However, if someone makes a bet after you check, then in order to stay in the game you'll be given the choice to either bet or raise. But, in case nobody made any bets on that round, then the next card will be dealt, and it goes around the table again where the first player has the choice to either bet or check.
Ultimate Texas Hold'em Payouts
The outcome of the game is determined by comparing the player's best five card hands and the dealer's best five card hands. The dealer must have a pair or better in order to qualify. If you win, the Ante and Play bets are paid out as follows:
Ante bet pays 1:1 if the dealer qualifies with a pair or better.
Ante bet is returned to you if the dealer does not qualify (a push).
Play bet pays 1:1 regardless of what the dealer's hand is.
You can also find the detailed payouts for the Blind and Trips bet in the paytable section above the screen.
Ultimate Texas Hold'em Graphics and Sound
Live Ultimate Texas Hold'em is streamed from a luxurious casino setting with high quality video that makes you feel like you're really at the table. Behind the dealer, you can also see dealers at other tables, although this does not distract you from focusing on your own table. The dealers will also welcome you and guide you throughout the game.
Ultimate Texas Hold'em Conclusion
Evolution Gaming in partnership with Scientific Games has created a truly luxurious and enjoyable experience for poker enthusiasts. This exclusive online version of the popular Hold'em game is fun to play and easy to understand, and thanks to the high-quality graphics, you'll feel like the buzz of a real casino wherever you're playing from.
Gambling is a form of adult entertainment only. You must be over 18 to play. Play responsibly.
About the Provider
Evolution Gaming was founded in 2006 and since then, they've managed to revolutionise the European live dealer platform around the world. Their headquarters are in Riga, Latvia, but a majority of the employees are based in Malta as well. Since its conception, Evolution Gaming has become a leading B2B provider of Live Casino systems within Europe today.
Their Live Casino consists of real-life dealers that run the game in real-time on a casino gaming table just like you would find in a real-life casino. Players can engage with the dealer via a live streaming video link. Essentially, they've given players the option to go to the casino from the comforts of their home!
The vision at Evolution Gaming is to be the leading Live Casino provider in the world whilst ensuring that they create an unforgettable user experience as well as make operators successful. They accomplish this is by offering a localised Live Casino experience into regulated markets available on all digital platforms for online and land-based game operators, and players too.
Evolution Gaming is working towards maintaining and strengthening its position as a top Live Casino provider, while keeping up-to-date of developments within the global gaming market.
You can check out a wide variety of live Evolution games like Blackjack, Roulette, Baccarat and much more at Videoslots!
Play in our Battle Of Slots
Don't miss out on the opportunity to play a thrilling Battle with our special, unique and very first social online casino experience – Battle of Slots. Videoslots gives you the chance to play first time Battles against your friends and other players on videoslots.com with games from NetEnt, Thunderkick and Play'n GO. There is only one Battle of Slots – and you'll only find it on videoslots.com!