Battle of Slots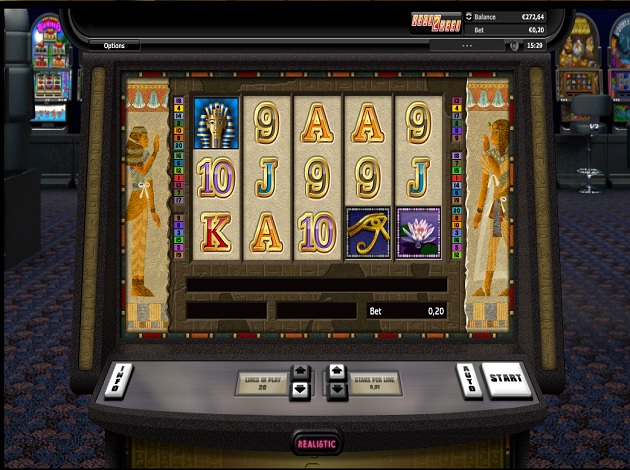 Play Tutankhamun online: Check out our slot review below
Tutankhamun Introduction
The British game supplier by the name of Realistic Games has brought us a Video Slot with an Egyptian theme. We are taken back to the mummified Egypt with well-known icons and precious symbols. The mummies are corpses preserved for a very, very long time by intentional or random conservation, also called mummification, which was common in the ancient Egypt with all embalmed rules that applied at the time.
The most infamous mummies are the ones embalmed in the purpose of preserving them in Egypt, to mention one. One of the people that were mummified was Tutankhamun, who was a Pharaoh – a title for ancient Egyptian kings that ruled from around 3000 b.c up until the Greek-roman era.
The Pharaoh thought that he had been chosen by the Gods to rule over the people, which changed after the 1300 b.c, as people no longer believed it. When they died, they were buried in big tombs inside pyramids or mountains, toms containing valuable treasures to ensure the passed a life in riches. This also led to another breaking into the tombs to raid them. Today, we are about to find out if all treasures were raided of if Tutankhamun Video Slot has something left to offer us!
Tutankhamun Features
All reels of this game are filled with ancient Egyptian icons and the lower valued symbols are a 9, a 10, J, Q, K, and A. Somewhat higher values are brought to you by the bronzed vase and the white water lily. The two golden icons will grant you the highest payouts, five of these symbols can even grant you a price of 1000 coins. Hopefully, you will land a Tutankhamun burial mask as it can award you a special Bonus. Usually, it can be slightly creepy to see the mask of Tutankhamun as this was what one saw when burying the Pharaohs over their faces. In Tutankhamun Video Slot there is a clinging symbol that can shape some great wins for you. Keep reading and we will find out just how the game can award you!
Tutankhamun Free Spins and Bonuses
All symbols of Tutankhamun will be able to substitute for other symbols to create winning combinations and you will be honoured a Bonus in the form of Multiplied wins.
1 Tutankhamun grants you 2x
2 Tutankhamun grants you 3x
3 Tutankhamun grants you 4x
4 Tutankhamun grants you 5x
There is also a rewarding Scatter Symbol in Tutankhamun Video Slot. The Scatter can appear in any position at all, no matter how many paylines are kept active. Only the highest (3, 4, or 5) generates wins.
3 Scatters grants you 5x the bet amount
4 Scatters grants you 75x the bet amount
5 Scatters grants you 500x the bet amount
If you land on 3, 4, or 5 Scatter Symbols, you be awarded Free Spins.
Tutankhamun Payout
Tutankhamun Video Slot offers 5 reels on 3 rows with additional 20 paylines. The winning combinations are confirmed from left to right on the rows and you can choose yourself how many paylines you wish to keep active (between 1 and 20). To the left side of the reels, you can see the control panel where you can adjust your number of active paylines. You can also set the coin value, turn the music on/off, read up on the game rules, symbols, and the features.
Tutankhamun Graphics and Music
The game supplier, Realistic Gaming, has in Tutankhamun Video Slot chosen to keep a stylish design with important symbolised cultural figures from the ancient Egypt. On the sides of the reels, you can see big blocks of stones building the Pharaohs and their greetings. Surrounding the symbols, you can see the dark bricks and the atmosphere are almost a bit creepy and haunting. The design is uncomplicated and stylish with a dark grey backdrop in contrast to the dove neon symbols and colourful fruits on the reels.
Tutankhamun Conclusion
The ancient Egypt is back to greet us, this time bringing us Tutankhamun – also called Pharaoh. The royalty isn´t only rich with power, but also preciousness, and with that, you have the chance to bring home a whole tomb of gold and treasures. We hope that you will enjoy this game as much as we did – and we wish you the very best of luck.
About the provider, Realistic
Many years' experience in the gaming industry is always an advantage to hold when starting a business – and this is just one of the reasons behind this game developers grand knowledge in what to grant players and operators. A key to success is being able to keep a good and strong partnership, as well as being able to offer something that not all have.
What are Realistic Games?
Back in 2002, a group of passionate entrepreneurs came together to found Realistic Games. The company was started with a goal and vision to be able to offer high-quality content for some of the biggest and world leading gaming operators. They do this with a team of all specialities and professions needed to reach their goals. Their technologists, designers, artists, and modellers work alongside the commercial and marketing teams to get to where they need to be.
The games
The games from Realistic Games and the entire portfolio is a wide blend of types of games. The company isn't focusing on solely one thing, but multiple to allow more entertainment opportunities. Realistic specialises in tailoring Roulette, Blackjack, Slots, and fixed odds bets to a wide range of devices. These all include PC´s, iPads, iPhones, Androids, and tablets – but also, cool enough, in gambling machines on the high street.
Some of the games from Realistic are; Hot Cross Bunnies, Super Graphics Upside Down, Symmetry, and Pentagram.
Check Realistic out now!