Battle of Slots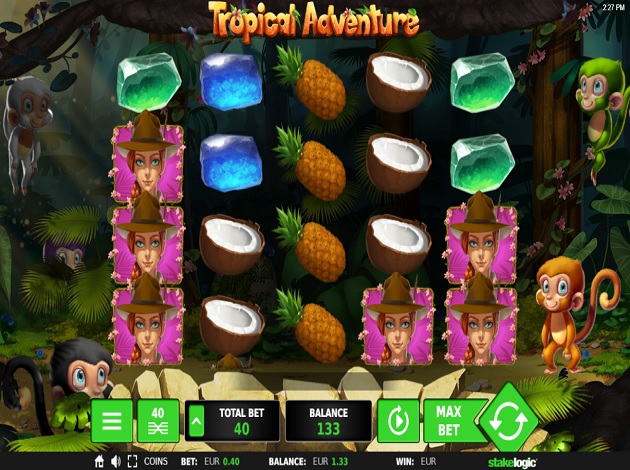 Play Tropical Adventure online: Check out our slot review below
Tropical Adventures Introduction
Come along on an expedition into the very deepest corner in the chase for the most surprising treasures! In Tropical Adventure Video Slot, you get to come along with the games´ two charismatic main characters and a full pack of helpful monkeys that will make sure to grant you not only an adventurous journey but also a lucrative one too. Get your mosquito spray ready and step out into the jungle to enjoy phenomenal graphics as well as dynamic Wilds and Free Spins.
We proudly present; Tropical Adventure from Stakelogic!
Tropical Adventure Features
As soon as you open Tropical Adventure Video Slot, you are welcomed by a group of happy monkeys around the transparent reels. The base symbols that can land on the reels are bananas, pineapples, and coconuts. All of these are delicious symbols that take you to the idea of palm trees, sandy beaches, and vacation times. The coconut palm tree is spread out all across the world, in areas with tropical or sub-tropical climate – and these became known already back in year 500 by an explorer named Kosmas.
But in this jungle, there is no time for vacation, relaxation, and drinking on the beach – we are here to treasure hunt! Among the base game symbols, you can also find gems and jewels in red, blue, pink, and green. The last mentioned ones might even be emeralds, which history starts in the age of Cleopatra. She is said to have a love for the green gems resembling immortality and renewal. She, therefore, explained the resources of emeralds in Egypt, as its property, and posed for portraits quite frequently – all with these green emeralds on her. On the reels, you can also see the main characters of the game, a handsome man with a crooked smile with a rope in hand – somewhat resembling Indiana Jones. Also the red-haired woman with turquoise eyes, also with a rope in hand, ready to be used. Both characters wear shirts, hats, and looking like they are ready and equipped for all challenges of the jungle.
Apart from the base symbols, there is also another two symbols that you should keep an extra lookout for in the thick vegetation. Sweet monkeys holding letters that spell out "Wild", are, not sp surprisingly, the Wild Symbols of the game. Just like always, these can step in to substitute for other symbols to then create winning combinations for you. But in Tropical Adventure, it doesn't stop there. The monkeys are actually dynamic Wilds! When a monkey lands on the reels, another helpful little primate jumps up and places on another symbol to then increase the winning opportunities.
The other special symbol of this game is the Scatter – a golden symbol that resembles the power-animals with mysterious ones you can find on a totem pole. This creature has a big, roaring grin with turquoise and almost glowing eyes. But do not fear, this can lead you to some Free Spins. Keep reading and we will tell you all about it!
Tropical Adventure Free Spins and Bonuses
When multiple, golden creatures turn up on the reels, the Free Spins Feature is triggered. How many Free Spins you can win depends on how many Scatters appeared:
3 Scatter award you 10 Free Spins
3 Scatters award you 20 Free Spins
5 Scatters award you 30 Free Spins
These Free Spins are played with a new, astounding backdrop view from a rocky ledge above the tree tops. You can see waterfalls, wide mountains, and musty jungles through the transparent reels during the time where you play and gather wins during your Free Spins Feature. When the Scatters lands on the reels as the Free Spins are already in play, you can re-trigger the spins again.
Tropical Adventure Payout
Tropical Adventure Video Slot offers 5 reels over 3 rows, with additional 40 fixed paylines. The winning combinations are confirmed from left to right on the rows. Under the reels, you can see the control panel where you can adjust the bet and make settings for the practical autoplay. To the far left, there is a menu choice where you can read about the game rules, the symbols, dynamic Wilds, and the Free Spins Feature.
Tropical Adventure Graphics and music
Tropical Adventure Video Slot has a great jungle theme with a tropical atmosphere, fantastic animations, and admirable graphics. The reels are placed in a damp, green jungle vegetation and the sun is beaming down through the trees to add a nice touch to the game. Little, well-willing monkeys watch the reels and climbs the liana that splits the reels. Stakelogic is, yet again, demonstrating its abilities time after time, displaying its fantastic skills, always making sure the design grants you extra entertainment and player value. In the backdrop, you can hear the music and sounds of the jungle that increases the excitement as you play and contributes more to the mood of the game.
About the provider, Stakelogic
Behind this online slot is a young game developer called Stakelogic. This game developer from the Netherlands has been on the market since 2014 and has already managed to capture players' interest with their stunning 3D graphics, among other things.
Stakelogic there are top-selling professionals who create unique games. This game developer's gaming product shows both creativity and skill, as the top-of-the-line features of the game also display well-executed game algorithms. Entertaining and full-featured games with first-rate gameplay lead us to believe that we will continue to hear a great deal about this game developer.
Stakelogic is all about innovation and revolutionising the online gaming industry: their state of the art casino games change the way players play online. Stakelogic video slots are recognisable by their frequent use of animations with very clearly defined graphics. Their slot games represent the most advanced games available in the market. Their revolutionary Slots 360° technology and advanced MOBi mobile gaming platform help to differentiate Stakelogic's games from those of other providers.
Stakelogic's range of games includes other well-known games such as King Bam Bam, Dr Magoo's Adventure, Las Vegas Fever and The Amsterdam Masterplan.
We wish you the best of luck!