Battle of Slots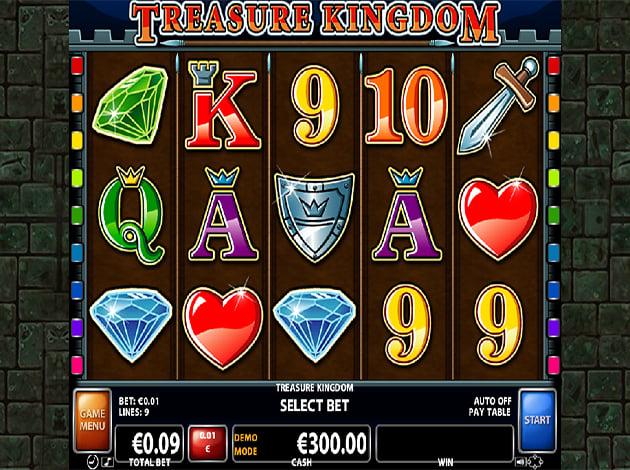 Play Treasure Kingdom online: Check out our slot review below
Casino Technology is one of our most recent additions to our already big and beloved Videoslots family. They are a really hard-working game provider that is constantly delivering fun and exciting video slots with innovative features, many of them with fun themes. If you enjoy this game, we would recommend that you browse through their portfolio of casino games, you will surely find something to your liking there
Want to feel like a royalty there you are the one who determines from the big royal chair and pointing wildly with your luxurious cane? Of course you want. Here in this luxurious Video Slot you will feel how your personality transform into a royalty, and you are the master of Video Slots. So put your crown on your head and your white silk gloves on your hands and you Spin for your life. For here we have no time to lose. Here you can win a lot of money so that your royal partner can enjoy a piece of grapes on the sandy beach that is whiter than your nice white luxurious silk gloves, and where the sun shines all year round and where your butlers standing with large palm leaves and cools your royal body. When you are tired of the wonderful sandy beach you can call your private captain who will take your big luxury yacht around the Mediterranean where you can lie on the deck and look out over the horizon and feel that you are the king of this world.
This video slot is very simple and clear, just like you want it. The symbols exudes luxury and will keep you entertained for many hours. You will find all the information you need to know about this Video Slot in the large menu button to the left. You raise and lower your bet on the red button that cannot be missed.
The background of this Video Slot is a fine stately and very old wall that was built in England in the 1800s. The wall has a very beautiful story in itself. All Royals had a copy of this wall at home and were often built opposite a window so people from the street could see that this family was royalty and was very wealthy. Every Sunday they welcomed one of the closest in the family and sat against the wall and drank their favourite tea which was spiced with a beautiful little piece of gold leaf. They had only gold leaf in the tea to show that they were royalty, and to chuckle a little extra loud to they self that they were the richest in the city. Unfortunately you or me didn't lived in the 1800s so we never had the chance to see or drinking tea at this wall. Therefore, we must thank this Video Slot extra for the chance to relive the feeling to be at this wall and feel powerful and mighty.
Hopefully the wall will bring you extra luck in the game and make you as rich as the royalty in the 1800s who spent nearly half their life sitting at the wall. Take a deep breath, feel the mighty aura from the wall and start to spin.