Battle of Slots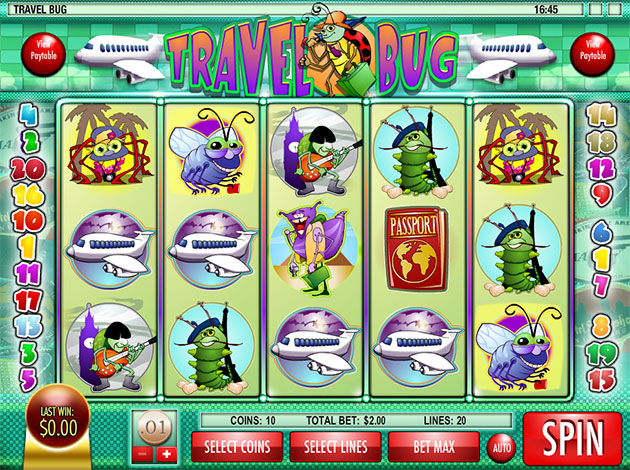 Play Travel Bug online: Check out our slot review below
Have you ever wondered if there are another world full of lives that we are not aware of? It is really possible that there is a world full of live among the bugs. We already know that they can communicate, work together, help together, eat and have their own places where they sleep. But how do we know if they are taking vacations and travel around like we humans do? The game provider Rival Soft Company presents you this amazing video slot Travel Bug. While playing this game you will see different bugs using different ways to travel. The bugs looks really funny with their different appearance and you will immediately see where each individual are about to travel depending on how they have packed their luggage. With the well-made symbols you can see on this funny video slot you cannot even imagine how much time and effort the game provider Rival Soft Company have worked with the graphics. The colours in this game really suits the theme and the symbols are 100% related to this game. A good combination of tremendous graphics and cool sound effects, this game is clearly delivering to our players to give the best feeling how the life of a bug could be like if they are going to travel.

This video slot Travel Bug is a 5-reel slot with up to 20 paylines. As the symbols are related to the theme you will find a caterpillar, a slug, a spider, a beetle, an aeroplane, a cricket, a train and a fly on the reels. The cute ladybird in this slot game is the Wild-symbol. You should be happy if you land on this ladybird because this symbol will replace all the symbols on the game just to give you a winning combination. However how cute this ladybird is, this Wild-symbol will not be able to replace a Scatter-symbol.

The Scatter-symbol in this video slot is the little bug on the suitcase. This little cool bug will give you free spins depending on how many symbols you land on. You need to have 3 or more of the Scatter-symbols in order to receive 10 free spins. How good doesn't that sounds like? You can actually receive free spins and even WIN more money!

As many of us people around the world, we should be lucky that we have a passport so that we can travel around the world. To having a passport is as much as important in this game as well if you really want to go far. If you are lucky enough to land on three or more passports you will trigger a mini-game. During this Bonus round you have to plan a trip using the budget that you have available. The rules are really simply. The further you get, the more you will win so the challenge is just to use your budget wisely in order to win big. Be open-minded when you are playing this game because it takes more than a luck to take home the amazing winnings that you can get from this slot game.