Battle of Slots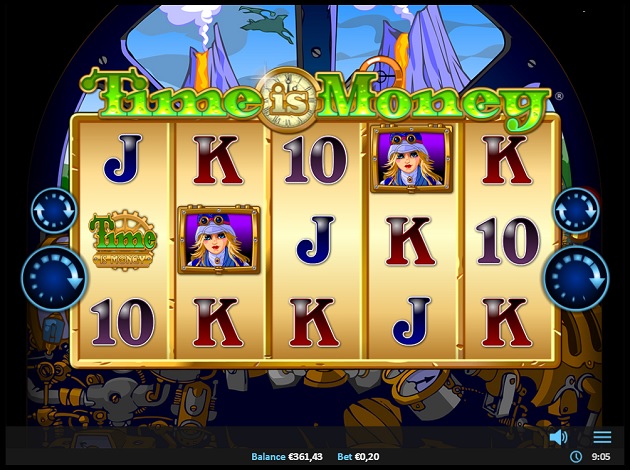 Play Time is Money online: Check out our slot review below
Time is Money Introduction
Time is money, don't you agree?
In Time is Money Video Slot, the clock is ticking on and on. The expression of "time is money", is said to come from the British-American citizen Benjamin Franklin. Benjamin Franklin was born on January 17th, 1706 in Boston, in the then Massachusetts Bay Province in the British America. He was a grand scientist, diplomat, and politician that invented the lightning rods, and there are numerous saying and experiments using electricity that he is infamous for. A lightning rod is a special device that protects buildings from the harms that can be made by a thunder and lightning storm.
Benjamin Franklin was a great man and very active when it came to the expression of "time is money", it was surely something this man lived by. He is a hardworking man, and a man with many sayings – and Realistic Games has been realistic enough to bring us a Video Slot that is both time-saving and efficient – this to bring home as much cash as we can!
Time is Money Features
The reels are placed inside a specially formed aeroplane and here, the lower valued symbols are of numbers and letters, with 9, 10, J, Q, K, and A. The golden, scientifically created robot grants you higher payouts, while the absolute highest ones are generated by the female and male pilot. They are both dressed in flying gear, but with the olden day's caps and goggles attached to them. The goggles are made to secure the pilots from getting scrapples in their eyes, and to protect them from unimaginable weather casts, to make them see clearly in all storms.
The golden cogwheel is the Wild Symbol of the game and this can step in to substitute for all basic symbols of the game, both in the base game as well as in the Bonus Game – this to complete winning combinations.
Time is Money Free Spins and Bonuses
The golden clock is the Scatter Symbol of the game and this can appear in basically any position on the reels. It is the highest combinations on reels 3, 4, or, 5 that will be the most awarding, as they can grant you a Bonus on each payline;
3 clocks grants you 12 Free Spins
4 clocks grants you 24 Free Spins
5 clocks grants you 48 Free Spins
When you win a Free Spins round, you will start yet another round and a clock will appear and show what multiplied win you will be handed. The multiplied win will then be multiplied by the bet you made per payline. If you land enough symbols, you have the chance of winning the Jackpot. The Mini Bonus Game is one that goes fast, and it is key to keep up with it all – but as the name says: time is money, right?
Time is Money Payout
Time is Money Video Slot offers 5 reels on 3 rows and additional 20 paylines. The winning combinations are confirmed anywhere on the reels in a payline, and it is only the highest win that will be paid out. The control panel is subtle and thoughtfully placed around the reels. On this, you can place your bets, read about the game rules, and take part in other necessary information.
Time is Money Graphics and music
In Time is Money Video Slot, the reels are placed in the front of the cockpit. Underneath and on the sides of the reels, we can see the planes instrumental panel and above the planes and outside the windows, we can see two active volcanos right after an eruption. The reels are placed on a golden road framed in gold too.
The music in the game is very well-known and dramatic, with intensity and changing of tones. During the base game, you can hear a song inspired by Mozart being played, just to give an example. Realistic Games has certainly succeeded in creating a unique Video Slot with attributes you surely haven't seen before. This is just what Realistics´ goal is, and they have truly achieved it in flying colours. Even the classic music from the days when Franklin was alive and well makes the feel even more vivid.
About the provider, Realistic Games
Back in 2002, a group of passionate entrepreneurs came together to found Realistic Games. The company was started with a vision and the goal of being able to offer high-quality content for some of the biggest and world leading gaming operators. They do this with a team of specialised personnel and professions needed to reach their goals. Their developers, designers, artists, and modellers work alongside the commercial and marketing teams to reach their target. Everyone in the team has years of experience in both the terrestrial and digital arenas. Since they are strong believers in knowing their product very well, they are always a step ahead of many other providers out there.
The extensive experience of the team has been gained as operators, professional gaming machine designers, and players of gaming products. This means that they have been right in it all, seen it all, and done it all – and this grants them an inside view that helps in the creation of games. It makes sure that they are able to create true, premium quality electronic gaming content that is delivered across multiple channels and across a wide range of media.
Best of luck!