Battle of Slots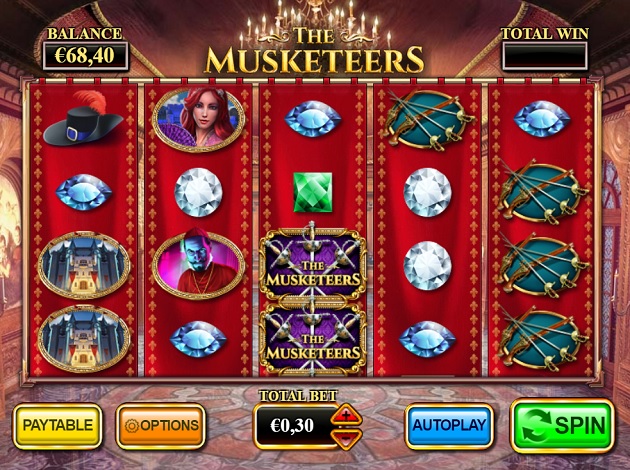 Play The Musketeers online: Check out our slot review below
The Musketeers Introduction
The Musketeers online slot from Inspired Gaming is packed full of action. Take on the role of house guard of the King and prepare to be showered in honour and glory. But beware, with the title comes a lot of responsibility, and who knows when you will be needed to spring into battle to protect the royal family?
The Musketeers slots leave a lasting impression on you as you relive the adventures of Athos, Porthos and Aramis (yes, they have names!). The slot is one you should find familiar if you have played a few online slot machines before, but it's the features and the charming graphics that really make it stand out.
Grab your rapier, don your cavalier cap and fight, or spin, for glory in this epic slot!
Musketeers Game Features
The Musketeers online slot is played with 5 reels and has 30 paylines. The minimum bet you can place is € 0.01 with a maximum bet of € 10 per line spin. If you're brave enough to face the reels, you may be handsomely rewarded.
Musketeers Free Spins and Bonuses
This slot has an abundance of fantastic bonus features. First off it offers a Free Spins bonus which can be triggered by landing 3 or more musketeer scatters. It's always nice to land scatters on the reels, so it's really satisfying to land the musketeer scatters in this slot. You can get up to 30 free spins if you land the maximum amount of scatter symbols on the reels. Obviously aiming to land all of them should be your goal, even though 5 musketeers isn't quite canon!
There's also a fun bonus game that features clusters of wild Mystery symbols on the reels. This exciting game has some pretty simple rules: land a mystery symbol anywhere on the reels and you're guaranteed to have a good time. These clusters of wilds will gradually start to drop one line at a time for each spin. If you find 5 coins during this time you can add 8 more free spins each time to keep the bonus round going for longer. Of course, the longer that you can keep it going, the bigger the chance that you will win some big rewards from this bonus feature.
Musketeers Payouts
On the reels of this video slot you will find various symbols that yield different payouts. The first thing you will notice is that most of the symbols are very regal and exude a sense of royalty. It makes sense though, you are in the King's palace after all! The first symbol is a green and a blue crystal which pays out 100 times your bet when you land 5 of them. Next is the diamond symbol which also pays out 100 times your bet when you land 5. Next up is your trusty cavalier hat as a symbol that pays out 120 times when you land 5.
The higher paying symbols include the rapier and musket symbol paying 150, a sinister figure paying 200 and a fair maiden paying 300. Finally, the two highest paying symbols are the castle, paying out 400, and finally the Musketeers logo as a symbol that pays out a whopping 500.
Musketeers Graphics and Sound
This slot has a really fun look and feel to it. With wonderful 3D graphics and an equally epic soundtrack playing in the background, you will be completely attached to this slot. The game is set within the walls of the grand castle, where you are posted to safeguard the royal family from harm while righting as many wrongs in the name of justice.
Musketeers Conclusion
The Musketeers online video slot is an absolute must for anyone who's looking for a game with a historical feel to it with a nice amount of fantasy in it too. What really sets it apart from the others though is the bonus feature. So make sure you try this one out for yourself.
About the Provider
Inspired is a global games technology company supplying virtual sports, mobile gaming, and server-based gaming systems with associated terminals and digital content which is supplied to the regulated lottery, betting, and gaming operators all around the world. The number of employees, all working to create and supply its clients with high-end products has risen to over 800 people in the UK and other offices where the games and networks are being developed and digitally operated.
The online games at Inspired are delivered through Virgo Gaming Server, where they deliver leading HTML5 games and technology for regulated markets. Virgo offers an easy integration with online and mobile platforms and has been designed with goals to ease operations. The games are all available in multiple languages and all currencies are supported. Virgo is integrated with the so-called Open SBG Core ™ platform to grant a real and optimal omnichannel experience.
The work put into the games delivered by Inspired are all impressively made, proven by the award-winning graphics they all come in. it is easy to see the strong dedication behind it all, with the goal to only launch flawless products which guarantee to be a smash hit on both mobile and desktop, over and over.