Battle of Slots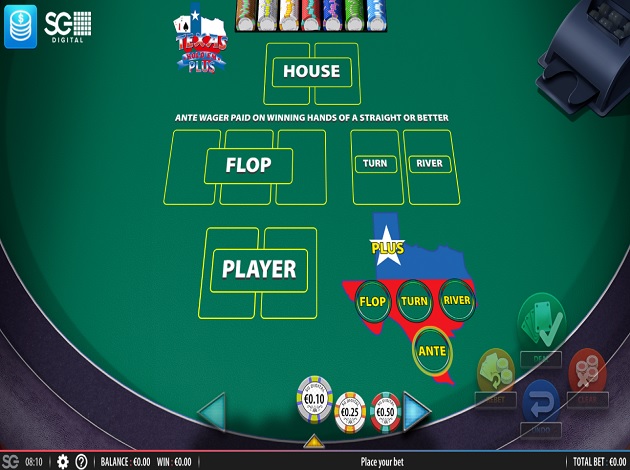 Play Texas Hold Em Plus online: Check out our review below
Texas Hold'Em Plus Introduction
Shuffle Master has brought it back to basics with their version of Texas Hold'Em Plus with a special twist to it! As it's been believed that this game first originated in Texas decades ago in the early 1900s in Texas, the design contains a little bit of Texas in it as well. The appearance of this game is classic and traditional; however, the special sound effects have an edge to it which brings it to life in its own excellence!
The game uses a 52-standard deck of cards, which will be reshuffled between each game. This game is a poker-style casino game where you will be playing against the house's hand and so with that being said, the overall objective of Texas Hold'Em Plus is to get a higher five card poker hand than the house!
Texas Hold'Em Plus Game Features
In Texas Hold'Em Plus, the hands are ranked from highest to lowest as listed below:
Royal Flush
Straight Flush
Four of a Kind
Full House
Flush
Straight
Three of a kind
Two Pair
Pair
High Card
The rank of a card will ascend in sequence from two to 10, and then Jack, Queen, King, Ace. The Ace can also be the lowest ranking card in an Ace-2-3-4-5 Straight or Straight Flush. When a hand is being evaluated, only the highest possible rank within your cards will be considered while a straight flush contains both a straight and a flush, it will be calculated exclusively as a straight flush.
Texas Hold'Em Plus Rules
In order to start the game, you have to bet on the Ante. Once you've done this, two cards will then be dealt face down to both you and the house. Your hand will be revealed and then you have to choose to either fold or call the bet. Fold will forfeit the ante bet and the game will end while the call will increase the bet with 2x ante bet. Three cards will then be dealt face and you'll have to choose whether to fold, bet or check. The fold will forfeit the ante and call bets bringing the game to an end. The bet will increase the bet with 1x ante bet and one card will be dealt face up to the table (turn) while check will reveal one card on the table while placing no extra bets.
After the turn, the player will then have the same three choices: fold, bet or check. If you choose check or bet, another card will be dealt facing up on the table with the house's cards being shown at the end. You will win if you have a better hand than the house! There's also an optional plus side bet, which pays out based on the player's hand. This bet is evaluated whether you fold or make any play bet.
Texas Hold'Em Plus Payouts
If you win in Texas Hold'Em Plus, 2x your bet will be awarded! If you win with a hand rank of less than a straight, the ante bet will be pushed. Also, if you win with a hand rank of a straight or higher, 2x your ante bet will be awarded. If you and the house have hands of identical rank, the bet and the ante will be pushed which means that your bet will be returned to you!
Plus Sidebet Payouts
Pair of Aces pays 30:1
Ace and King Suited pays 25:1
AJ or AQ Suited pays 20:1
Ace and King Unsuited pays 15:1
Pair of Jacks to Kings pays 10:1
AJ or AQ Unsuited pays 5:1
Pair of two to 10 pays 3:1
Texas Hold'Em Plus Graphics and Sound
Texas Hold'Em is set on a standard green felt table which is used for most table games such as poker and even the Texas Hold'Em version of poker. At the very top of the screen and the table, you'll see all the various chips and then the places for the house's cards to be placed. To the far-right corner, you'll see the machine that spits out the cards. In the middle of the table, you'll see the spots for the community cards and beneath them you will see the section where your cards will go. To the right of where your cards go, you'll see the action buttons inside a Texas shaped space on the table.
The music playing in the background is upbeat and brings a lively energy to Texas Hold'Em Plus! There are additional sound effects which will come into effect when you click on the chips to make a bet, to deal and so forth which adds an added engaging factor to the overall game experience.
To find the game information and the paytable, you need to click on the small question mark button that is in the far-left hand corner of the game panel.
Texas Hold'Em Plus Conclusion
Texas Hold'Em Plus from Shuffle Master brings it back to basics but with a little Texas edge to it with the shape of the state of Texas outlining all your control buttons! Apart from this special game characteristic, the acoustics is what brings the game to life and makes it a bit more engaging. The objective of this game is to get a higher five card poker hand than the house – are you up for it? Now's your chance to try it out for yourself at Videoslots!
Gambling is a form of adult entertainment only. You must be over 18 to play. Play responsibly.
About the Provider
Shuffle Master, was founded way back in 1983 in Minneapolis. This is a company with extensive experience in shuffling machines, table games, and slot machines.
Shuffle Master founder, John Breeding, has the idea to create a continuous shuffler, which would make sure every hand would be dealt from a virtually completely fresh shoe to eliminate card counting. When it was put on the market in 1992, it was an instant hit among land-based casinos who saw that it was a great way to stop advantage players.
Later the company also expanded to slot machines, creating games like The Honeymooners, Press your Luck, and Let´s Make a Deal. To distribute their games worldwide, they partnered up with IGT and Bally Technologies. In 2013, Shuffle Master was acquired by Bally Technologies and today, both Shuffle Master and Bally Technologies form part of Scientific Games, one of the largest companies in the industry.
Their main focus, however, has always been on the land-based gaming market and online gamblers might be complete strangers to this name. However, many of the company's popular games like Three Card Poker and Let It Ride are now available to play in many online casinos, with more making their way to the online gaming world.
Some of Shuffle Master's games include 88 Fortunes, Jin Ji Bao Xi Endless Treasures and Dancing Drums.
Play in our Battle Of Slots
Don't miss out on the opportunity to play a thrilling Battle with our special, unique and very first social online casino experience – Battle of Slots. Videoslots gives you the chance to play first time Battles against your friends and other players on Videoslots.com with games from NetEnt, Thunderkick, Play'n GO and Pragmatic Play. There is only one Battle of Slots – and you'll only find it on Videoslots.com!