Battle of Slots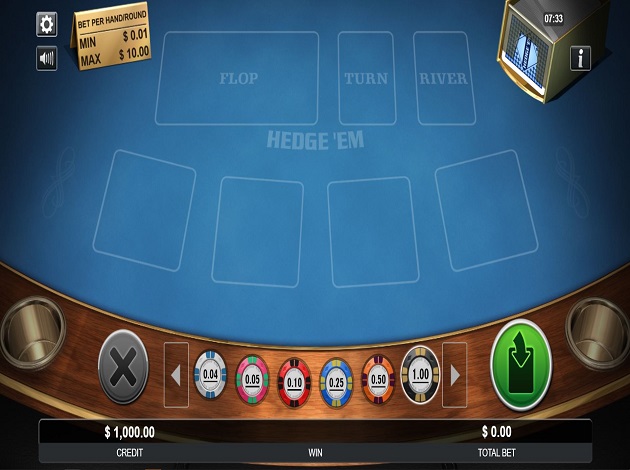 Play Texas Hedge Em online: Check out our review below
Texas Hedge Em Introduction
Welcome to a new era of video poker as presented by Touchstone Gaming, where the aim of the game includes successfully predicting which hand will win or tie according to the classic rules of Texas Holdem poker.
Players are able to decide whether they'd rather play with three or four decks, each of which will display no jokers.
How to Play Texas Hedge Em
The first thing you're going to want to do is hit the green deal button to your right to get the game round started. By observing all the cards on the table, you'll be asked to predict which hand you believe will rank first at the end of the round. This round is known in the poker world as 'pre-flop'
Here you're able to bet on as many hands as you'd like, or choose not to place a bet at all. Bets are confirmed by placing a number of chips in the betting areas, whereas hitting the cancel button will recall all chips.
Once your bet is confirmed, hit the deal button again in the game stage known as the 'post-flop', with subsequent rounds called 'turns'. As a player on this table you're able to bet at all stages of the game, or choose not to bet on any at all.
Texas Hedge Em Special Hand Signs
Once you hit that deal buttons, Texas Hedge Em will sometimes display a number of signs attached to one of the hands available. These include:
A crown – this will appear whenever there's a guaranteed win. Wagering on this hand is no longer allowed
A red cross – this will appear on a hand that's got absolutely no chance to win. Wagering on this hand is no longer allowed
A green border – the 'Best RTP' function highlights the fairest hand on the table
A red gauge – this sign will appear whenever the max bet for that current hand has been reached
A padlock – this indicates a locked bet
Texas Hedge Em Payouts
Wins will be paid out for higher ranking hands according to standard poker rankings which include the Royal Flush, the Straight Flush, the Four of a Kind, the Full House, the Flush, the Straight, the Three of a Kind, the Two Pairs, the One Pair, and High Cards.
Texas Hedge Em Graphics and Sound
Touchstone Gaming have done such a great job at creating this virtual poker table complete with blue felt and solid wood trimmings. You're generally sat at a table with a dealer and two other players, allowing for variety when it comes to deciding where to place your bet. There's also a soothing electronic soundtrack going on in the background if that's your thing.
Texas Hedge Em Conclusion
if you're a video poker enthusiast and you've enjoyed reading this review so far, you might want to take a look at Texas Hedge Em first hand – feel free to look it up at Videoslots.com.
Gambling is a form of adult entertainment only. You must be over 18 to play. Play responsibly.