Battle of Slots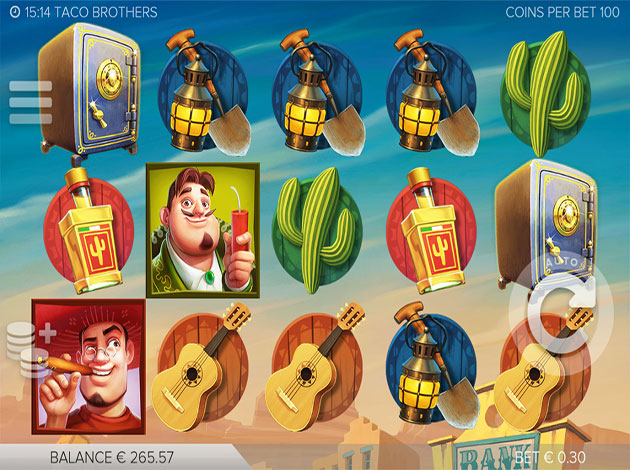 Play Taco Brothers online: Check out our slot review below
Hola compadre! Welcome to Taco Brothers, one of the most fun and exciting releases we have seen in a while. Taco Brothers is developed by Elk Studios, a real up-and-comer which has already proved themselves with amazing games such as Electric Sam, Champion's Goal and The Lab, which all has been complete successes.
In Taco Brothers, you are taken to the quiet and cosy Mexican village of Santa Maria. Santa Maria has always been a haven for taco lovers who just wants to eat their tacos in peace. One day, the evil Captain Diaz comes to the town and steal all the innocent Santa Maria citizens' tacos. The heroic Taco brothers; Paso, Pepe and Pico, now has to save the town by blowing up Cpt. Diaz' safe in which he hides all the tacos and escaping through the Wild Escape bonus game.
Taco Brothers is a 5 reel video slot with almost unbelievable 243 ways to win! The symbols in Taco Brothers consists of different Mexican themed items along with the 3 Taco brothers, of course.
Elk Studios has in this game implanted an absolutely brilliant feature called "Betting Strategy". This amazing feature allows you to set a strategy for how your bets will change. You activate this feature at the right side under bet settings where you will have 3 different strategies to choose from. For example, the "Jumper" strategy will raise your bet 1 level after every winning round, until reaching 4 levels above the initial bet and resets after a loss.
Taco Brothers has two awesome bonus games, one re-spin bonus game and the "Wild Escape" bonus game. The Taco Brothers Re-spin feature is activated when you manage to land 2 Taco Brothers Wild symbols, for a second chance to collect 3 Safe symbols. If you should manage to land 3 Safe symbols, the Free spins bonus game will start. In the Free spins game our heroes, the Taco Brothers, will drop down one by one on the last reel, releasing Running Wilds. The Running Wilds will move one reel to left after each spin, replacing all symbols except Cpt. Diaz or Senorita. If you bump in to Cpt. Diaz during the Running Wilds feature he will immediately imprison the brother. The Senorita symbol will restart the Running Wilds feature and grant you new free spins. On top of that she also holds the keys to release the brothers if they get locked up in jail. If all brothers end up in jail or manage to escape, the Wild Escape bonus game will end.
The graphics of Taco Brothers is absolutely breath taking, with top notch animations when you land a win of some kind, amazingly well-made symbols in a nice and cartoony style and an overall great layout.
Taco Brothers is really one of the most exciting releases we have seen in a while, with its great graphics, gameplay, bonuses and the absolutely brilliant betting strategy feature. Get ready for a hot and spicy adventure filled with one of the most delicious things known to man, tacos.
We at Videoslots.com would like to wish you the best of luck or as they would have said in Mexico: Buena Suerte!