Battle of Slots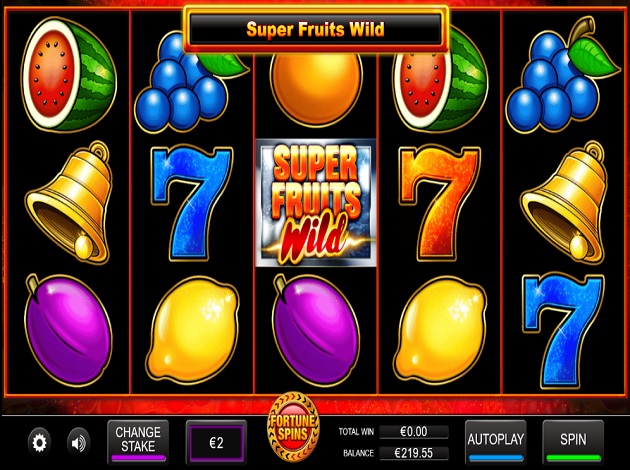 Play Super Fruits Wild online: Check out our slot review below
Super Fruits Wild Introduction
Back in the day, slots were all about a few simple things: cherries, plums, bells and sevens. Those symbols were – and remain for many – the very definition of slot machines. Not anymore. Online catalogues are full of space adventures, Norse gods and fat rabbits. In a world filled to the brim with choices, it is occasionally nice to simply be fed what you need. The only problem is that you don't know what that is. Luckily for you, the guys at Inspired know exactly what you need, and they have decided to give you a good dose of the classic stuff. Stand back and get ready to spin the wheels on this 5-reel, 3-row nostalgia machine!
Super Fruits Wild Features
The very first thing any player will notice when starting Super Fruits Wild for the first time is the classic theme of the game. The whole point of making a slot like this is to transport the player back to a simpler time with simpler slots, and that has been done flawlessly by Inspired. The dark-blue background is decorated with classic slot-symbols, and the same symbols fill up the game board. You will find oranges, plums, lemons and cherries – all the staples. This is not a game that tries to be anything more than a classic slot machine, but to achieve this, the design and gameplay must be perfect. Not only have Inspired managed that, they have also thrown in a little surprise, just for good measure. We'll get back to that soon.
The classic theme of this slot is continued in the paytable. Super Fruits Wild comes with 5 reels, 3 rows and a total of 10 paylines. This means that all you need to combine to win, is 3 or more of any symbol, from left-to-right. Just like it's supposed to be.
Super Fruits Wild Free Spins and Bonuses
We all know that modern-day slots tend to come with well-developed graphics as well as (at times) extremely complicated bonus-features that take ages to get into. It is easier for a developer to get away with a boring main game by throwing some exciting features into a bonus game. Inspired has chosen to go the other way.
In Super Fruits Wild, it is all about the main game. It is crucial for this slot that the main-game is well made and comfortable to play because – as a classic slot – Super Fruits Wild does not have many features, neither is it supposed to. The team behind this game has recognised that Super Fruits Wild first and foremost will appeal to a quite specific – yet large – part of the iGaming community; namely the old school. But that doesn't mean that newer and younger players won't be able to enjoy this game.
Inspired decided to include a nifty little gambling-feature for those of us who need a little bit of variation. This feature - although classic and familiar – represents not only a break from the main game but also a chance to quadruple your winnings and get bigger payouts.
Super Fruits Wild Payouts
Contrary to most of the modern-day games, Super Fruits Wild does not contain Scatters or Wild symbols. The only thing we have to worry about here, are the main symbols. If we look at the paytable, we see that the most valuable symbol is the seven. Five sevens in a row are the only way to achieve the game's main prize which is of 5,000 credits.
Immediately following the seven in the paytable, is the bell and the melon. The least valuable symbols one can get in Super Fruits Wild (and also the most common ones) are plum, orange, lemon and cherries.
Super Fruits Wild Graphics & Sound
This area is in many ways not the most important part of Super Fruits Wild, yet it is not an area that Inspired could afford to ignore. We might not actively be aware of it, but we as players demand quite a lot when being served a classic slot machine and one of the most important things, is familiarity and quality. We get both in this game.
It has already been mentioned that the background is nice and appealing and that the same can be said for the game-board itself, but we have yet to say anything about the sound. It's not what you would mainly associate with a classic slot until you hear it. Super Fruits Wild would not be complete without the Mario-esque sound effects every time you spin the reels. There is no music, but that is definitely not needed.
Super Fruits Wild Conclusion
There is a very limited number of features and bonuses that a game developer can incorporate into a classic slot without losing the classic-aspect, yet not doing anything will open the possibility of the slot being lifeless and boring. As you can see: creating a good old slot machine is much easier said than done. But the guys at Inspired have managed to give us something that is both classic and timeless, yet at the same time new and refreshing.
A good, classic slot machine is sorely needed in these times, but no one needs to be bored. Super Fruits Wild is the perfect solution as it is an entertaining slot with a gambling twist. This one is not to be missed!
About the Provider
Inspired is a global games technology company supplying virtual sports, mobile gaming, and server-based gaming systems with associated terminals and digital content which is supplied to the regulated lottery, betting, and gaming operators all around the world.
The number of employees, all working to create and supply its clients with high-end products has risen to over 800 people in the UK and other offices where the games and networks are being developed and digitally operated.
The online games at Inspired are delivered through Virgo Gaming Server, where they deliver leading HTML5 games and technology for regulated markets. Virgo offers an easy integration with online and mobile platforms and has been designed with goals to ease operations. The games are all available in multiple languages and all currencies are supported.
Virgo is integrated with the so-called Open SBG Core ™ platform to grant a real and optimal omnichannel experience.
The work put into the games delivered by Inspired are all impressively made, proven by the award-winning graphics they all come in. it is easy to see the strong dedication behind it all, with the goal to only launch flawless products which guarantee to be a smash hit on both mobile and desktop, over and over.