Battle of Slots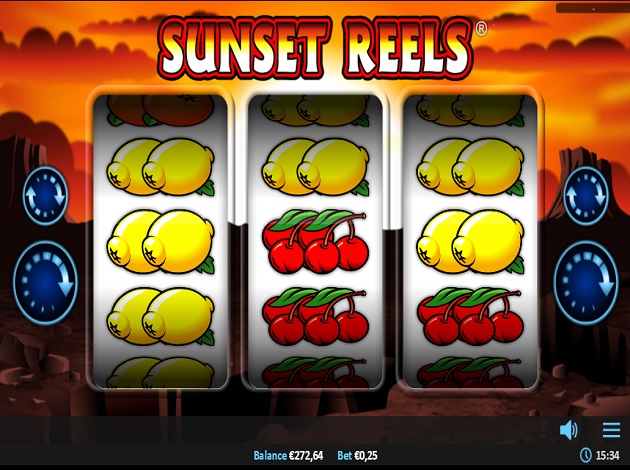 Play Sunset Reels online: Check out our slot review below
Sunset Reels Introduction
The earth is a fantastic creation, there is countless beautiful places and phenomenon to see, one of these are majestic sunsets. A sunset at night, watching the sun slowly make its way down below the horizon – must simply be one of the most beautiful things to see on earth.
The sun always sets in the west, and it can make all sorts of light phenomenon's, for example, the evening glow, Nordic lights, and the alp glow.
We are just about to show you a sunset in a brand new way with Sunset Reels from Realistic Games. But this isn't just any sunset – this one taking place behind a curtain of volcanos. Mix that with iconic fruit symbols, and you have the master piece called Sunset Reels. Let´s find out more!
Sunset Reels Features
As soon as you have made your way into Sunset Reels Video Slot, you will see the dark-brown cliffs that are shattered, creating gaps in and between the volcanos. The sky is dark-orange with a beautiful tone that keeps a fine line between spooky and beautiful. The lower valued symbols are here the yellow, sour lemons, the blue blueberries, the sweet cherries, and the juicy oranges. BAR symbols and the watering melon grants you somewhat higher wins. As some of the classics are granted in the game, there would be no luck without the lucky sevens – which are the highest valued basic symbols of Sunset Reels.
Sunset Reels Free Spins and Bonuses
There is a unique Bonus Feature in Sunset Reels Video Slot that you can land on if you are lucky enough. You can get your hands on this if you manage to land the "Full House" – and you can win this if you manage to land the same symbol on the entire reels. After this, you will be awarded a truly nice price. This comes as a doubled win Bonus. Not bad, is it?
Sunset Reels Payout
Sunset Reels Video Slot has its reels placed above an active volcano, and here you have 3 reels on 3 rows with 5 fixed paylines. The winning combinations are confirmed from left to right on the rows. You can find the subtly placed paytable at the side of the reels, and the round buttons are there to spin the reels.
Sunset Reels Graphics and Music
We have previously mentioned the fact that Sunset Reels Video Slot is a game played out in the early evening, at dusk in the shadow of a fiery and beautiful sunset. Underneath and at the side of the reels we can clearly see volcanos and open gaps. A volcano is an opening in the crust of the earth where beyond hot magma climbs up and stiffens to lava as it hits colder temperatures. Here, the skies are shifting on yellow and orange tones, and the clouds are dark to create a better contrast.
The sound and music of the game don't really hold a special purpose as you spin the reels. You can only hear a clinking sound as you land symbols on the reels.
The game logo is placed smoothly above the reels to remind of what you are playing, even this going in red, orange, and white tones to keep it all in a red thread.
Sunset Reels Conclusion
This is a stylish and simple Video Slot suiting both playing beginners and the most advanced players. Are you sick of the flashy and annoying symbols, lights, and features of many games – then you will surely be pleased and incredibly happy with this game. It is very soothing and calming, and you can finally have a really relaxing time as you play and win.
About the game provider, Realistic Games
Many years' experience in the gaming industry is always an advantage to hold when starting a business – and this is just one of the reasons behind this game developers grand knowledge in what to grant players and operators. A key to success is being able to keep a good and strong partnership, as well as being able to offer something that not all have.
What are Realistic Games?
Back in 2002, a group of passionate entrepreneurs came together to found Realistic Games. The company was started with a goal and vision to be able to offer high-quality content for some of the biggest and world leading gaming operators. They do this with a team of all specialities and professions needed to reach their goals. Their technologists, designers, artists, and modellers work alongside the commercial and marketing teams to get to where they need to be.
The games
The games from Realistic Games and the entire portfolio is a wide blend of types of games. The company isn't focusing on solely one thing, but multiple to allow more entertainment opportunities. Realistic specialises in tailoring Roulette, Blackjack, Slots, and fixed odds bets to a wide range of devices. These all include PC´s, iPads, iPhones, Androids, and tablets – but also, cool enough, in gambling machines on the high street.
Some of the games from Realistic are; Hot Cross Bunnies, Super Graphics Upside Down, Symmetry, and Pentagram.
Check Realistic out now!