Battle of Slots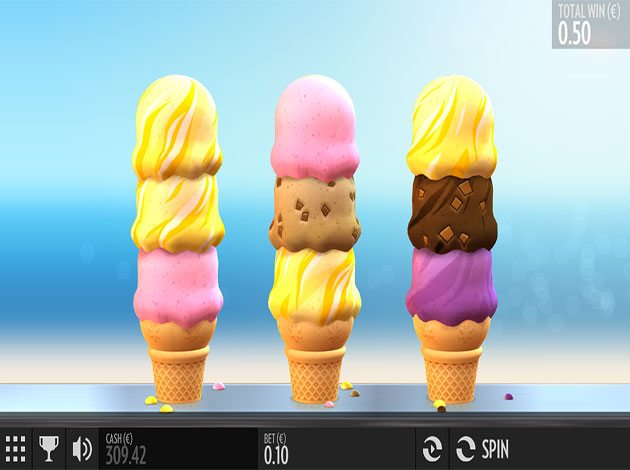 Play Sunny Scoops online: Check out our slot review below
Scoops of ice cream in different colors in a crispy cone, the warm, soft sand that you don't want in your ice cream and the sunbeams dancing of the waves all the way to the horizon where two shades of blue meet only to become one. This tremendous view is just the beginning of what you're about to take part of in the new game Sunny Scoops from the Swedish company Thunderkick who are the newcomers known for their revolutionary games for the world of online casinos. The music in this game is fabulous, homely and soothing to say the least but oh so playful. Beautiful jazz music with flute, trumpet, oboe and clarinet really takes you back to a time when street musicians ruled the strand walk. The graphics in this colourful video slot is truly clear, fresh and comfortable, no big bothering animations while you're playing. With the possibility of a higher pace where bonuses flow makes Sunny Scoops a very fast and definitely a game that the vast majority of players will like. You don't always have to go outside to get yourself some sunshine and ice cream in your life, get on with it, try Sunny Scoops today and take part of the profits.

The object of the sovereign Sunny Scoops is simply to get the right scoops of ice cream in your cones, when you manage to get your hands on a bonus you'll get to see a short, well animated short film depending on which bonus you've received. There aren't really any other games like Sunny Scoops, frequent bonuses, great profit potential and when when Sunny Scoops is started, you can almost feel the warm strand breeze in your face and hear the gulls calling.

Sunny Scoops is a 3 reel, 14 fixed paylines video slot. Sunny Scoops offers up to 15 bet levels on the chosen currency, this is not a progressive jackpot videoslot. To start the spinning and the winning all you have to do is to click the action button or space. The overwhelming menu offers incredibly many options, winningtable, gamrules, autoplay, sound-, graphic- and game options. You can put all of this on your action bar at the bottom of the screen.

Sunny Scoops doesn't only make you crave ice cream it also offers 7(!!) yummy bonuses. The bonus wheel is activated whenever 3 likewise symbols on top of each other in a vertical line. When the bonus wheel is activated your win either guts multiplied up to 7 times or you'll go into the bonus game. Here you receive Free Spins, if you receive bonuses on more than one line the spins will be put together and you will get the bonus game with the more valuable symbol. When the bonus game is on, you're supposed to make the tallest ice cream of all time, there is no stopping. To the right on your screen you can see your current multiplier, every time you win you'll get one step higher on the multiplier and a re-spin, although when you lose you'll fall down a step on the multiplier. With thses bonus games you can go past the sky and scoop ice cream to moon and back.