Battle of Slots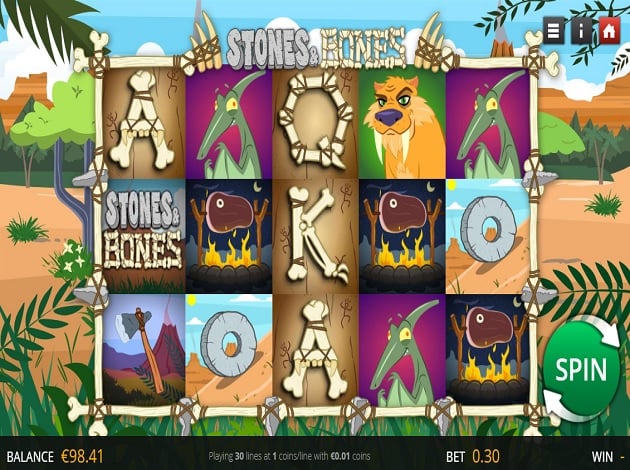 Play Stones and Bones online: Check out our slot review below
Stones and Bones Introduction
Think of a time in history when money wasn't an issue and Donald Trump wasn't all over the news. Then think further than that. Stones and Bones by Genii will take you precisely back to the prehistoric era in a spectacular 5-reel video slot that boasts some awesome features too and great gameplay.
On your adventure with these Flintstones look-alikes, you'll come across a number of Scatter symbols that have their own special features with great payouts and a bonus feature that ensures high wins every time.
With the vast amount that there is to be won, even the most experienced players will become absorbed in Stones and Bones. It's time we return to our natural state, and this review will show you how this game will do that for you.
Stones and Bones Game Features
As soon as the game loads, you will be transported back in time to the Stone Age - though with a modern twist. You can click on the menu button on the right-hand-corner to alter the settings of the game. The number of lines is adjustable, giving you the option to bet on 1 to 30 lines.
If you're up for a challenge, then go for the 'Max Bet' option and bet 300 coins per spin. You could even opt for 'Auto Play', and have the game automatically reiterate 5 to 50 spins consecutively at any bet value you prefer, or repeat as many spins as you'd like for $75.00 per play.
Stones and Bones Free Spins and Bonuses
Wild Symbol
The Logo symbol of this game is the Wild on the reels. It functions as most Wild symbols do, and replaces all missing symbols of a winning combination, except for the Scatter symbols. More importantly for us, is that landing on five in a row of this symbol pays a whopping 2,000 coins. These simpler times are starting to seem way more profitable to us…
Scatter Symbols
This game has not just one Scatter, but three, and each one comes along with its own set of features. We'll briefly outline them here, but for more information check out the paytable on the game itself.
Scatter symbol 1 - Angry Wilma
We think this symbol looks like an angry version of Wilma from the Flintstones. Apparently not too thrilled about giving her riches away, the Angry Wilma Scatter awards 12 free spins when five appear on the reels, 10 free spins for four symbols showing up anywhere after a spin, and 7 for three of them.
Scatter symbol 2 - Goofy Fred
What we're calling the Goofy Fred Scatter symbol gives a more generous prize than Angry Wilma. Scatter wins are multiplied by the total credits wagered during gameplay, as well as the Scatter payout being added to payline wins.
Scatter symbol 3 - Hungry Dino
You're going to want to be on the lookout for the Hungry Dino Scatter symbol, and it's got nothing to do with its menacing look. Landing on three or more of this symbol anywhere on the reel triggers the Age of Eggcitement bonus feature, which guarantees incredible winnings.
In this game, you'll have the chance to pick three out of five unhatched dinosaur eggs to unravel the prize inside. The prizes are relative to the amount you bet, so the higher the bet, the greater the reward. Additionally, this bonus game can also be triggered during the free spins feature.
Stones and Bones Payouts
The bonus features guarantee great wins, yet so do the base game symbols themselves. The Elephant symbol awards 500 coins when landing on five in a row, while the Siberian Tiger symbol pays 400. For 300 coins, five of the Winged Dinosaur will give you your reward, and the Steak symbol will get you 250 coins. The Tumbling Wheel symbol will offer 190 coins, and, following close behind, the Axe symbol awards 160.
The standard symbols pay from 10 to 125 coins, but for more information refer to the paytable on the Options Menu of the game.
Stones and Bones Graphics and Sound
The style of the game is quite simplistic, which is in-keeping with the theme of the game. The soundtrack also is quite repetitive and composed of sounds made up of basic wooden tools. Though the design isn't flashy, it's extremely effective in visually capturing what we guess prehistoric times would be like.
Stones and Bones Conclusion
We're desperate to break away from modern-day chaos, and this game is the perfect antidote for this. With its impressive bonus features and inviting theme, we're quite prepared to get lost in this game - hopefully forever.
About the Provider
Genii is a game provider with the main focus to build the next generations online gaming platform. The company was founded in the 1990s by a group of entrepreneurs – and they still to this day lead the fields of technical innovations.
With the fast growth and development within the industry for the past years, Genii has recognized this and adjusted accordingly. Since the start, they have worked tirelessly on their work and to improve, enhance, and evolve it. it is safe to say that they did a job well done! Their platform runs on a real-time engine which the co-developed with Microsoft, and Dell – which is among the greatest in the business. Genii needs the best to be able to achieve their goals and be capable of a rapid evolution.
This has proven to work out very well for Genii, as they today have evolved into one of the world's largest providers of mobile games for Android, iOS, and Windows phones. Their portfolio is a wide one and offers more than 130 games – all innovative, with great themes, rewarding payouts, and high entertainment values.
Some of the games provided by Genii are Tomahawk, Aladdin´s Loot, Wild Wizards, Elementium Spin16, Runaway Train, and much more. You can read more about Genii right here, and you can check out their portfolio at Videoslots.com.