Battle of Slots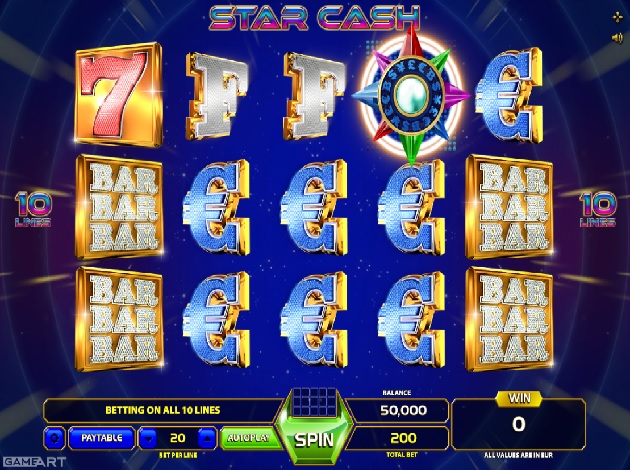 Play Star Cash online: Check out our slot review below
Welcome to a sweet and stylish video slot game, a game that will fill you in awe and make you crave cash like never before. Welcome to the classically styled – Star Cash from the one and only, GameArt!
GameArt is an independent online casino software provider and developer of cutting-edge games which they in its turn deliver to the biggest operators in the markets. GameArt was founded in 2013 by a group of entrepreneurs with over 20 years' experience in both the online and land-based industry. They created GameArt and turned it into a B2B provider with offices across Europe. Their employees work tirelessly to provide high-quality slot games with innovative and creative themes based on the client's request and desires.
Some of the games offered by GameArt are Tesla, Fortune Panda, Power Dragon, Magic Unicorn, and Explosive Reels. All great examples of what this marvellous provider brings to the table.
It is yet again time for GameArt to prove why they are one of the major stars rising on the skies of success stories with Star Cash!
Star Cash main game
The moment you enter Star Cash, you can see the classic and well-used graphics and designs of the outer space. A bit similar to Starburst with the star-filled skies in the backdrop with the grand spacious atmosphere filling up the screen. With its rich colours, big animations, and sparkles, the game instantly appeals players with its neutral theme. But, do not get it twisted – it is still a game all about the cash!
The symbols you can come across on the reels are all made to suit this cash, glittery, and space theme – with a classically styled theme in the mix of it. The low paying symbols are represented by the letters in flying colours – you have the orange B, the red Y, the silver F, and the pink £ sign. These are all worth between 1.00 and 1.50 for an x5 symbol combination. Then you have the basic high paying symbols; these are represented by the money green $ sign, the blue € sign, the golden bar in diamonds, and last, the Lucky Seven – all framed in golden edges.
Apart from these fancy cash-themed symbols, you also have a unique symbol that can grant you with both big wins and a grand feature – the best of both worlds – all added into one kickass Wild symbol. This is the 7-edged star with the rolling middle filled with all currencies, in all colours. We will get deeper into this soon!
Star Cash theme, graphics, and music
The theme of Star Cash might have been mostly revealed already – but it hides a lot more than you might think at first glance. The Wild symbols I am referring to, did you know that it is called a Heptagram? This is the seven-edged star – and it was used in Christianity to symbolize the seven days of creation, it quickly became a symbol for fighting off evil. The Heptagram is also known to symbolize Babalon in Thelema, perfection for sects, and even in alchemy, it can be referred to the seven planets known by the alchemists. So, it if far beyond, and for fascinating than the eye can see.
But what exactly the Heptagram would refer to in Star Cash is still unknown, but maybe that is the point. Perhaps you shall question it, wonder, and feel intrigued by the mysteries of the unknown that awaits you far up in the galaxy.
The design and graphics are very cleverly made – straightforward and sophisticated at the same time. The rich colour scheme of the game is very appealing, offering the deep blue that melts in with the purple, together they create a soft and smooth layout, with the stars and shimmering lights moving across the screen throughout the gameplay. If you stare at it for long enough, it looks as if you are traveling through space – fast speed forward. All while playing you can enjoy the cosmic music and soft sound effects. Let us get started!
Star Cash payout
Star Cash is played with 10 fixed paylines, with additional 5 reels on 3 rows. When placing your bet, you need to be aware that you are placing the total bet per line multipliers. The options range from €0.01 and €0.50. the fixed paylines means that you will bet on all in each bet.
Star Cash bonus game
Star Cash is a highly rewarding game and grants its players with fun and rewarding features and wins. But, a bonus game is not offered in this video slot. But if you enjoy the cosmic entity and the space styled theme, along with a bonus game, then you simply have to check out Cosmic Fortune from NetEnt. It offers the cosmic atmosphere, a theme taking place in space – and it offers a bonus game where you will be collecting prizes in a Coin Win Cup. Fun times!
Star Cash free spins
There is no pure free spins feature in Star Cash, but you are offered a Re-spins feature through the Wild symbol. This can appear on reels 2, 3, and 4 only – and if this lands there and expands over the reels, it will trigger your Re-spins feature. All other reels are then held and all other reels are re-spinning once. You can get a maximum of 3 re-spins at a time.
Star Cash special features
Wild symbol
The Wild is well-known to you by now, but this fancy seven-edge star is the Wild symbol of the game as well – meaning that it will step in to replace other symbols to be able to create a new winning combination.
Battle of Slots
Do not forget about the world´s very first social online casino experience – the Battle of Slots – exclusively at Videoslots.com. You can play a battle towards your friends or fellow players, and you can play in all our video slots and slots from NetEnt, Thunderkick, and Play´n GO! We wish you the best of luck in the most thrilling battle online!
We hope that you will enjoy this cosmic, classic, and spacy adventure with GameArt – we sure did. Best of luck!