Battle of Slots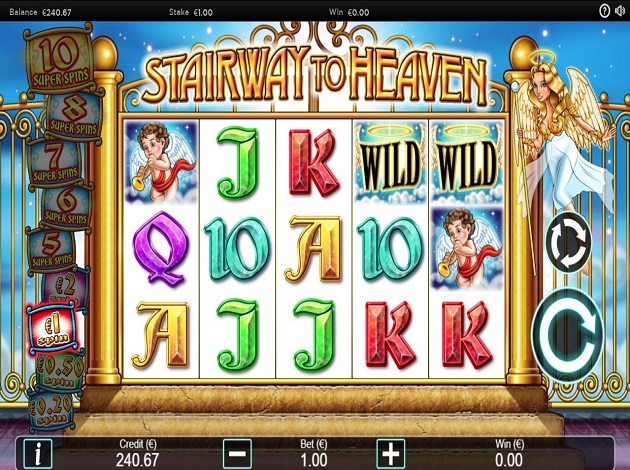 Play Stairway to Heaven online: Check out our slot review below
Stairway To Heaven Introduction
Welcome to heaven – well, almost. Stairway to Heaven is a five reel online slot by Live 5 Gaming that allows you to choose your place on the Stairway to Heaven feature trail, as you play to earn upgrades such as Free Spins and Super Spins, with a hoard of multiplier prizes that can boost your prizes to even bigger levels. But you can also have a quick peek at the other side – the Devil's Wheel feature can land you the ultimate prize or trigger the Devil of a Deal feature.
But we're done preaching now – let's have a look at this video slot by Live 5 Gaming!
Stairway To Heaven Game Features
Stairway To Heaven comes with 20 fixed paylines, and all bets are associated with the level shown by a coloured card on the side of the reels. Choose from four bet levels – Level 1 (blue), Level 2 (green), Level 3 (red) and Level 4 (purple).
The bet amount can be selected in two ways. Either select the coloured cards listed above, and this will select a different bet amount; or else, from the control panel beneath the reels you can use the + and – buttons to set your bet amount.
Stairway To Heaven Free Spins and bonuses
You will notice that on reels 1 to 4, some symbols land on the reels with a key showing in the bottom corner. If you land a Stairway to Heaven or Devil's Wheel symbol on the fifth reel, this will trigger an additional level upgrade for every key you have landed on the reels during that spin.
In the Stairway To Heaven Feature, you will receive a Free Spin for every Stairway to Heaven symbol appearing on the fifth reel. This Free Spin will give you a bigger chance of further upgrading your level, and every Free Spin is played at one level higher than the current one. All wins from the Free Spins depend on the bet amount for the new level you have reached.
If the Stairway to Heaven symbol lands on the reels while you're playing at Level 4, five free spins will be awarded. All wins are cumulative in this sequence of Free Spins, and there's a nifty 2x multiplier in action during these spins, increasing by 1x for every Multiplier Advance Symbol you land on the third reel.
Every key that lands on the reels during this feature will also upgrade your playing level, so if you're playing on Level 4 and you land four keys with a Stairway to Heaven symbol, you will shoot up to Level 9 and earn ten super spins.
Devil's Wheel Feature. When the DEVIL'S WHEEL symbol appears in view on reel 5, the Devil's Wheel feature is awarded.
The Devil's Wheel feature is triggered when the Devil's Wheel symbol lands on the fifth reel. This feature gives you a spin on the red wheel (at level 1) and every key that lands on the reels will take you up various levels, up to level 5.
You will then get the chance to spin the wheel and you will get four choices – no win, a total bet multiplier, a spin on the wheel at a higher level or trigger the Devil of a Deal feature.
Devil of a Deal Feature. In the Devil of a Deal Feature, you get to select one of sixteen boxes, and the box will be stored just in case you end up without a prize. Keep choosing boxes to get them out of the selection, and after a few boxes have been eliminated, you will receive a prize offer based on the average of the prizes that are still in play but you haven't selected. You can either take the prize or continue bursting boxes, and if all offers are rejected and there are only two boxes left, you will automatically receive the prize contained in the first box you had originally selected.
Reel Bonus. The Reel Bonus is awarded at random after you start spinning – you will see three clouds, under which you will find prizes that includes a 25x multiplier on your prize, a 10x multiplier, a 5-of-a-kind guaranteed win spin, a multi-line win combination involving at least four paylines, and a Devil's Wheel symbol or a Stairway to Heaven symbol on reel 5.
Stairway To Heaven Payouts
The 10, J, Q, K and A symbols offer the lowest payouts of the game, with the A paying out as much as the BAR and the Harp symbols for five of a kind, but the payouts are even bigger for the boy angel and the female angel. The highest paying symbol of the game is the 7th Heaven symbol, offering payouts reaching 25x your total bet amount.
Stairway To Heaven Graphics and Sound
The golden gates of heaven await you with their cartoonish, brightly coloured design and a bold "Stairway to Heaven" written in a font that reminds of Led Zeppelin, the rock legends who penned one of music's best tunes back in the seventies. Overall, the design is rather clean and easy to navigate, also thanks to a simple control panel which can be found below the reels.
Stairway To Heaven Conclusion
Stairway to Heaven is a fun video slot with plenty of features. Through its game modes, you have better control and you'll be reeling in wins in no time – hoping the angels are on your side, that is.
About the Provider
When it comes to independent designers and creating of digital gaming content, High 5 Gaming is one of the best in the UK. With its team of experienced individuals, the company keeps on releasing high-quality games for some of the world's leading gaming operators.
Live 5 Gaming is, as we mentioned, one of the UK´s leading and independent designers and creators of digital gaming content. It was founded in 2014 – making it one of the newcomers in the industry – and has its headquarters in Essington, Staffordshire. The company's team works towards the same goal, with the same values, to create high-end, high-quality gaming content for some of the world´s leading gaming operators. To them, the company delivers games to land-based venues, server based gaming networks, as well as mobile and online casinos. To deliver all this, the team of designers, programmers and artists, together with commercial and marketing teams, deliver the highest quality product to the end user.
The company has also become the fastest growing supplier of online and mobile games in the UK, and started supplying mobile games with NYX in May of 2017 and being awarded its Alderney Gambling Commission license. There is surely no stopping to Live 5 Gaming!