Battle of Slots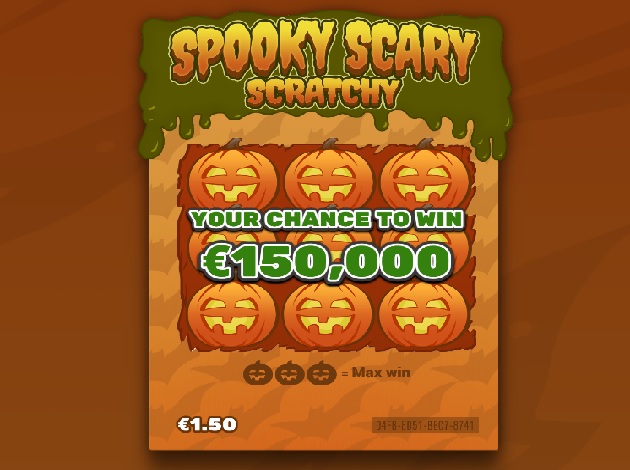 Play Spooky Scary Scratch online: Check out our review below
Spooky Scary Scratch Introduction
The Halloween season might be limited to October, but every month, if not day, of the year is right for a spot of horror! Hacksaw Gaming clearly thinks this way as it presents Spooky Scary Scratch. The title says it all, really - this is a scratch card game with a spooky theme! This time around you find yourself in a field holding 9 carved pumpkins. Scratch them off - or employ the "Scratch All" feature to uncover what lies beneath them. If you get 3 matching symbols, you get the corresponding prize! These fun and simple games are popular for good reason, and it's always the season to check out something such as Spooky Scary Scratch.
Also known as the jack-o'-lanterns, carved pumpkins are synonymous with Halloween. But how did this tradition come about? The practice actually comes from Ireland, which has a myth of a man called Stingy Jack. One day Stingy Jack invited the Devil for a drink. Jack didn't want to pay for his drink, so he tricked the devil to turn into a coin to pay their drinks with. However Jack pocketed the coin and kept it next to a silver coin in order to stop the Devil from changing back to his original form. Later Jack did free the Devil, but under the condition that he would not bother Jack for one year and, should Jack die, he would not claim his soul. Next year Jack managed to trick the devil once again, this time convincing him to go up a tree to pick up a fruit only for Jack to carve a sign of the cross on the tree, stopping the Devil from coming down until he promised that he would not bother Jack for 10 more years. Soon after, Jack died. God refused to let Jack into heaven, but Jack couldn't go to hell either. So Jack was left out in the dark night with only a burning coal to light his way. Jack placed the coal in a carved-out turnip and started roaming the Earth, becoming a ghostly figure known as "Jack O'Lantern." And that's right, he held a turnip - after all, pumpkins only reached Europe once they were discovered in the Americas!
Spooky Scary Scratch Features
Spooky Scary Scratch consists of a virtual scratch card featuring the graphic of no less than 9 pumpkins. You need to scratch off the pumpkins to uncover a total of 9 numbers. To start playing you need to buy your card for the bet amount shown on the bottom. The bet amount is fixed, and as such cannot be changed. Once you buy your ticket you need to start scratching in order to reveal what the pumpkins are hiding. You can also press the Scratch All button to instantly reveal the numbers. If you match 3 numbers you win the corresponding prize. Find 3 pumpkins for the biggest prize on offer!
Spooky Scary Scratch Free Spins and Bonuses
Being a scratch card game Spooky Scary Scratch has neither free spins nor bonuses.
Spooky Scary Scratch
Winning a prize in Spooky Scary Scratch requires uncovering 3 matching numbers on the same card. There are 12 prizes in total, which are as follows.
0.667x your bet
3.33x your bet
6.667x your bet
13.33x your bet
26.667x your bet
40x your bet
53.33x your bet
66.667x your bet
666.667x your bet
3333.33x your bet
6,666.667x your bet
10,000x your bet
Spooky Scary Scratch Graphics and Sound
Like other Hacksaw Gaming scratch card games, Spooky Scary Scratch features a clean and simple design. The card holds features an orange backdrop complete with brown bats, and top of this you will find the field and its orange carved pumpkins. The bet size is in a white font on the bottom left corner of the card. The Buy and Auto Play buttons are green and easily accessible beneath the card itself. The Auto Play button gives you the option to automatically buy from 10 to 1,000 cards and instantly scratch them, without need to press the buttons yourself.
Spooky Scary Scratch Conclusion
Hacksaw Gaming remains a dependable name in virtual scratch card space and it remains on brand with the combination of cute design and simple gameplay seen in Spooky Scary Scratch! These games are easy to get into and, in the case of Spooky Scary Scratch, there's a full retinue of 12 prizes on offer. Play Spooky Scary Scratch here at Videoslots Casino today!
Gambling is a form of adult entertainment only. You must be over 18 to play. Play responsibly.