Battle of Slots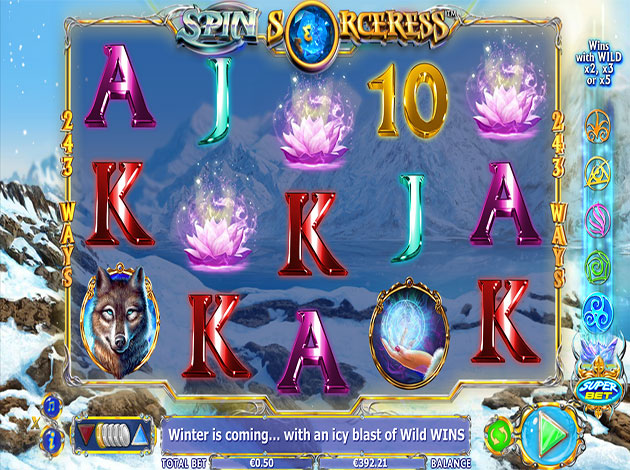 Play Spin Sorceress online: Check out our slot review below
Hello and welcome to this fantastic creation from the handsome developers at NextGen Gaming, Spin Sorceress!
Dive deep into the mysterious end with the This slot is a 5 reel slot with 243 paylines with an intriguing mystical theme. You get to adventure with the beautiful sorceress Pörtelina in the dangerous mountains of Nåltakallt. The game has a very harmonic soundtrack that takes your mind to a frozen wonderland, almost a bit sombre but with an incredibly exciting build-up as you score a win. The animations is very well made, the slot has a polished interface and the smooth spinning sensation really completes the feel.
This game has something called a "SuperBet function" that you might be familiar with, I will explain it briefly. The idea is that the more coins you bet the higher the multiplier gets for all your wild wins. The default mode is to play with 25 coins and a multiplier of 1, at 50 coins you reach SuperBet level 1 and your wild wins will get a multiplier of 2x, 3x or 5x. There are five different levels of SuperBet, level 2 is achieved by betting 125 coins and the multipliers will be 5x, 8x or 12x. Level three is reached at 200 coins and brings the multipliers to 10x, 15x or 20x. Level 4 is achieved at 300 coins with an increase to 15x, 20x, or 25x. The final level is reached at 500 coins and the multipliers take a huge leap on this level, all the way up to 20x, 30x or a whooping 50x multiplier on your wild wins.
The potential for huge winnings are very available in this game, let's just leave it at that. Should you give this a go and like it I can highly recommend 300 shields, my personal favourite of all the NextGen Gaming slots as it has the same kind of feel to it.
This game is made by NextGen Gaming, a formidable titan in the game development business. Their experience ranges to over a decade in an extremely fast paced and unforgiving market and that solidity is what makes us so glad to partner with them and have their games. Almost all casino players count at least one of NextGen's slots amongst their absolute favourites and with the amount of games they provide that is hardly surprising.
Videoslots reared its head in 2011 and has since then grown to the world's largest online casino with a slot repertoire that cannot be matched anywhere. With the new Battle of Slots feature we have developed we have started to cement the foundation we have made, and we could never have done it without all of you.
So our way to give back for the amazing support you have given us is to improve and expand so that you will keep falling in love with us over and over again. We hope that you enjoy this new game as much as we delight in supplying you with them.