Battle of Slots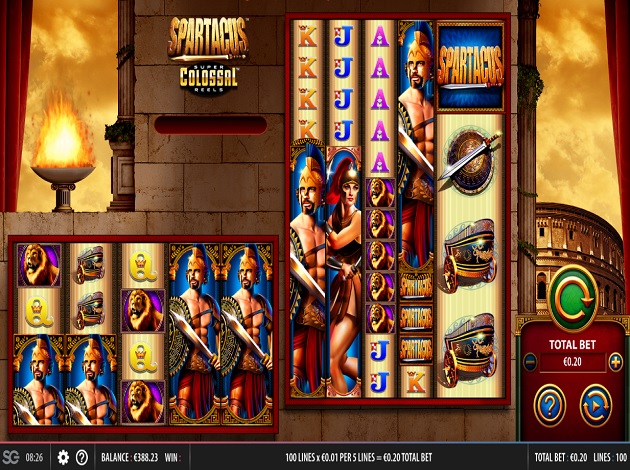 Play Spartacus Super Colossal Reels online: Check out our slot review below
Spartacus Super Colossal Reels Introduction
A popular figure of the oppressed rising for their freedom against a slave-owning oligarchy, the Thracian gladiator Spartacus was one of the leaders of the Third. Servile War. Little is known about the man himself, but reports from this slave uprising against the Roman Republic describe him as an accomplished military leader who once served in the Roman military before deserting and eventual imprisonment. His strength lead to his becoming a heavyweight gladiator and, together with 70 fellow slaves, planned an escape from their gladiatorial school. The escape led to a rebellion that, alas, did not end well as Spartacus was defeated in 71 BCE in a battle that took place in what is now known as Senerchia, near the village of Quaglietta.
Spartacus remains famous to this day, and has had both movies and games based around him and his life. These of course include this next slot in SG Digital's Super Colossal Reels lines of slots. As the name illustrates Spartacus Super Colossal Reels is indeed a big game. It is set on two sets of reels, one with 5 reels and 4 rows and the other with 5 reels and 12 rows, with exception of a 5th row holding 4 giant-size symbols. Combined, these two sets of reels allow for a total of 100 paylines, making what is indeed one massive slot. So, let us check out further as to the deal with Spartacus Super Colossal Reels is!
Spartacus Super Colossal Reels Game Features
Spartacus Super Colossal Reels is a slot set across two set of reels. The main reel set features 5 reels and 4 rows, while the second is 5 reels and 12 rows, with exception of the 5th reel holding 4 rows of double-size symbols. This configuration allows for a total of 100 paylines, all of which start from the first reel and move from left to right. The reels hold 10 paying symbols. The highest paying are Spartacus and the female gladiator, the helmeted gladiator, lion, sword and chariot are the mid pays and the traditional A, K, Q and J card royals are the low pays. The low pays do not appear on reel 5 of the second, Super Colossal slot. The Spartacus and Super Spartacus logos are the wilds, able to substitute for all symbols except the scatter. The Super Spartacus symbol does on appear on the second reel set, and wilds can appear in 2x, 3x, 5x, 10x and 25x form a respective multiplier to paylines they make part of. As for the scatter, this is the colosseum found on reels 1, 3 and 5 of each reel set. Landing 3 or more of these anywhere on the reels triggers a round of free spins.
Spartacus Super Colossal Reels Free Spins and Bonuses
This slot has some interesting bonus features taking place with its wilds. Take the Wild Transfers feature. If a stack of Spartacus or Super Spartacus wilds appears on the main reel set an entire reel of the same symbols is transferred to the corresponding reel on the second set. Wild Transfer does not cover multiplier wilds and any Wild Transfer covering a scatter creates a combination wild/scatter symbol acting as both. Wild Transfer is also the only means through which a Super Spartacus symbol can appear on reel 5. A Wild Transfer with a Super Spartacus wild triggers a respin where the Super Spartacus symbols are locked on the reels as regular wilds. If another Super Spartacus stack lands during this respin then you get another, for a maximum of 9 consecutive respins. Finally, Spartacus and Super Spartacus wilds can appear in Mega Wild form 2 reels wide on reels 1 to 4 of the main reel set. Only one stack of Mega Wilds can occur on any single spin, and Mega Wilds follow the same rules as regular wilds when it comes to transfers and respins.
Land 3 or 4 scatters to earn 8 or 12 free spins with a 2x or 5x multiplier respectively. Landing 5 or 6 scatters, on the other hand, brings 20 free spins with a 20x multiplier. The free spins add 50x and 100x wild to the mix, and can be retriggered for a maximum of 10 times by, once again, landing 3 or more scatters. In addition, during the free spins any wild landed expands to fill the reel before triggering a Wild Transfer.
Spartacus Super Colossal Reels Payouts
Spartacus and the colosseum scatter bring the biggest payout, as 5 on a payline are worth up to 20x the stake. The female gladiator is worth up to 15x the stake, while the lion and the other gladiator can both earn you up to 10x the bet. The sword and chariot bring up to 8x the bet and all the low pays up to 5x.
Spartacus Super Colossal Reels Graphics and Sound
SG Digital brings a dramatic looking slot here, one complete with fiery skies above a view of the colosseum itself. The rest of the backdrop is a rather simple marble wall, which allows you to better focus on the two sets of reels. The game even increases the size of the first reel set when you start a spin, letting you check out exactly what is happening in the game. It also helps that the symbols are big and detailed, meaning you can still check any wins at first glance despite the size of it all.
Spartacus Super Colossal Reels Conclusion
A big game based on a big theme, Spartacus Super Colossal Reels brings plenty of excitement as you spin not one, but two, sets of reels! The Wild Transfer features add more fun, especially when combined with some pretty solid win potential. Check out Spartacus Super Colossal Reels here at Videoslots Casino today!
Gambling is a form of adult entertainment only. You must be over 18 to play. Play responsibly.