Battle of Slots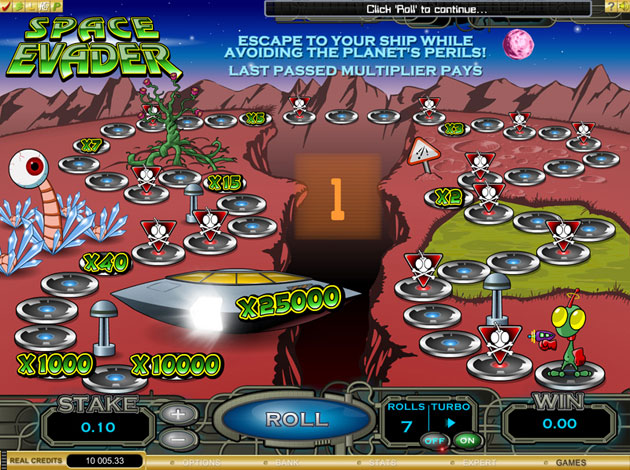 Play Space Evader Gold online: Check out our review below
At Videoslots.com we offer this popular scratch card game Space Evader Gold. Space Evader Gold is very easy to learn and the design and graphics will let you relax and get excited at the same time. Your mission is to escape to your space ship to hit the jackpot. You will find some nice features that you don't find in the original game Space Evader.

You will find several bonus features that you will want to hit. The multipliers go from €1 to €30 and all the way up to the jackpot which can be as high as €2000! Just roll the digital dice and reach the finish line and the jackpot is yours. Your alien character will jump the same amount of steps as you hit when you roll the dice.

On your way through the Space Evader Gold track you will not just want to go for the winning zones, you will also need to avoid the traps that are there to stop you. Once you are caught in a trap you just start over and try again. The last passed winning zone pays.

When you hit a multiplier or any other safe spot you just roll the dice again and go for the next winning zone. The last passed winning zone pays and the longer you make it the more you will win, all the way up to the final one, the jackpot which can pay as much as €2000. Good luck playing this entertaining scratch card game at Videoslots.com, the Space Evader Gold.