Battle of Slots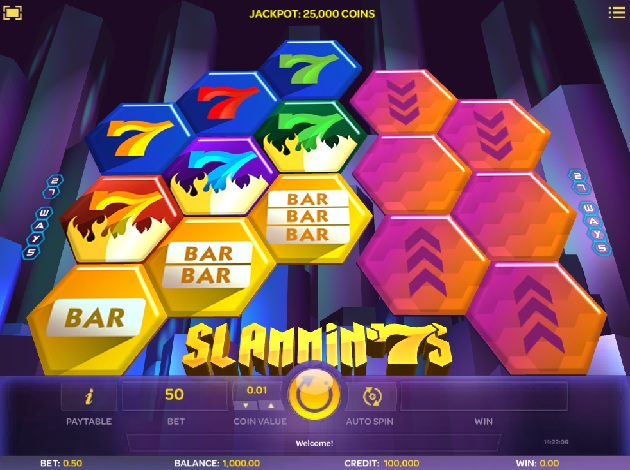 Play Slammin 7s online: Check out our slot review below
Do you enjoy the upbeat and fun techno and house music, along with geometrics? If you do, then you have found the most perfect game to fulfil all your cravings – house music, slot playing, a unique layout, and loads of rewards is the highlight of iSoftbet´s unique and most entertaining video slot named Slammin´ 7s! Let´s get started!
iSoftbet is an online and mobile casino game supplier that provides the biggest operators on the markets with fun and innovative games. They are one of the largest and most successful e-gaming operators on the markets today, much thanks to the unique games they deliver. The games are all created with three purposes, to entertain, captivate, and to reward as much as possible – and it is easy to say that they are a grand success in that area.
Some of the games provided by iSoftbet are Kobushi, Skulls of Legends, Platoon, Rambo, and Ambiance. All the perfect examples of what iSoftbet brings to the table.
Slammin´ 7s main game
The moment you enter Slammin´ 7s, the grand sound effects comes in and takes over the entire mood of the game. You are immediately drawn into the game with its incredibly well-made and thoughtfully developed layout and fun attributes. When you see the game, you will know exactly why.
As you might realize, the game offers a set of symbols that are all based on the name of the game – sevens and everything related. They are all worth various amounts, and the lower paying symbols are represented by the yellow, red, and green sevens, as well as the yellow, blue, and green sevens in flames. They all represent from 10 to 30 coins. The slightly higher paying symbols of the game are the 1x Bar symbols, 2x Bar symbol, and the 3x Bar symbol, as well as the blue Slammin´ 7s symbol. This is the top player of the basic symbols, and it is worth 300 coins.
Apart from this, you have a few extra symbols, the purple x2, x5, and x10, as well as the x25, x50, x100, and x500 symbols. The green symbol with "Respin" is also quite rewarding! We will get more into this soon!
Slammin´ 7s theme, graphics, and music
Slammin´ 7s is a unique video slot as it offers a geometric layout. Have you heard that expression before? It comes from the ancient Greek, and it is a branch of mathematics concerned with questions of shape, size, positions of figures, and properties of space. Still doesn´t make sense? To explain it a bit simpler, geometric shapes are defined by a set of points in a closed chain which results in interior points. These shapes can be everything from squares, triangles, and in Slammin´ 7s, six square circles. Professionals have developed the game – this is nothing for just anybody. iSoftbet has exceeded themselves in Slammin´ 7s with this special way of playing and the mathematics behind the game is very carefully made and executed.
As you may realize, Slammin´ 7s does not offer the traditional reel set – it is a grid of 3x3 and additional two columns. The design and graphics of it all are simply stunning, very futuristic and stylistically pure. With its warm, deep, and calming purple shades in the backdrop, it instantly becomes a feast for the eyes.
But what might be one of the best parts about Slammin´ 7s is the soundtrack. With smooth and chill house music playing in the background, the game becomes very thrilling. The music starts off slowly when you enter the game, with a few sound effects, but when the columns are in place, and you start the twisting of column symbols, the music will start to get faster and more vibrant.
Slammin´ 7s payout
As mentioned briefly, Slammin´ 7s offers a 3x3 grid, as well as 27 ways to win. You can place a great variety of bets; ranging from €0.5 and €500!
It is a most rewarding game, two of the 5 column sets are all made of the multiplier symbols, meaning you have them as well as the ordinary ones in each spin.
The winning combinations do, however, only comes from column 1, 2, and 3 and any matching symbols will grant you a win. The number of matching symbols on every column will then be multiplied to give the total winning ways. Might sound a bit complicated, but as you start playing, it is as if you never did anything else.
Slammin´ 7s bonus game
How rewarding Slammin´ 7s might be, it does not offer a bonus game. But if you are into the geometric shapes and way of playing slots – then you should check out Flux from Thunderkick. It offers just that, and then some. A bonus game that can grant you with high wins, free games, extra rows, and more. Pretty great!
Slammin´ 7s free spins
Slammin´ 7s does not offer the traditional free spins feature, but since when was Slammin´ 7s something even remotely close to ordinary? But, the game does, however, offer a greatly rewarding Re-spins Feature. You simply have to land on the Respin symbol in green to activate 5 re-spins when landing on a winning combination. All wins from the Re-spins are doubled and can be re-triggered.
Slammin´ 7s special symbols & features
Multiplier symbols
The multiplier symbols consist of the Purple x2, x5, and x10, and when these appear on a winning combination, they will multiply the win by either 2, 5, or 10. These can only appear in column 4 and 5.
Additive symbols
You also have the +25, +50, +100, and +500 Additive symbols. When landing any winning combination, these symbols will step into add extra coins to your win. These can also only appear in column 4 and 5.
Jackpot
But then what is the most optimal, high paying combination of the game? Landing three Slammin´ 7s symbols along with the +500 and the x10 will grant you the most delicious win of the entire game! If you manage to hit this symbol combination during the re-spins, it will pay a Jackpot win of 50.000 coins! If you hit the same combination in the base game, you are awarded a Jackpot of 25.000 coins! You do not want to miss out on this!
Battle of Slots
Do not forget to join in on a thrilling Battle in the very first online social casino experience on the web – the Battle of Slots – exclusively at Videoslots.com. you can play a battle against fellow players and friends, and you can play them in our video slots and slots from NetEnt, Thunderkick, and Play´n GO!
We hope that you will enjoy this geometrical, unique, and mind-blowing way of playing slots! Best of luck!