Battle of Slots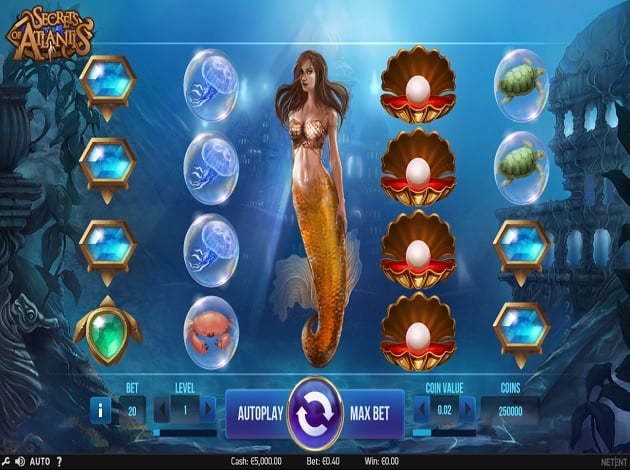 Play Secrets of Atlantis online: Check out our slot review below
It is time to emerge in an underwater adventure like no other. A very popular and classic theme in the world of online slots has been newly invented and improved by no other than NetEnt and their fantastic team och developers and designers. This is the incredible video slot – Secrets of Atlantis!
NetEnt has been pioneers in the iGaming industry for more than 20 years, making them one of the most experienced providers of gaming solutions. They distribute their products to the best operators in the markets and has been providing them with innovative and creative games created from their platform. Their secret to success is cooperation; their team works together to grow together, create together and think together. Mixing knowledge with experience and creativity has proven to be a perfect blend to create the best games for their players. So far they have created cutting-edge games such as Twin Spin, The Invisible Man, Secret of the Stones, Blood Suckers, and much more.
This time, NetEnt has brought us yet another addition, made with efforts when it comes to the theme, features, and the gaming experience. A lot of time has been put into this game – and it is clear to see.
Secrets of Atlantis main game
Entering Secrets of Atlantis right away spoil you with great attributes. The first thing you will see is the clarity of the theme; an intro introduces you to the game – showing the purple and pink sky, slowly going down below to this hidden spectacle and mythical story of Atlantis – the hidden city. The feeling is therefore pretty mysterious, with creatures out of this world and a surrounding that just leaves you in awe.
The symbols of Secrets of Atlantis are all matching this mysterious – underwater – Atlantis theme quite well. You can see the jellyfish, the turtle, and the red crab inside their bubbles, as well as the blue, red, and green sapphire in gold crust edges. These are the standard symbols, among these, you have a high paying symbol which is the open shell with a pearl inside which can grant you with a win of 500 coins for a 5 symbol combination.
Apart from these symbols, you also have a few extra special ones on the reels. One of them is the mermaid with waving long hair and a golden tail. She is the Wild symbol of the game. Other than this, you have other great features offered in the game, but we will get more into these soon.
Secrets of Atlantis theme, graphics, and music
So the theme might start to feel a bit obvious to you by now, the clear inspiration behind this video slot is Atlantis. And I am sure you have heard all the myths there are about this lost city.
It was first told by a philosopher thousands of years ago. A story of a half god, half human that created the city of Atlantis. They created a civilisation on an island, a lush and fancy island with gold, silver, and other metals – this with an exotic wildlife and gorgeous scenery. There have been many many plots whether this story is true or false, and where the island is. The most well-known theory is that the people who lived on the island were so blessed, that they at one point became greedy and lost all moral standards. The Gods, therefore, became angry, and the punishment was as said a night of fire and earthquakes. This caused Atlantis to sink into the ocean and Atlantis has never seen again.
Today it is time to figure all these stories out. What is hiding at the bottom, where is this lost city, and what treasures are awaiting there. Let us find out!
As always when it comes to video slot games from NetEnt, the graphics and design are absolutely stunning. The colours are very soothing with its shades of blue, and the shimmering light of the sun sheading through from the surface. In the backdrop you can see this lost city, the majestic and enormous castle is standing tall behind the reels. The light streams through its windows making it stand out. At the front, you can see the ancient building with vegetation covering it, and the pillars shaped in various ways. You can clearly see that this is the lost and sunken city of Atlantis.
Secrets of Atlantis payout
You will play Secrets of Atlantis on 40 paylines with additional 5 reels on 3 rows.
You can choose your desired coin values from a range between 0.01 and 1.00 – along with bet levels between 1 and 10. This makes the total max bet of €200.
Secrets of Atlantis bonus game
As Secret of Atlantis offers such rewarding and high paying features, there is no specific bonus game in this video slot.
But if you like the underwater and Atlantis kind of theme, topped up with a bonus game, then you should definitely check out Lost Secret of Atlantis video slot from Rival Gaming. It has a more animated style theme, but it covers the lost city – and it offers a fun bonus. Here you will choose between three spheres resembling water bubbles. They all remain different prizes, and it is your job to find the right one.
Secrets of Atlantis free spins
Secrets of Atlantis does not offer specific free spins round. However, it does offer a so-called Colossal Symbols Re-Spins which offers re-spins.
During the Colossal Symbols Re-Spins feature, reels 2, 3, and 4 will transform into one reel with these colossal symbols. This means that a symbol of 3x4 symbols makes a block of symbols, and can then appear in re-spins. If the reel displaying the Colossal symbols is highlighted, an additional Colossal symbol Re-spin is activated.
Secrets of Atlantis game features
Nudge Wild symbol
The pretty mermaid is the Nudge Wild of this game. She is a symbol that covers an entire reel as she appears, depending on how the reels land. If only a part of the mermaid lands on the reel, it will nudge either up or down to then cover the whole reel. This can happen in the Colossal Symbols Re-Spins feature as well.
Highlight feature
During every spin you make, the highlight feature randomly highlights positions on reels 2, 3, and 4. If they cover the entire reels at the end of a spin, the Colossal Symbols Re-Spins feature is activated.
It surely sounds like Atlantis – the lost city – is hiding some great treasures. The question is more if you are ready to dive deep down to find them. It is time to prove yourself in Secrets of Atlantis video slot, now! Best of luck to you.