Battle of Slots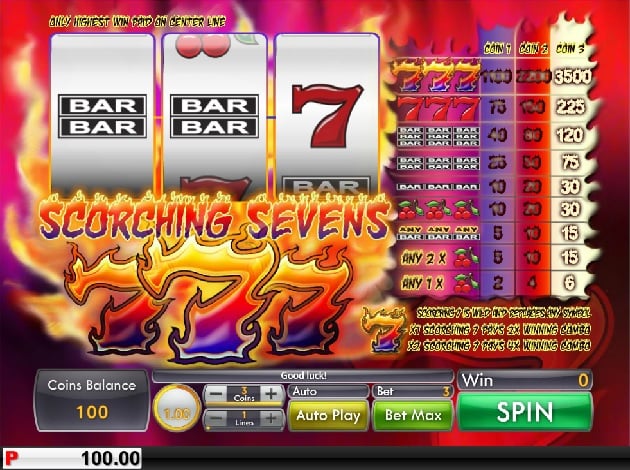 Play Scorching Sevens online: Check out our slot review below
I think you have may sometimes heard that the number 7 is magical and have a lot of luck behind it. I can make a promise that after you have played this game, you do not have any suspicions about lucky number seven. This will show itself as the true myth in the video slot game - Scorching Seven from Genii.
Genii is a game provider with a main and steady focus set on building and developing online gaming platforms for the future. It is a company with a team of experienced and knowledgeable entrepreneurs who has all lead the fields in gambling and technology. The company was founded back in the 90´s, and a lot has happened for them since. They joined in cooperation with the biggest operators in the business and delivered its games to players all around the world. A big part of their success is the fact that they have focused a lot on mobile games, and today they have become one of the world´s leading deliverers of mobile games for Android, iOS, and Windows Phones. They continue to this day with creating fun games, with high entertainment value, and amazing graphics and animations – and Nascash is certainly no exception.
Genii has previously given us the honour of playing games such as Big Game, Aladdin´s Loot, Road Trip, and Bucksy Malone. These are all great examples of what Genii as a splendid game provider can bring to the table. It is sheer genius! It is now time to dive into one of the greatest 3-reel slots I have seen! Welcome to Scorching Seven!
Scorching Sevens main game
The moment you enter the game, you will be awestruck with the bright colours and thrilling vibe to it. This 3-reel slot is engaging, and you will feel the luck striking you as soon as you start spinning the reels. The design is, unlike very many other 3-reels slot, very well-made with a red tread throughout the gameplay and it is easy to see what the game is inspired by. The game is in itself also very east to get a grip of, the paytable is visible so you can keep track of winning combinations and the control panel is very easy made, as in all slots from Genii.
The symbols of Scorching Seven are all made to suite the graphics and the general theme of the game. You can see all symbols offered on the paytable to the left of the reels, and you have a total of 3 symbols that can form different winning combinations. These basic symbols are the cherries, the red seven, and the bar symbols. What they can grant you with will be revealed shortly.
Apart from these basic symbols, Genii also made sure you had another special symbol that can grant you with grand wins. The game contains a Wild symbol – and this is, of course, the Scorching Seven symbol. The seven that is on fire – it can burst your win in a huge explosion.
Scorching Sevens theme, graphics, and music
Lucky number seven is considered the lucky number all around the world, in many cultures and religions it is the most significant number. There is 7 days of a week, 7 colours of a rainbow, seven seas, and seven continents – simply a magic number. But the fascination of this odd number goes back ages, far longer than Snow White´s seven dwarfs and 007, it is even mentioned in the Bible. It told about number seven coming from the practice of gem atria, and the number was said to be the most powerful and lucky numbers in scripture. An example from the Bible is the creation of the earth, which was accomplished by God in 7 days. It is pretty fascinating to read upon lucky number seven, but now that you know what it is, stands for, and means, you might believe in it even more.
In Scorching Seven, you will feel the power of the number 7 – and we hope that it will be just as divine for you as it is said to be.
The designs and the graphics of Scorching Seven are impressively made, and you can see the flames of this magic number appear all over the place. It has a deep red backdrop with the flames surrounding the three reels of the game.
Scorching Sevens payout
All in all, there are 3 symbols, but if you look at it technically, you have 6 different kinds of symbol combinations. The Bars are in different values, and all of them pay differently. You have the 1x BAR, 2x BAR and the 3x BAR – these can grant you with high wins.
You can choose coins in this game, either 1, 2, or 3. The best option is to choose 3 at all times, the top payout for 3 coin spins are well worth it. The wins are much higher when using 3 coins. The top players – which is the Scorching Seven – can then grant you with a win of 1100 for 1 coin, 2200 for 2 coins, and 3500 for 3 coins.
There is one payline in Scorching Sevens, and the wins start with 1 cherry (at the least). Only the highest wins are paid on the centre lines.
Scorching Sevens bonus game
As this is a 3-reel slot, it does not offer a bonus game. But if you like the classically styled theme with all symbols – sevens to be specific – then you simply have to try out Arcader from Thunderkick. It offers a differently styled game. However, it does offer all symbols you are craving – along with a bonus game where you can win free games, wilds, multipliers, and more sticky wilds.
Scorching Sevens free spins
The game does not offer a free spins feature either, but as you are into the classic themed games with the lucky sevens, you should have a look at Sevens High from Quickspin. It offers an adventure through the endless classic symbols and themes along with a rewarding free spins feature. Here you can win up to free spins as well as more re-spins.
Scorching Sevens special features
Wild symbol
Usually, these slots don't have bonus symbols, but this beauty does have, Scorching Seven is the Wild symbol. What makes the Wild symbol? The Wild symbol replaces any symbol. It is in this game just to help you to get combinations, and what that means if you get combinations? It means, winnings! And that is what we love! Winnings!
We hope that you will love this game as we do, if you don't like it like I said, there are over 130 games from this provider, there must be at least one for you! Videoslots.com wishes you the best of luck!