Battle of Slots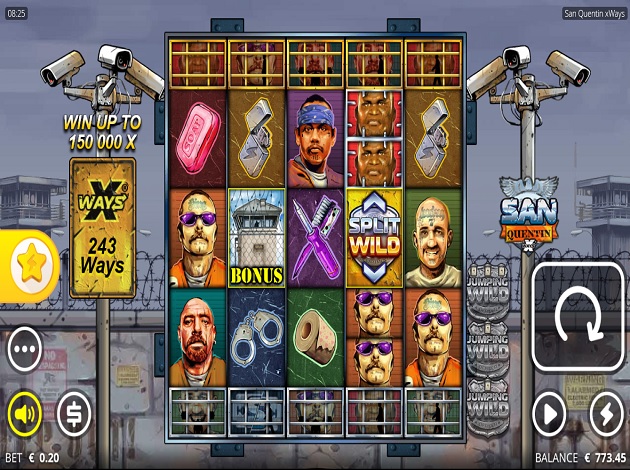 Play San Quentin online: Check out our slot review below
San Quentin Introduction
One of the most infamous prisons in the United States of America, if not the world, San Quentin State Prison might not be the typical subject matter ofr a slot - but Nolomit City went ahead and did exactly that in San Quentin. This suitably gritty game is set on 5 reel and 3 rows, and offers 243 paylines. The number of paylines can grow through the Split Wilds, which can split all regular symbols on the reels into two. Then there are the locked Enhancer Cells set on top and the bottom of each reel. These can be opened whenever you land a tower scatter, revealing either a high pay, wild, Razor Splits or xWay symbols. Land 3 bonus towers for a round of Lockdown Spins! Get set for a time in lockdown like no other in San Quentin!
For the curious, the San Quentin prison was first opened back in 1852. Known as "The Arena" by inmates, it is the oldest prison in California, and the state's only death row for male inmates. Over the years it has featured in on film, radio, drama, video and TV, and is the subject of many books. In addition, it has even hosted concerts, as well as housed many notorious inmates.
San Quentin Game Features
San Quentin is a 5-reel, 3-row slot with an default total of 243 paylines, formed by landing 3 or more matching symbols on adjacent reels. Paylines always start from reel 1, moving from left to right. Forming these paylines are 10 paying symbols, equally divided between high and low pays. On the high-paying side are 5 inmates bearing the colourful names Beefy Dick, Loco Luis, Heinrich 3rd, Biker Bill and Crazy Joe. The low pays, on the other hand, consist of a bar of soap, a lighter, a shiv, a pair of handcuffs and a row of toilet paper. Also found on the reels are a pair of wilds. Regular wilds can substitute for all symbols except the tower scatters, while split wilds split all paying symbols on the reel into 2 (but do not split themselves).
You will surely not how reel has a locked symbol above and below it. These are the Enhancer Cells, which are opened whenever you land a tower scatter. When open, Enhancer Cells can reveal either 1 of the 5 high pays, a wild, a Razor Split or an xWay symbol. Razor Splits split all symbols on the reel into 2, and if you land 2 Razor Splits on the same reel then all symbols are split twice. Meanwhile xWays symbols reveal the same regular paying symbols in a stack 4 symbols tall. In addition, the tower scatter landed turns into a wild. Land 3 tower scatters to trigger the Lockdown Spins!
San Quentin Free Spins and Bonuses
The San Quentin take on the free spins round is known as the Lockdown Spins. Triggered by landing 3 or more tower scatters, these start off by first opening all Enhancer Cells. These will hold a number ranging from 1 to 3, and the total of all of these will determine the amount of spins. The reels holding the triggering tower scatters can also reveal an inmate or non-inmate mystery symbol. The number of inmate mystery symbols landed adds a multiplier to a random symbol. Inmate mystery symbols can reveal either one of the 5 prisoner high pays or a Jumping Wild, which will start with a given multiplier.
The Enhancer Cells remain open for the duration of the Lockdown Spins, acting the same way they do during regular spins. As mentioned earlier, Lockdown Spins also include 1, 2 or 3 Jumping Wilds, with the amount based on whether you landed 3, 4 or 5 tower scatters. As the name suggests, Jumping Wilds jump on a random reel position on each spin. If a Jumping Wild lands on a reel with a Razor Split its multiplier is doubled, up to a maximum of 512x. In addition, landing a bonus tower during the round turns it into another Jumping Wild and adds more free spins.
Where available, you can pay for a round of Lockdown Spins. These cost either 100x the stake for a round triggered by 3 tower scatters, 400x the bet for a 4-tower round and no less than 2,000x the bet for a 5-tower round.
San Quentin Payouts
Nolimit City says the maximum payout available from San Quentin can reach up to 150,000x the stake. In the case you manage to achieve this amount during the Lockdown Spins, the round ends before you are awarded the payout. As for payouts during regular spins, the 5 inmates are respectively worth up to 5x, 4x, 3.5x, 3x or 2.5x the stake. The low-paying soap and lighter will bring up to 2x the stake and the shiv, handcuffs and toilet paper 1.5x.
San Quentin Graphics and Style
San Quentin features a bold, almost graphic novel-style, visual aesthetic that matches its gritty subject matter. The slot is set in front of the concrete and barbed wire of the prison, with surveillance camera towers holding the number of paylines currently on offer. The reels hold big symbols and feature plenty of little animations to make for a satisfying gaming experience. Trigger the Lockdown Spins and the action moves deep inside the prison itself, where a fight is set to take place! This also marks a change in the music, which involves a quiet guitar tune during regular spins and turns into full-on metal during the Lockdown Spins.
San Quentin Conclusion
The idea of turning an actual prison into a slot might be a somewhat controversial one, but Nolimit City pulls it off with aplomb in San Quentin. This slot brings some big win potential during its take on the free spins round, not to mention a suitably gritty aesthetic. It might not be everyone's cup of prison wine, but you should still check it out right here at Videoslots Casino!
Gambling is a form of adult entertainment only. You must be over 18 to play. Play responsibly.