Battle of Slots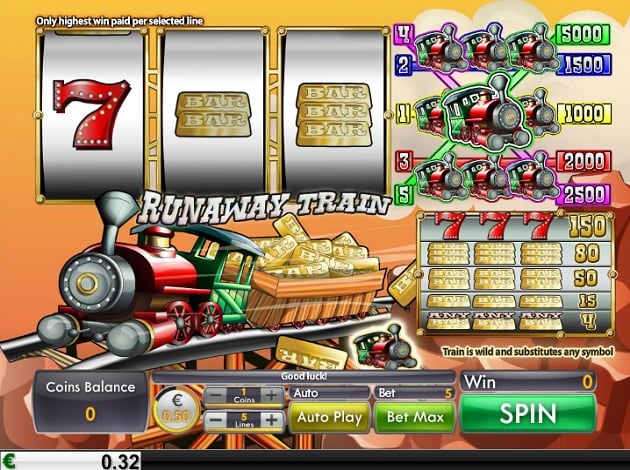 Play Runaway Train online: Check out our slot review below
Hi and welcome to a minimalistic but fun slot called Runaway Train from the game developer Genii. If you are looking for fat bonus games and lots of different symbols, this is not the place for you. If you rather prefer an easy-to-learn slot where the chances for a really big win are still good, then you've come to the right place.
Genii is a gaming technology provider focused on building and create next-generation online gaming platforms. The company is based on a team of entrepreneurs who have led the field, both in the business of gambling and technological innovation, since the 1990´s. The company has since that year continued to strive and grow steadily, creating online games and mobile games. They are today one of the world´s largest provider of mobile games for iOS, Android, and Windows phones. All of their titles comes with graphics that are sharp as razors, symbols that match the theme of each game to 100% and the music and sound effects is something that is far beyond what you are used to!
They have a portfolio of more than 130 games, and a few of these are Aladdin´s Loot, Elementium, Mermaid Serenade, and Yeti Hunt i3D. It is time to show you just how versatile Genii can be with the 3-reel slot – Runaway Train!
Runaway Train main game
Just as mentioned breafly above, this is a 3-reel slot, meaning that it does not offer the extensive and utterly rewarding free spins, and bonus features that the regular 5-reel slots does. But we can assure you that it will be a great experience anyway. The game is very easy to get a hang of, no complicated game rules, hard to get features, and rare wins. Runaway Train is perfect for players who enjoys a sheer relaxing time playing slots – and it is surely still most rewarding!
The symbols of the game are as classic as the game itself, all made in flawless colours and details, to fit the theme of the game. You can see the shiny gold bullions with "Bar" written on them, the classic Lucky 7´s in bright red, and the olden day locomotives, with a green cab. All in all, you have a total of three symbols. But they are all worth differently, all depending on what positions they land in. we will get more into what these can grant you with soon.
But Genii always focuses on their games´ outcomes and they want to make them as high as possible. There might not be room in Runaway Train for a bonus or free spins, but you still have a Wild symbol which is the train!
Runaway Train theme, graphics, and music
Runaway Train might be a classic slot, showing ever more in the theme that Genii took its inspiration from. We believe that it's probably the movie from 1985 with the same name, it's about two escaped convicts trapped on a train without brakes and driver. The movie got nominated for 3 Oscars, possibly because of the people working behind the scenes. We have a story written by Akira Kurosawa (Yojimbo, Shichinin no samurai, Ran) and the movie was directed by the Russian expert Andrei Konchalovsky (Tango & Cash, Shy People, Dom durakov), so it had the makings of a great flick from the start. Some even call it the best action movie ever made but I don't think Sylvester Stallone would agree.
The title Runaway Train could also refer to a song with the same name from an American rock band called Soul Asylum. If you've managed not to see this music video, you can't have been watching a lot of MTV/VH1 in the 90's. This song was a big hit, maybe the biggest one ever from them, and the song can be found on their Grave Dancers Union album.
But now we got a bit carried away, let us get back to the game in question – Runaway Train! It is time to stop that train filled with gold before it gets the possibility to run away from you with all the gold stashed in the back! Hurry up!
The graphics and design of Runaway Train is, however, is very new thinking. The details are great with nice animations and a great backdrop. You can see the speeding train on the reels, filled with gold in the back. It goes fast forward – a real runaway train. You can see the bridge where the tracks are placed, and the mountain in the background surrounded by a yellow, cloudy sky. But it is also visible that the game is supposed to resemble a classic slot machine, standing inside a real casino – this to create the real casino vibes of the classic slots.
It is fairly easy to understand the paytable that is placed on the right side of the reels, explaining what every combination can grant you with.
The music in Runaway Train are all sound effects of a train on a track in a continuous loop. This combined with the sounds of laughter, wins from nearby machines, and chatter adds to the feeling of being in a real casino.
Runaway Train payouts
Runaway Train offers three reels of symbols with 5 paylines. Here are the winning combinations;
The golden bars can appear either alone, or with 2 or 3 symbols in one.
The Lucky 7´s appears on their own and this can grant you a win of 150.
The trains all have various combinations and winning amounts. The biggest payout comes from these trains. The amount you win depends on which of the 5 win-lines you get 3 of these on. Line one is worth 1000 coins, line 2 1500, line 3 2000, line 4 2500 with a jump to 5000 coins for the 5th line.
Three of the same kind of symbols is where the wins start going up fast though, and this is where the train symbols really come into play.
Runaway Train free spins
Since this is a 3-reel slot, it does not offer a free spins feature. But if you like the gold mine theme, then you should check out Gold Diggers from Betsoft. It is not a 3-reel slot, but it does offer the theme we all love, with an additional free spins feature and a bonus game where you get to dig for gold yourself to find the hidden prizes.
Runaway Train special features
Wild symbol
The trains function as Wilds in this game and will substitute for any other symbol if it gives a winning combination. If three symbols land on any of your paylines, it gives you a small win no matter which ones they are.
Wherever the title has its roots, it still doesn't change the fact that this is a neat minimalistic slot where you have the chance to get some big wins without playing those video slots with more bonus features than symbols. Enough chit-chat though, time to embark the Runaway Train from Genii.
Good luck and have fun!