Battle of Slots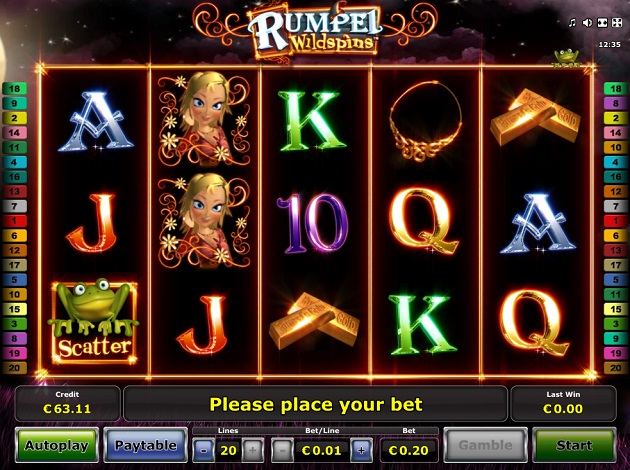 Play Rumpel Wildspins online: Check out our slot review below
Rumpel Wildspins Introduction
Take a deep breath and hold tight – it is time to dive into one of the most popular, long-lived, and fascinating fairy tales of all times. One that originates from Germany and was collected by the Brothers Grimm, as we all know of, in the 1812 edition of Children's and Household Tales. The fairy tale is about a poor miller, with a beautiful daughter. One day, he went to the king of the land to tell him that his daughter could spin gold out of straw; leading to her being locked in a room to do so if she wishes to live. A little man comes in (aka, Rumpelstiltskin) and helps the girl out – but the king gets more greedy by the day, forcing her and the little man to continue the impossible.
The story goes on and ends with a happily ever after – just like in all stories. But if you look close and hard at it, it is a story about greed, how it ruins, what it does – and what it leads to, in the end, karma. A fascinating story to many, and it is being kept alive and well still to this day. Maybe that success is the reason for Greentube, one of the most well-liked gaming providers, to take this story and turn it into a diving Video Slot for all of us to enjoy.
Greentube has made this fairy tale a drop-dead cool game offering you familiar characters, vivid designs, rewarding Wilds, and Free Spins to name a few. We proudly present; Rumpel Wildspins Video Slot!
Rumple Wildspins Features
As we mentioned briefly above, there is a lot of characters that are familiar to the ones that are familiar with the fairy tale of Rumpelstiltskin among the symbols of the games. The lower valued symbols are made up of card deck symbols in vivid and glowing colours, while the higher valued ones are the gold bullion, the diamond ring, the gold ring, and the beautiful daughter. These are all worth quite a lot, but they all range depending on the value of your bet.
These are all the basic symbols of the game, but there is more to it than that. For extra high wins and thrilling features, you will want to land the frog and Rumpelstiltskin himself. These are both the Wild Symbol as well as the Scatter Symbol. We will tell you all about these shortly.
Rumple Wildspins Free Spins and Bonuses
Rumple Wildspins Video Slot offers you a few rewarding features, the main one being triggered by the Scatter Symbol of the green leaping frog. This is also a symbol worth a staggering 100 credits when landing five-of-a-kind. The best part though is that landing 3 or more of these will trigger 15 Free Spins.
During your Free Spins Feature, any Wild Symbol that appears in view will remain sticky in that position until the end of the feature – meaning that it can grant you some real high wins.
The Wild Symbol is, as you can see above, a most rewarding symbol in the Free Spins Feature. But even in the base game, this can award you greatly. Rumpelstiltskin Wild can step in to substitute for all symbols apart from the Scatter Symbol.
Rumple Wildspins Payout
Rumple Wildspins Video Slot is played with 5 reels over 3 rows and additional 20 paylines. All wins are for combinations of a kind, meaning that when landing for example three-of-a-kind, a win is landed. All wins are also accumulated from left to right and only the highest wins are paid out.
The bet levels are very versatile, meaning that all kinds of players and bets will suit perfectly.
Rumple Wildspins Graphics and Music
Rumple Wildspins Video Slot is a game inspired and created using thoughts coming from the original story about Rumpelstiltskin, the little man helping, and using, the beautiful miller daughter. This has been incorporated into the game through the symbols and animations of the game, mainly, where you can see some of the characters and artefacts heard of in the story. The actual design doesn't reveal too much about that storyline though – with its black backdrop of a night sky.
It is very bright, colourful on the reels, and nice to look at – and while playing the game you can hear some loud sound effects resembling those of the true gambling machines.
About the game provider, Greentube
Greentube is one of the most appreciated, well-known, and most experienced game suppliers of everything from software, games, and land based gaming products in the world. With its launch in 1980 and their successful, international expansion only 2 years later, the company strived and reached all its goals quickly. Today it has offices and locations in over 50 countries all over the world and still exporting high-tech gaming equipment to over 70 countries. The company has 24,000 employees, all working to provide its players with brilliant products, which consist of among others 160,000 gaming terminals!
The way to its success can surely be found in its dual strategy as the work goes from being producers of high-tech gaming equipment and operators of electronic casinos, regular casinos and sports betting outlets, as well as technology and service partners in the lottery segments. As you hear, there is no stopping to this brilliant company.
But we are here for its online Video Slots – and they are sure brilliant too. Currently, over 240 Video Slots are offered by Greentube, and they all offer us vivid themes, a grand gameplay, thrilling features, and big winning opportunities – which is why Greentube is one of the most beloved game suppliers on the markets. They also offer Video Slots for both online and land based casinos, as well as Multigames, Jackpots, and Electronic Table Games.
We wish you the best of luck!