Battle of Slots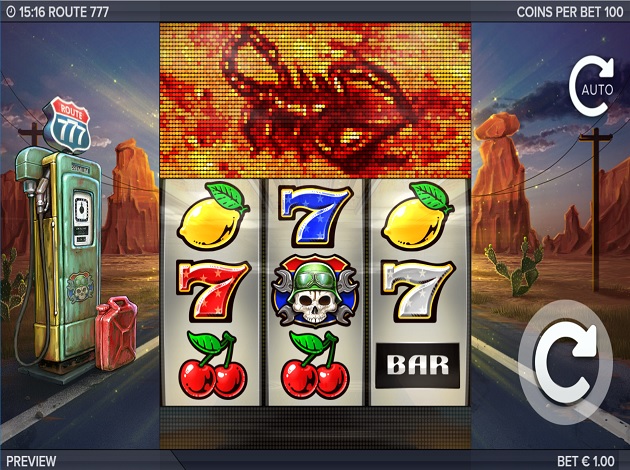 Play Route 777 online: Check out our slot review below
Route 777 Introduction
Welcome to the US of A, on one of the most famous roads in the US and indeed in the whole world. The US 66, also known as the Will Rogers Highway, the Main Street of America or even the Mother Road, was one of the original highways of the American Highway System. It stretched from Chicago all the way to Santa Monica in California, cutting through various states such as Missouri, Kansas, Oklahoma, Texas, New Mexico and Arizona for a total length of 3940km.
After many realignments over time, Route 66 was taken from the US Highway System in 1985, but it lives on through parts of the road passing through Illinois, Missouri, New Mexico and Arizona which have been incorporated in a National Scenic Byway called Historic Route 66.
Let's live through the thrill of driving across America with Route 777, a video slot created by Elk Studios. And let us tell you – it's going to be a hell of a ride!
Route 777 Game Features
Crossing the straight desert in front of you is a daunting task – will you be up to it? The mythical Route 777 takes you to riches and fortune, thanks to its special features that will make this ride across the American mainland even more exciting.
Route 777 is the second title from Elk's Mobile First series of 3-reel slots. It can be played on desktop and mobile, and comes with 17 paylines on a 3x3 setup. Bet from as little as € 0.2 up to a maximum of € 100, and you can employ various betting strategies from the main menu to try your luck using different bet amounts and combinations without having to set everything up manually. But before going into your bet strategies, let's have a look at the bonuses this game has to offer.
Route 777 Free Spins and bonuses
Three skull symbols landing on the reels will trigger the Route 777 Free Spins bonus mode. You get 5 free spins but you can earn up to another 15 additional free spins with two additional skulls. If you land three skulls, you will go to the Route 777 Fortune Wheel which will continue to spin until you collect three identical 7's – or the stop symbol which ends the game.
If you land identical symbols on the first two reels, the Overtake Respins will be triggered. Five respins are handed out on the third reel white the first two reels, now locked, will move downwards jointly at a step for each respin.
A common feature of all ELK games is that of the Betting Strategies, where four unique betting strategies can be applied to your type of gaming behaviour. The Optimiser mode changes the bet level to a percentage of your balance – if your balance increases, so will the bet level, and the opposite happens when your balance decreases. The Leveller mode will see your bet amount increase by 2 steps if you have lost for 5 rounds in a row. If you land a winning combination, the bet amount will be reset to the base level
The Booster mode will increase your bet amount every time you lose until you reach 4 levels above the default bet amount, while the Jumper will increase the bet level after every winning round – until you reach 4 levels above the default.
Route 777 Payouts
There's a potential winning of up to 400000 coins on Route 777, which features few symbols offering a payout only in case you land a minimum of 3 on the reels. The cherries, lemons, prickly pears and bar symbols pay out 50, 100, 150 and 250 coins respectively, while the blue seven pays out 350 coins. Higher up you will find the red sevens with 750 coins and the silver sevens at 1000 coins, while the silver seven with a crown on its head awards you 7000 coins.
Route 777 Graphics and Sound
Route 777 kicks off with a brief animation of a biker looking at the sprawling desert in front of him: from then on it's all retro reels and pixels that remind us of the good old 80's computer games. The background is styled in super HD graphics – quite a contrast to the reels – while the game interface is otherwise populated with the spin and auto spin buttons on the right, and the menu and bet amount buttons on the left. At the very bottom, you can see your account balance on your bet amount.
Route 777 Conclusion
Route 777 is an arduous trip across the United States. Let's rev up our bikes, put our helmets on and drive off into the sunset with this great production from Elk Studios!
About the Provider
Elk Studios is a young but a well-known provider in the amazing casino world. This game developer is based in the Swedish capital Stockholm, where they have been operating since 2012. The company was founded first and foremost to create casino games that are compatible with mobile devices.
Since their launch, Elk Studios have worked really hard to continuously develop new tools and their distribution to mobile casinos, in order to take it to a whole new level. Elk Studios has always aimed for the stars – they are really ambitious for a newcomer, but they know this is the only way to make it to the top in such a highly competitive market. With help from advanced mathematical algorithms and the highest technical standards, they have succeeded early on in achieving their goals.
In a few years they have created and developed successful games, and among their popular titles, you will find Electric Sam, Bloopers, and Taco Brothers.