Battle of Slots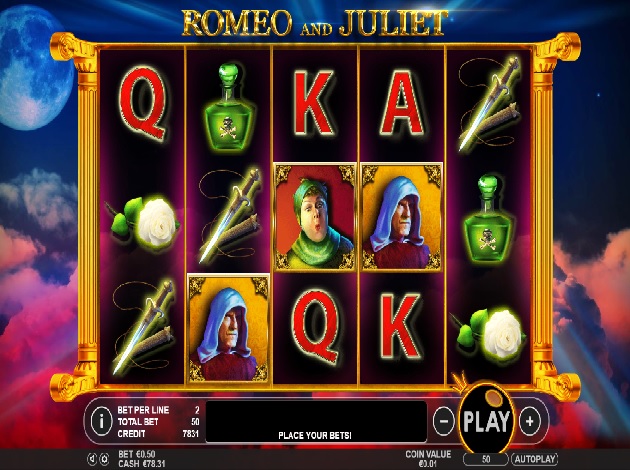 Play Romeo and Juliet online: Check out our slot review below
"For never was a story of more woe than this of Juliet and her Romeo."
Surely you have heard this before – the tragedy written by one of the most infamous writers out there – William Shakespeare. This is a Video Slot that takes you in on the romance, tragedy, and fascinations of the two young lovers. We present a game brought to you by Pragmatic Play, this is the brilliant, Romeo and Juliet!
Pragmatic Play – one of the greatest and fastest growing provider of both online and mobile games for all devices you can think of. With games to prove this, they are certainly one of the rising stars to keep an extra lookout for.
The main focus and goal with Pragmatic is to keep players entertained, satisfied, and constantly looking for more. They have a way of reeling players in by creating and developing products that can suit all kinds of players, all likings, and be most rewarding. This is the way they have risen – amongst others. Gamers constantly seek for thrills, with action and high stakes. Pragmatic is aware of this, and customizes their creations after it to create the most fulfilling product they can for the players.
Everything provided by Pragmatic is developed and made in-house, with content for over 150 verified and great games for both mobile and desktop. The goal of these games is that they will be the mantra of innovation and dedication to help shape the online gaming industry.
Some of the games from Pragmatic Play are Lucky Dragon, Beowulf, and Aladdin´s Treasure.
This time, you get to follow the lovers in the brilliant game, Romeo and Juliet. Let´s get started!
Romeo and Juliet main game
You may already know quite a lot about both Romeo and Juliet. It is the tragic story of a young, in love couple from two very different families – so they both know that their families would never let them see each other. This means that their love is, more or less, forbidden and they are forced to run away to be able to live together. We can't really reveal more – but if you still haven't seen this blockbuster movie, or read the book – we suggest you to do so now.
The symbols of the game are all made to suit the theme of the game flawlessly, all with characters and artefacts that you can see in the movie and read of in the book. The lower valued symbols are the classic card symbols ranging from 10 to Ace. These are all worth between 50 and 100 coins. the higher valued symbols are the white rose, the sword, the bottle of poison, the monk named Laurence, and Amman. These are worth between 150 and 1000 coins, and Amman is the top player.
Above all these symbols, Pragmatic also made sure to grant some extra special symbols to keep a lookout for on the reels. These are the Wild Symbols that can award you greatly and differently. We will get more into which these are and how they can award you shortly.
Romeo and Juliet theme, graphics, and music
Everyone must know the story of Romeo and Juliet. These two were young teens, from families that were sworn enemies. Despite of all this, they still get married. Through events of all such, the story continues of telling the tale of forbidden but strong love, leading to a miserable happening. This book by Shakespeare has had countless plays, series, movies, and more, made with inspiration from the story. One of the most famous ones was the movie, Romeo + Juliet starring Leonardo DiCaprio and Claire Danes portraying the story flawlessly.
Now this story has taken new life in a vibrant and entertaining Video Slot, and it something that you rarely get to see.
The backdrop of the game shows a full moon and star lit sky, with the orange and purple colours of the sunset beaming. The graphics and designs of it are very well-made, offering colours of darkness and bright – to add a mysterious feel to the game.
Romeo and Juliet payout
Romeo and Juliet Video Slot offers 5 reels on 3 rows, and with additional 25 fixed paylines – meaning that you place your bets on all lines each time. The minimum bet is of €0.25 but you can alter this as you wish.
Romeo and Juliet bonus game
This is a Video Slot that offers a great deal of features and extras, but a Bonus is not one of these. But we will reveal what it does offer shortly – and we can assure you that a Bonus isn't needed with all extras you can find.
Romeo and Juliet free spins
Romeo and Juliet Video Slot does, however, offer a great Free Spins Feature that is triggered if the symbols of Romeo and Juliet meets on the same square. You are then awarded a staggering 25 Free Spins. These symbols will then also expand and create a reel that is covered in Wilds where they meet. This reel will then stay and remain as a Wild during all your Spins.
Romeo and Juliet special features
Wild Symbols
Romeo and Juliet are the Wild Symbols. These can step in to replace all other symbols on the reels, this to help you create a winning combination.
Romeo can appear on reel 1 and when he does, he will move over one step to the right and award you a Re-Spin.
Juliet can appear on reel 5 and when she does, she will move a step to the left and award you a Re-Spin too.
We hope that you are ready for this forbidden love-story.
Good luck!