Battle of Slots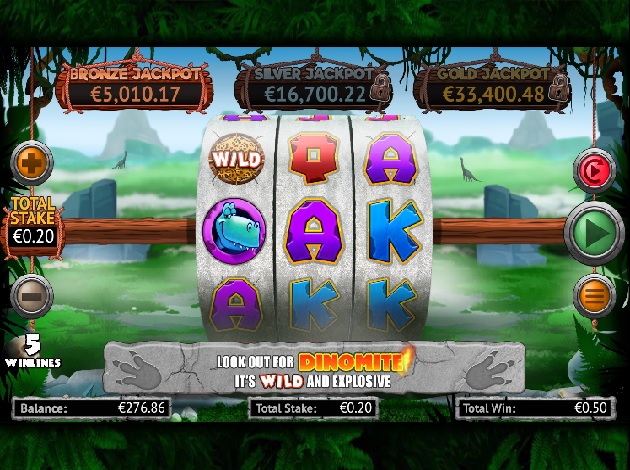 Play Rolling Stone Age online: Check out our slot review below
The stone age has taken a whole new twist and turn – as it is rolling, literally. This is a game filled to the top with surprises, unique offerings, and both graphics and designs that will stun you in the way that you simply never saw anything like this.
We are proud to present, Rolling Stone Age – a Video Slot brought to you by Core Gaming!
The provider of this game is called Core Gaming. The company was founded in 2007 and is today one of the leading providers offering HTML5-based games. They have a nice collection of games, providing wonderful gaming experiences for desktop and mobile platforms. Core Gaming has succeeded to create an excellent gaming environment, thanks to their industry knowledge and strong experience.
Core Gaming creates games inhouse and they have a strong team developing great game after another. In addition, they also co-operate with many famous names in the industry, which gives them for example opportunities to widen their game distribution for bigger audiences. These days, you will find Core Gaming's games from many of the big casino operator's game selection. Other games offered at Videoslots.com, from Core Gaming are, Balthazars Wild Emporium, Beehive Bedlam, and Mandarin Orchid.
This time, we are about to reveal all secrets of this rollin´ era of time – let´s get started!
Rolling Stone Age main game
The second you enter the Rolling Stone Age Video Slot, you will be struck with the looks and layouts of it all. You can see a big chunk of rolling stones in the middle of the screen, and this gigantic bulk is the reel set. Surrounding it are everything you can think of when in a game inspired by the stone age, and it is all very detailed and well-made. This with the sound effects brings you right back to that time, and you can recognize the music as from all movies you have ever seen taken place back in the stone age.
The symbols you can come across on the reels of this fantastic game, are all made to suit the stone age kind of theme – all made in vibrant colours and fun animations. The lower valued symbols are of the standard card deck symbols, surprisingly made in stone. These are all worth 62.50 when landing seven of a kind (depending on how high your bet is). The higher valued symbols are then the Ace, the yellow dinosaur, the green, the blue, and the purple dinosaur. The stone age woman dressed in leopard patterns as well as the game logo are the top players of the game – both worth 937.50 respectively a staggering 1,250!
The features of the game are all triggered differently, depending much on how many reels you will play with. The green raptor is your way to the Free Spins when playing on less than 7 reels. The Wild is the leopard patterned symbol, and the three dinosaur eggs can grant you some features of their own. We will reveal all about these shortly!
Rolling Stone Age theme, graphics, and music
Rolling Stone Age Video Slot is a game obviously inspired by the stone age. This is a thrilling theme, but in this Core Gaming addition, the theme takes on a whole new level. This is something extra and you are certainly offered a great deal more than one can possibly think of.
The game is very uniquely made with a layout that you haven't seen anywhere else – for sure. Entering the game, a wall of colourful animations and additions will strike you. The huge reel set is in the middle of it all, taking up most of the set with its seven reels and big, round formation of stone – aka, the name of the game.
Surrounding this is a landscape reminding nof the era of dinosaurs, which is vivid in the game filled with those. Occasionally you can see some Pterodactyl flying across the skies, you can see the fog lurking round the reels, and something resembling a forest in the back.
It is all very well-made in vivid colours and moving animations that are going all over the place. You are certainly in for a treat.
Rolling Stone Age payout
Rolling Stone Age Video Slot is a game offering a unique theme with a unique set of reels. In total, there are 7 reels and you can choose to play either with 3, 5, or 7 reels and the first reel is always in the middle. All wins pays from the middle three reels and out and the highest win is always paid out.
Playing with 3 reels grants you 9 paylines, playing with 5 reels grants you 20 paylines, and the seven reels grants you a staggering 50 paylines.
Rolling Stone Age progressive jackpot
Rolling Stone Age Video Slot offers a thrilling Progressive Jackpot that you can win throughout the game. These are all arranged at the top of the reels and there you can see which three Jackpots you can win. You have a meter at the side of the reels, measuring your progress towards winning the Jackpot, and when it gets higher and reaches the sizzling hot Jackpot live, then you can win one of the following;
Bronze Jackpot – a win of 3000
Silver Jackpot – a win of 10,000
Gold Jackpot – a win of 20,000
Rolling Stone Age free spins
The triggering symbols for the games´ Free Spins Feature are the three dinosaur eggs in yellow, purple, and blue. Landing these, can trigger one of the following three features;
Yellow egg – Walk the Dinosaur
When you hatch a yellow egg, you start this feature. This comes with Walking Wilds and any Wild that appears on the last reel will "walk" to the next reels on each spin. The Free Spins are awarded providing a Wild in its view.
Purple egg – Diplo Dollars
When you hatch the purple egg, this feature starts. This can award you up tp between 5 and 20 Free Spins at random. The reels are then filled with Stacked Wilds and a Multiplier can be randomly applied too – these between 2x and 5x.
Blue egg – Ice Age Freeze Spins
When you hatch a blue egg, this feature is triggered. In this feature, the reels will freeze in place offering you Frozen Wilds. This feature will award you between 6 and 50 Freeze Spins.
Rolling Stone Age special features
Wild Symbol
The Wild Symbol of the game is one that steps in to substitute for other symbols to grant you wins.
Bone-us Upgrade
When playing on less than seven reels, you can randomly trigger the Bon-us which will increase the number of reels and award you 8 Free Spins.
Dinomite
The BOOM Dinomite feature is one that appears randomly to apply Wilds to a maximum of 50 paylines.
We wish you the best of luck in this feature packed Video Slot!