Battle of Slots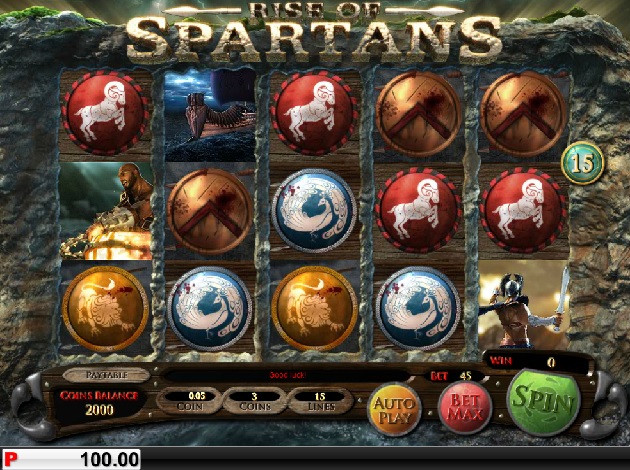 Play Rise Of Spartans online: Check out our slot review below
Welcome to a game where you are taken to ancient Greece, this is where the outstanding Spartan warriors together with the Athenians battled it out with the invading Persians. Rise of Spartans is a video slot with lots of cool graphics, the game provider Genii have even added animations for every win scenario. Boats are moving left and right, shields are spinning, and you see different kinds of warriors releasing their battle cries when you land the symbols correctly. Simply a very enjoyable game!
Genii is a gaming technology provider focused on building and create next-generation online gaming platforms. The company is based on a team of entrepreneurs who have led the field, both in the business of gambling and technological innovation, since the 1990´s. The company has since that year continued to strive and grow steadily, creating online games and mobile games. They are today one of the world´s largest provider of mobile games for iOS, Android, and Windows phones.
They have a portfolio of more than 130 games, and a few of these are Aladdin's Loot, Horn of Plenty Spin16, Fistful of Dollars, and Tomahawk.
This time, it is time to show you the more serious side of Genii´s creations – this side of them is perfectly portraited in the Rise of Spartans video slot! Let´s get started!
Rise of Spartans main game
The Spartans have always been a fascinating subject to many, movies are based on them, many look up to them, and numerous successful series and video games are based on the events of the Spartans. This time, it has made its way into a video slot – and it sure is great. Genii has done a great job portraying the theme of the game with its impressive set of symbols and animations, along with the design and graphics of the game.
The symbols of Rise of Spartans are all made to look very real, and they do. With clear and very well-made designs of the symbols – they stand out from many other games. It looks as if some symbols were photos taken with the realistic details and backdrops – you simply have to see it believe it. The game offers 13 symbols. Out of these, you have the 5 lower paying ones which are represented by the red, blue, gold, and bronze coloured shields, as well as the boat resting on the shoreline. The higher paying symbols, and the basic ones are represented by the Spartan´s boat out at sea, the angry warrior, the Spartan overlooking the terrain, and the Spartan in red feathered helmet and velvet cape. He is the top player here and is worth 1000 coins for a 5x symbol combination.
Apart from these, you have four extra special symbols – all can grant you with great prizes and features. Queen Gorgo is the Scatter symbol while Artemisia is the Free Spins/Scatter symbol. King Xerxes is the game´s Feature game scatter, and Themistocles is the Wild symbol – sounds pretty great doesn´t it?
Rise of Spartans theme, graphics, and music
Let's start with a brief history lesson to get you into the right mood for the game. If you didn't know, Sparta was a city-state in ancient Greece. Their home base could be found on the Peloponnese peninsula, and they were a group of people greatly focused on fighting. The boys were trained from a very young age; they would stay in barracks away from their families until they were old enough to join the battlefields. Athens wasn't as war-centred, but the two city-states would still clash multiple times, the most notable were perhaps the Peloponnesian War that begun 460 BC. Since Xerxes is involved in this slot, it's probably the Greco-Persian Wars they have drawn the inspiration from. It was a series of conflicts between Persia and different Greek city-states which started 499 BC. Even though Sparta and Athens had fought each other, they would now unite to defeat the Persian invaders. Sparta was superior at land-based combat, and Athens had a lot of ships to cover the fighting done on water.
There are many movies and shows based on these actual events – among others the blockbuster film with Brad Pitt – Troy as well as 300 with Gerard Butler. It is certainly an interesting theme for many; we think so as well. And that´s why you will find Rise of Spartans video slot tremendously entertaining!
The design and graphics of this game are very well-made, and it is simply stunning. The backdrop is a big rock, behind it, you can see the angry thunder and lightning strike down on the water filled with Spartans boats. Simply beautiful.
Rise of Spartans payout
You will be playing this game on 5 reels and 3 rows with 15 fixed paylines – meaning that you will have to bet on every line in every bet made.
Rise of Spartans bonus game
When three or more of King Xerxes appears on the reels, a Pick Me bonus will be activated. The positions do not matter here, as long as you manage to land three of them – the bonus game is yours, and the symbols turn into golden pools. These are the golden pool picks you can get:
3 symbols give you 1 prize pick
4 symbols give you 2 prize pick
5 symbols give you 3 prize pick
There is a total of 5 options, and these are the ones you will choose from.
Rise of Spartans free spins
Artemesia – the woman warrior with arrows – is the free spins symbol of the game. When landing three or more of this symbol, you will activate the free spins feature.
3 symbols give you 7 free spins
4 symbols give you 12 free spins
5 symbols give you 15 free spins
You can re-trigger the free spins – and Artemesia's arrow also has the great ability to in the feature, turn any symbol into a Wild. Any win with this Wild will double your win!
Rise of Spartans special features
Wild symbol
Wilds in this game has the face of Themistocles, an Athenian politician, and general. He was the one responsible for increasing the naval power of Athens, which turned out quite successful in the Greco-Persian Wars. When you get a Wild with his face on it, it will be replaced by any other symbol except for Scatters if it gives a winning combination.
Scatter symbol
Speaking of Scatters, there are two types in this game. The first one gives a win if you manage to land 3 or more anywhere on the reels, this symbol has the face of Queen Gorgo who was the wife of King Leonidas I.
Battle of Slots
If you´d like a battle of your own, then you should try out the exclusive, very first social online casino experience on the web – the Battle of Slots. You can play a thrilling battle again friends and fellow players – and you can play them in all our video slots and slots from NetEnt, Thunderkick, and Play´n GO.
Let's finish with a Spartan battle cry before you join the Rise of Spartans:
HA-OOH! HA-OOH! HA-OOH!
Good luck!