Battle of Slots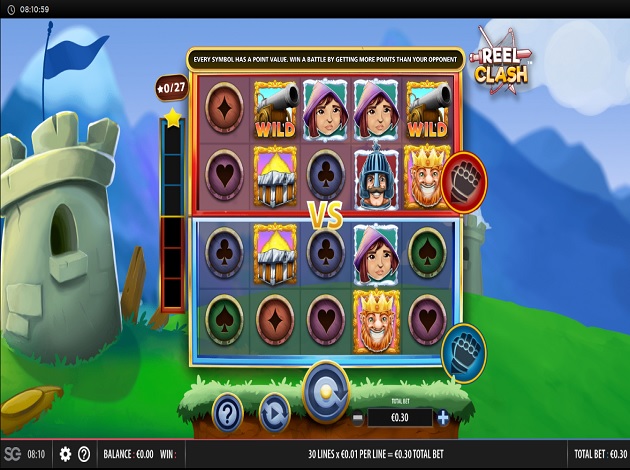 Play Reel Clash online: Check out our review below
Reel Clash Introduction
War was just another fact of life during the medieval period. These of course involved the famous knights, who were soldiers whose armour, horses and weapons put them in a class apart from the other troops. These consisted of light cavalry armed with lances, javelins or ranged weapons such as bows or cross bows and infantry consisting of spearmen, archers and other unmounted soldiers. Such armies either clashed on open battlefields or took on castles, employing siege engines such as scaling ladders, battering rams, siege towers and catapults. The medieval period is a popular subject matter for slots, but this aspect of the period is, perhaps, less so. Enter Reel Clash, which sets to bring medieval warfare right on your screens! This Red7 slot takes place on two sets of reels, one red the other blue, which are locked in constant battles. The outcome of these skirmishes is determined by the symbols each spin brings to the reels. The side with the most potent units wins! Each battle adds to the winner's Clash Meter, which when full upgrades one its paying symbols. As for what upgraded symbols do, well, they bring bigger payouts - after all, this game is also a 5-reel, 4-row slot with a total of 30 paylines! Now put your armour on, it's time to ride into the battles of Reel Clash!
Reel Clash Game Features
Reel Clash is a 5-reel, 4-row slot with a total of 30 paylines, formed by landing 3 or more matching symbols on adjacent reels. Paylines always start from reel 1, moving from left to right. Forming these paylines is a selection of 9 symbols. There are 5 high pays, which are the Reel Clash logo, the treasure chest, the king, the knight and the knave, while the low pays consist of the spade, heart, diamond and club card suits. A cannon acts as the wild. This is found on reels 2, 3, 4 and 5, and can substitute for all symbols except the scatter, which is the sword founds on reels 1, 3 and 5. Land all 3 for a round of free spins!
As mentioned above, Reel Cash has a battle feature. The reels are actually divided in two, with the first 2 rows holding the red faction and the bottom 2 the blue. Each symbol brings a score, and after each spin these are counted up and shown on the meter set on the bottom right-hand corner of each reel set. The side with the highest score is named the winner, and part of its Clash Meter is filled. Once the Clash Meter is full you can upgrade a symbol of your choice. An upgraded symbol gets 1 more star, up to a maximum of 3, and adds a multiplier to the payout when making part of a full payline. This way a 1-star symbol brings a 2x multiplier to its maximum payout, a 2-star symbol 3x and a 3-star symbol 4x. You might also get an upgrade if you land 2 sword scatters during a regular spin.
Reel Clash Free Spins and Bonuses
Landing the 3 sword scatters on reels 1, 3 and 5 earns you a round of 11 free spins. Sword scatters are actually 2 symbols tall, but you need to land just half of the symbol for it to count. The free spins add 20 more paylines, for a total of 50, which can start from both reel 1 and reel 5, moving from either left to right or right to left. Landing the 3 scatters during the free spins earns you +11 extra free spins. Free spins take place using the same bet as the triggering spin, and will end once there are no more free spins remaining.
Reel Clash Payouts
The cannon brings the biggest payout, being worth up to 73.33x the bet for a full payline. The treasure chest follows at up to 45.33x the bet, while the king is worth up to 24.67x the bet. Both knight and knave can earn you up to 14.67x the stake. As for the low pays, a full payline with any of these can bring up to 8x the bet.
Reel Clash Graphics and Sound
Reel Clash brings a colourful take on what is otherwise fairly gritty subject matter. The action takes place on a wide, open field complete with a single tower and mountains far in the distance. The reels sit in the middle of this scene, and hold big symbols on either a red or blue background, depending on which side of the clash they are on. Speaking of the clash, this is where the slot comes to life as the reels split in half in a flurry of effects at the end of each spin, which is when all symbols are counted up and the result of the current battle is calculated!
Reel Clash Conclusion
Red7 brings a refreshingly different take on slots with Reel Clash! The battles are, of course, the game's standout feature, as each spin brings a clash of sides and a push-and-pull effect on the Clash Meter. In turn this can bring about even bigger payout potential! Check out Reel Clash here at Videoslots Casino today!
Gambling is a form of adult entertainment only. You must be over 18 to play. Play responsibly.