Battle of Slots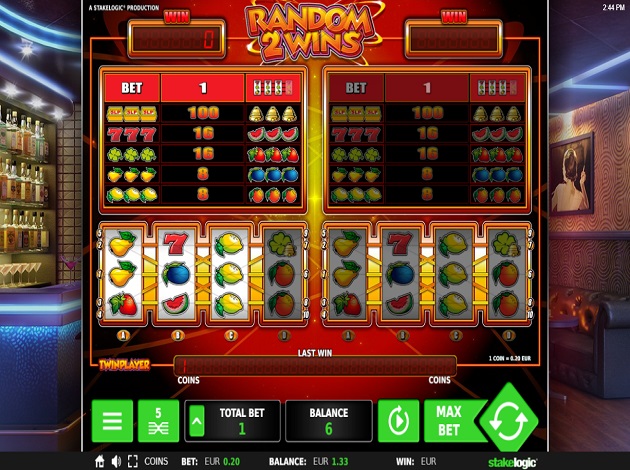 Play Random2Wins online: Check out our slot review below
A classic with no complications – only delightful fruits and a classic style layout, brought to you by Stakelogic. With two reel sets filled with the classic fruits and a thrilling gameplay experience, you are surely in for a treat.
We now, proudly present Random 2 Wins, a game brought to you by Stakelogic!
Random 2 Wins Slot is developed by a new game developer named Stakelogic. This game developer from the Netherlands has been active since 2014, and has already managed to capture players' interest thanks to stunning 3D graphics among other things.
Behind Stakelogic there are top-selling professionals who create unique games. This game developer's gaming product shows both creativity and skill, as the top-of-the-line features of the game also display well-executed game algorithms. Entertaining and full-featured games with first-rate gameplay let us assume that we will continue to hear a great deal about this game developer who is still a newcomer in the market.
Stakelogic also have a mobile gaming line called MOBi, which allows them to release mobile games at the same time as the desktop games, so mobile players won't experience any delays. Some of the games provided by Stakelogic are; The Amsterdam Masterplan, Las Vegas Fever, and John Doe.
Let us now find out just what makes Random 2 Wins Slot so great!
Random 2 Wins Game Features
Apart from all the basic symbols of Random 2 Wins Slot, there are also a few extra ones that will keep you on your toes, and your wins on top. These are the Bell Symbol and the SLP Symbol. We will tell you all about both now.
Bell Symbol: these actually come in the shape of the standard symbol, accompanied by a small golden bell at the bottom of it. A combination of three of these Bell symbols (a seven, a melon, a clover, or a strawberry) – along with the bell – will grant you the Bell prize. These symbols can also complete a winning combination with matching standard symbols. The mixed double bell symbols and regular symbol combinations can then award you the value of 3 standard symbols. This can make for some really big wins on the fruity reels.
SLP Symbol: this basically works in the same way, where you have an SLP golden symbol at the corner of three basic symbols to make you eligible for this feature. You need to land the SLP symbol together with an orange, a pear, or a plum to be awarded an SLP price. These double symbols can complete winning combinations with matching standard symbols; when you match these special symbols with fruits, you will be awarded the value of three standard fruit symbols.
Free Spins and bonuses
Random 2 Wins is a classic styled game offering you two reel sets of 3 reels each; this classic style and operation means that you are not offered Free Spins or a Bonus for that matter.
But if you like classics, especially the ones offering you the same classic fruit symbols with a modern twist, then you should check out Arcader from Thunderkick. Here, you get to indulge in a thrilling Free Spins Feature where you can be awarded spins with Multipliers, as well as a Bonus Game featuring Sticky Wilds that remains all throughout the game.
Payouts
Apart from the special SLP and Bell Symbols, you have a set of standard symbols, all of which are different fruit types: the orange, lemon, plum, pear, strawberry, the lucky clover and the melon, with the lucky seven being the only exception. These are all worth between 8 and 16 credits when landing 3 of a kind.
Random 2 Wins is a game offering a so-called side-by-side game, with double reels that are all packed with symbols. You can see the two reels next to each other, both with four reels and three rows each. In total you also have 10 paylines to keep active. Above these, you can see the paytables and you can see what all symbols are worth and in what combinations.
Random 2 Wins Graphics and Sound
The game is a retro and classic styled game, offering you a layout of just this. The two reels are placed in the middle of the screen with a very stylish look. The red, black and patterned backdrop here adds a luxury feel to it all – which is also enhanced by the additional backdrop showing a bar of expensive whiskeys, champagnes, leather couches, drinks, and fancy paintings on the walls.
It looks very exclusive – and we can assure you that it is. The designs and graphics of retro, classic games are usually not doing much – here, you get the flair and fancy feel strictly from this. Everything is clearly detailed, the graphics are sharp and the colours vibrant.
Conclusion
To sum Random 2 Wins up is an easy match – as this is a game that will be on everyone's lips soon enough. It is a retro classic Slot that is on a whole new level. In comparison to other similar games, Random 2 Wins grants its players many things most others cannot: the double reels and the two extra symbols that can grant you big and mega wins can boost your balance and grant big thrills to your gameplay. It is certainly a game you must try!
We are sure that you will enjoy this game just as much as we do!
Best of luck!