Battle of Slots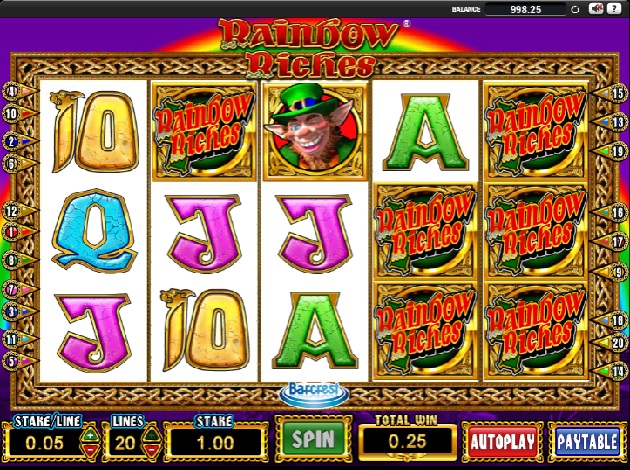 Play Rainbow Riches Original online: Check out our slot review below
Have you ever wondered what is to be found at the end of the rainbow? Some say you will receive a pot of gold if you find it but not all agree. The stories I have heard talks about a teeny tiny Leprechaun named Bernie Pernie that can help you find your way to this hoard of gold, but only if you treat him right. Bernie Pernie is not a Leprechaun to scorn or throw pinecones on, no, because he is the guardian of the gold pots.

Bernie Pernie was sitting outside his cottage repairing some shoes, as he usually does, when a stranger walked past him and flicked a pinecone his way. This made Bernie full of rage, as he hated when people did that to him, and shouted to the man walking past "You oaf". His mind darkened and he went inside to boil himself some porridge. Bernie Pernie always say that when life puts you down, porridge picks you up again.

Heartened by porridge and contemplation Bernie Pernie stepped outside to replace the shoelace on an old sneaker. In the midst of his work he heard the sounds of the oaf shuffling up to him. Bernie Pernie looked up from his shoe quite angrily. What do you want you lumbering fool? Barked the little Leprechaun, quite angrily. My name is Kurt Prut, and I am the cheapest man in all the land. I demand you give a hand or you will feel my reprimand. Show me to a pot of gold before my wallet is filled with mold. Don't make me hold or you will not feel bold when 'tis you I will scold.

When Bernie Pernie heard this he broke into a great laugh, and taunted Kurt Prut, dancing around him and hitting him with a stick. Kurt Prut drew in a breath to unleash on Bernie Pernie when he realised something. This is not the way to treat people. Not if his dream of becoming King Kurt Prut was to ever become real. Filled with an instant regret Kurt Prut apologized to Bernie Pernie for his earlier pinecone throwing and bad attitude. Bernie Pernie whacked him one last time with his stick and then stuck out his hand in a gesture of friendship and Kurt Prut, never having seen this gesture before, just looked at it. Bernie Pernie sighed and went into his cottage, procuring an immense pot of gold for Kurt Prut. And thus began the rise of Kurt Prut, King of the Cheapskates. But Kurt never forgot the old Leprechaun and the lesson of humility he had received and swore to repay his kindness, but that is a different story. The story of a man so cheap it made him king.

We at Videoslots.com can highly recommend this video slot by Barcrest. It is a five reel slot with 20 paylines. The music feels very fitting to the theme of the game and the animations as well. Barcrest is the developer that gave us the brilliant games Money Mad Martians Cosmic Cash and Call Of Fruity, both equally fantastic as the words written about them. Rainbow Riches truly feels like an perfect addition to our ever growing number of casino games.