Battle of Slots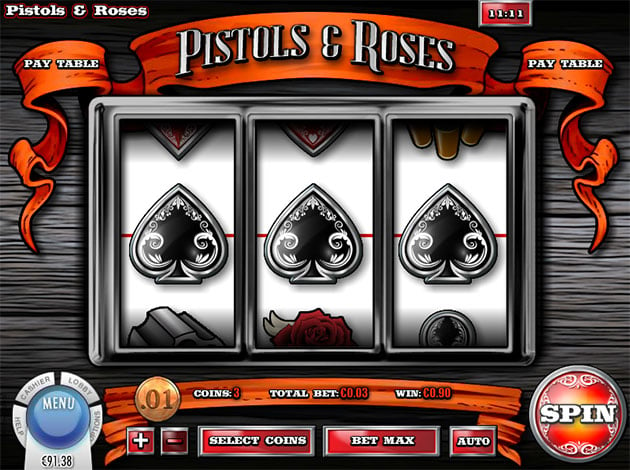 Play Pistols & Roses online: Check out our slot review below
The atmosphere and classy people of the Wild West was thought to be forgotten, but now we offer you a chance to experience it once again! Are you willing to take a trip back to the 1800´s and be one of the brave sheriffs hunting down outlaws and collecting bounties? Now is your time to prove that you have it in you! The only difference is, that you don't have to risk getting hurt, you can just collect the rewards and enjoy your time with this amazing video slot!
Pistols & Roses is a video slot that consists of 3 reels and one active payline. This might sound boring, but believe me, it is greater than is initially sounds like. This fantastically themed slot game has been brought to you by our new and wonderful game provider here at Videoslots.com, Rival. We are proud to present Rival as the new game provider and let our players experience all the fantastic games they have released. Rival is known for their unbelievably strong and well thought themes, great and innovative graphics and fantastic sound effects and music. This new game just proves our point, Rival does swing a lot, but never misses!
This game is themed to pay tribute to the rough times of the Wild West, but at the same time show the glory of it as well. All of the symbols within this game represents everything you could imagine when thinking about the glory of Wild West. The goal of the game is simple, just land 3 of the same symbols in a row, and you will be handsomely rewarded.
Pistols & Roses also has the symbol that all of you slot lovers cherish and cheer for, of course I am taking about the wild symbol. The wild symbol of this game is represented by a beautiful rose presenting the text "wild" on a spread out scroll. As on most of the games, the wild symbol substitutes for any other symbol if needed in order to form a winning combination. This is one of the best tools ever created within the video slot world, so keep your eyes open for it!
So are you ready to venture to the desert of cruelty and beauty? I sure hope that you are, since it would be such a shame if you would not try this masterpiece of a game. The graphics are so well tinkered and the sound effects make for a perfect experience. We are really proud to get to introduce this game to our players and friends. Even though this game does not have the traditional free spins or bonus games, the atmosphere and the excitement makes up for it.
If you don't feel ready to step on the wilderness, you can try this game for free on our demo mode. If you know you are ready and you want to feel the excitement and thrills, you can just login to you Videoslots account and start betting. We at Videoslots.com wish you the best of luck with the bandits!