Battle of Slots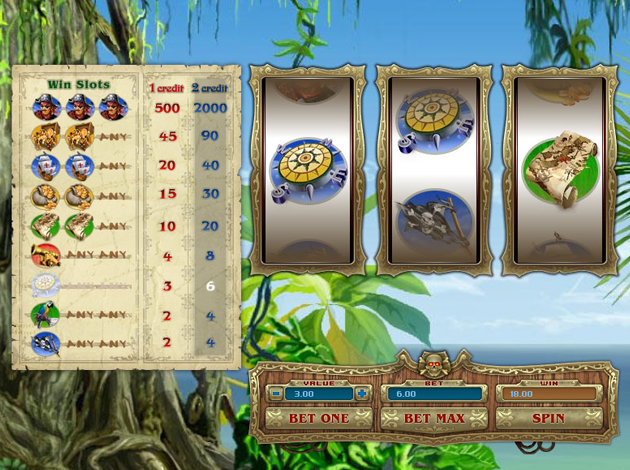 Play Pirate Slots online: Check out our slot review below
Ahoy landlubber! We welcome you to Pirate slots. An amazing slot from the game provider Games OS. In this colorful slot you accompany pirates in their huge pirate ships on stormy waters and calm beaches lined with palm trees and treasure chests. Other than beautiful and nature filled pictures the game also provides cheerful and catchy music that really keeps this slot fun and interesting hour after hour.

Pirate slots is a simple and classic slot containing 3 wheels and one winning line. You can choose to bet 1 or 2 coins. The symbols in Pirate slots are pirate flags, parrots, compasses, cannons, maps, bags of gold, pirate ships, treasure chests and the pirate captain himself. Bet 2 coins and get three pirate captains along the pay line to receive the highest possible payout which is 2000 coins. It is very simple to keep track of how much each win gives you since this slot does not have any bonus games, wild symbols or scatter symbols. It's a clean and simple slot where you won't be disturbed by any bonus games or similar.

On the left side of the screen you find Pirate slots payout table which tells you how much each winning combination gives you and the difference if you bet 1 or 2 coins. On your right you will find the game's control panel where you can adjust the coin value, choose bet amount and also see your winnings. If you want to make the highest bet possible you simply have to press the button "Max bet" and the wheels will automatically start spinning. At the top left of the screen you can see your total balance. This can be nice to keep track of, to see how your balance increases and decreases during the game play. At your bottom left you find the setting where you can choose if you want to have music when you spin and if you want sound when you click the various buttons in the game. At the bottom right you find the full screen button which sets the game in full screen mode. I strongly advise you to use this feature if you really want to get the entirety of the game and really see the details in the games graphics.

To get the game started you first have to choose the coin value, choose bet amount and start spinning and winning. Pirate slots does not have any auto spin function so you have to press the spin button every time you want to spin, which makes you feel involved during the game play.

This classic slot is perfect for both experienced players as well as beginners, both young and old. So what are you waiting for? Put on your pirate cap, adjust the classic eye patch and dive in to this exciting adventure to reveal the secrets of the Treasure Island. We at Videoslots.com wish you the best of luck out on the open sea. We hope that you will enjoy this game as much as we do.