Battle of Slots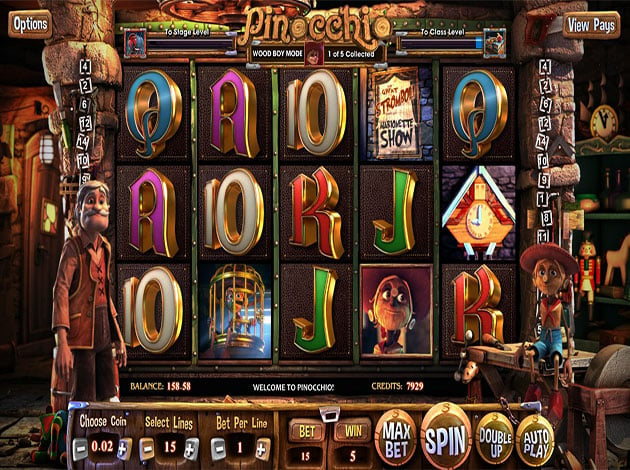 Play Pinocchio online: Check out our slot review below
Do you still have a child-like mind and feel that it is time for you to play a slot that will bring out a lot of nostalgic feelings? In that case, Pinocchio is the perfect game for you! Pinocchio is a brand new video slot provided by Betsoft. Betsoft is one of the leading game providers that you find on the market for online casino games. Pinocchio includes everything from awesome graphic, cool sound effects and music that matches the theme. You of course also have the chance for huge winnings!

Pinocchio video slot is based on the famous tale about a wood carver named Gepetto who always wished for a son. He makes a boy out of wood and gives him the name Pinocchio. Gepetto then asks the magical fairy if she can make Pinocchio into a living boy. The fairy helps Gepetto, and Pinocchio comes to life but he is still a boy made of wood and his greatest wish is to become a real living boy! Here in Pinocchio, you have the honour of joining Gepetto and Pinocchio on an adventure that we can guarantee will make you feel like a kid again and hopefully you will help Pinocchio to make his dream come true!

This is a classic video slot that has 5 reels, 3 rows, and you can choose to have 15 activated paylines while you play. Keep in mind that the more paylines that you have active, the higher is the chance that you will make really huge winnings!

In Pinocchio there are a lot of different symbols that are related to this classical story and there are also the symbols for 10, Jack, Queen, King and Ace from the traditional deck of cards. All of these symbols will in their own way help you on the way to the really high winnings!

There are many exciting Bonus features in Pinocchio, some of them are: The fabulous fairy re-spins. This feature will help you make really great winnings. If you make a spin and get a combination that is almost completed but not quite and there are no other winning symbols in the game window, the fairy will fly into your game window and make the failing reel spin one more time for a second chance to get a winning combination!

During the game you will find yourself in situations where the symbols in the game will change into Reel Boys, which includes so called Moving Wild symbols. The Moving Wild symbol will, as the name entails, move from the right to the left or even from the top to the bottom of your game window!

The Bonus game "3 unique worlds" is the third amazing Bonus game in Pinocchio! During this Bonus game you are able to collect Wagon and Chalkboard symbols. These symbols will help you on your way to two other Bonus rounds! You will be able to make winnings from these Bonus features that you did not even know was possible!

Simply click on the image above to join Pinocchio, Gepetto and us here at Videoslots.com on the journey to help Pinocchio become a real boy! We can assure you that Pinocchio will show his appreciation by giving you a lot of winnings and we wish you the best of luck.