Battle of Slots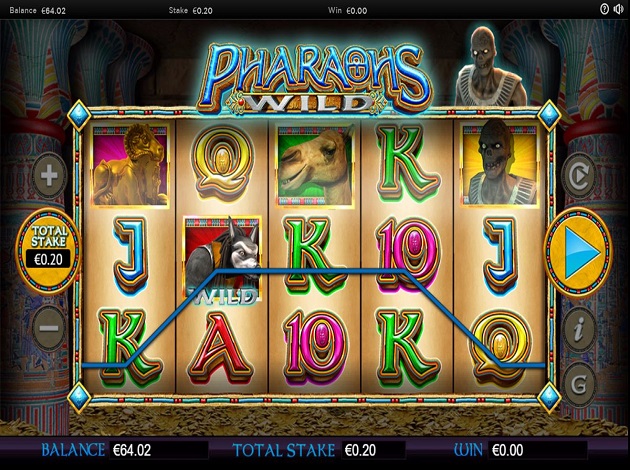 Play Pharaohs Wild online: Check out our slot review below
Are you after the long-lost treasures? Now you will have a perfect opportunity to try to get your hands on them on the reels of Pharaoh's Wild. But be careful! These treasures are guarded by ancient mummy, so if you want to get to them, you need to get pass this creepy creature.
In Pharaoh's Wild Video Slot, you will be tracking down the ancient mysteries and nice wins. There are several features to trigger and great base game action to experience. It is time to break into the pyramids and find the prizes!
The provider of this game is called Core Gaming. The company was founded in 2007 and is today one of the leading providers offering HTML5-based games. They have a nice collection of games, providing wonderful gaming experiences for desktop and mobile platforms. Core Gaming has succeeded to create an excellent gaming environment, thanks to their industry knowledge and strong experience.
Core Gaming creates games inhouse and they have a strong team developing great game after another. In addition, they also co-operate with many famous names in the industry, which gives them for example opportunities to widen their game distribution for bigger audiences. These days, you will find Core Gaming's games from many of the big casino operator's game selection. Another game offered at Videoslots.com, from Core Gaming, is Balthazars Wild Emporium Video Slot.
Now it is time to dig deeper into Pharaoh's Wild Video Slot and see, what it offers.
Pharaoh's Wild Main Game
In Pharaoh's Wild Video Slot, you are taken into dim lit pyramid, where the floor is covered in golden coins and walls are covered in beautiful, colourful paintings. This is the place where the ancient pharaohs were brought after they were embalmed. They were left to rest with their worldly fortunes, which many of the tomb raiders have been after. And now it is up to you, how much of these treasures are carried away from the tomb.
Pharaoh's Wild is 5-reel and 3-row game with 20 paylines. There are several symbols representing the ancient Egypt theme, but also few traditional card deck symbols to bring you the lower payouts. Creepy mummy, camel and golden Apis – ancient Egyptian deity – will bring you higher payouts of the game. Golden pharaoh symbol will pay you the biggest wins.
In addition to the basic symbols of the game, there is also a Wild Symbol. This is a wolf character and it can bring you Free Spins and substitute other symbols – excluding golden pharaoh – on the reels.
Pharaoh's Wild Theme, Graphics and Sound
The theme of Pharaoh's Wild Video Slot is the ancient Egypt, pharaohs, and mummies. This game takes you to explore the wonders of ancient pyramids and find some nice treasures on the way. When pharaohs died, they were embalmed and mummified to keep them ready for afterlife. In this game, you will meet one of the mummified pharaohs, looking a bit creepy with the glowing eyes, but at least he made it to the afterlife.
From the very beginning of Pharaoh's Wild Video Slot, you will hear exciting music and great sound effects, which will quickly take you to the ancient atmosphere. You will hear mummies roaring, just to remind you of the dangers that lie ahead in the pyramid.
Graphics of the game are executed nicely. You will see beautiful symbols against nice backdrop, but in addition also the animations of the game are made flawlessly.
Pharaoh's Wild Payout
Pharaoh's Wild Video Slot is 5-reel slot with 20 fixed paylines. Because the paylines are fixed, you only need to set the total stake in the game before spinning the reels. This you can do by clicking + or - button on the left side of the reels.
If you wish to see the paytable, just click the info button on the right side of the reels.
Pharaoh's Wild Bonus Game
While creeping through the pyramids, mummy can reward you with some bonus features. On the reels of Pharaoh's Wild, you can trigger not only one but two different bonus features.
Mummy Bonus
When the mummy above the reels animates, the reels continue spinning longer than usual. This gives our bandage covered friend some time to drop several similar symbols on the reels and so give better opportunity to land some wins. These symbols can be even Wilds, when you might get Free Spins triggered!
Floating Bonus
Floating Bonus is triggered, when the first reel is covered with similar symbols. Mummy moves towards this reel and it is copied. The copy of the first reel will be then landing on one of the reels 2, 3, 4 or 5. Even though this feature doesn't guarantee wins, it gives a better chance for you to get them.
Pharaoh's Wild Free Spins
Pharaoh's Wild Video Slot is an exciting game filled with features. Above, we have already described two of them, but here comes the third: Free Spins. We know that this is probably one of the most beloved features amongst slot players.
In this game, the Free Spins Feature is triggered by landing 3 or more Wild Symbols on the reels on one spin. There is no set amount for these, but you will be spinning until there are no Wilds on sight. Even then you will have a possibility to get the surprise retrigger for the Feature, if mummy drops a Wild on the 5th reel. This brings you at least 5 more Free Spins.
Pharaoh's Wild Special Features
When game is called Pharaoh's Wild, you might guess that it will bring you some wild features. And this is definitely something that it does! On the reels, you might trigger one of the Bonus Games or maybe Free Spins, but in addition, you will get to enjoy Wild Symbol's presence. This symbol can substitute all the others except golden pharaoh's head and so help with the hunt of wins.
Mysterious times of Ancient Egypt are here for you to explore. Try to get your share of the pharaoh's treasure, but beware! There is mummy creeping on these tombs as well.